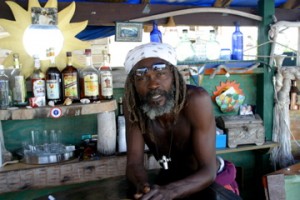 Bankie Banx' Dune Preserve Bar is a Caribbean gem... an open-air beach shack nestled in the palms on a pristine piece of beach in Rendezvous Bay on the laidback island of Anguilla. Cobbled together from shipwrecked boats, driftwood, coconut tree remnants, flotsam, jetsam and other recycled treasures, the vibe is "ultra-cool chill".
A few years ago, when we were on Anguilla inspecting incentive quality resorts and looking for unique party venues for our corporate yachting incentive groups, Brad and I were looking for a place that was a piece of the old Anguilla... something local, something funky, something barefoot, something people would never experience back home. 5-star cuisine and service are available on our charter yachts so when we host a shoreside party, we look for places where our charter guests can bury their toes in the sand and get a flavor of the island and the local people. A place that they can tell stories about when they get back home.
We had a "this is it" moment as soon as we met Bankie. Lively, opinionated, and filled with love and laughter, he invited us to belly up to the driftwood bar for a "Duneshine"... an original libation made from fermented ginger and other ingredients that he won't disclose. Word of warning - just try one. His journey as a Caribbean reggae musician is fascinating and well worth the read on his website.
And if you're not sailing to Anguilla anytime soon, Listen to Some Cuts from Bankie Banks latest CD Celebrities in Anguilla? With its numerous 5-star resorts and world-class golf course, Anguilla is quickly becoming a premier Caribbean destination for the most discriminating of travelers.
Bankie won't disclose the names of the rich and famous who have shaken his hand, but his website does boast, "It is the only beach bar in the world where you are likely to run into a former president, a former pirate, and a former Wall Street bigwig in the same day". Learn more about casting off on a sailing vacation to Anguilla