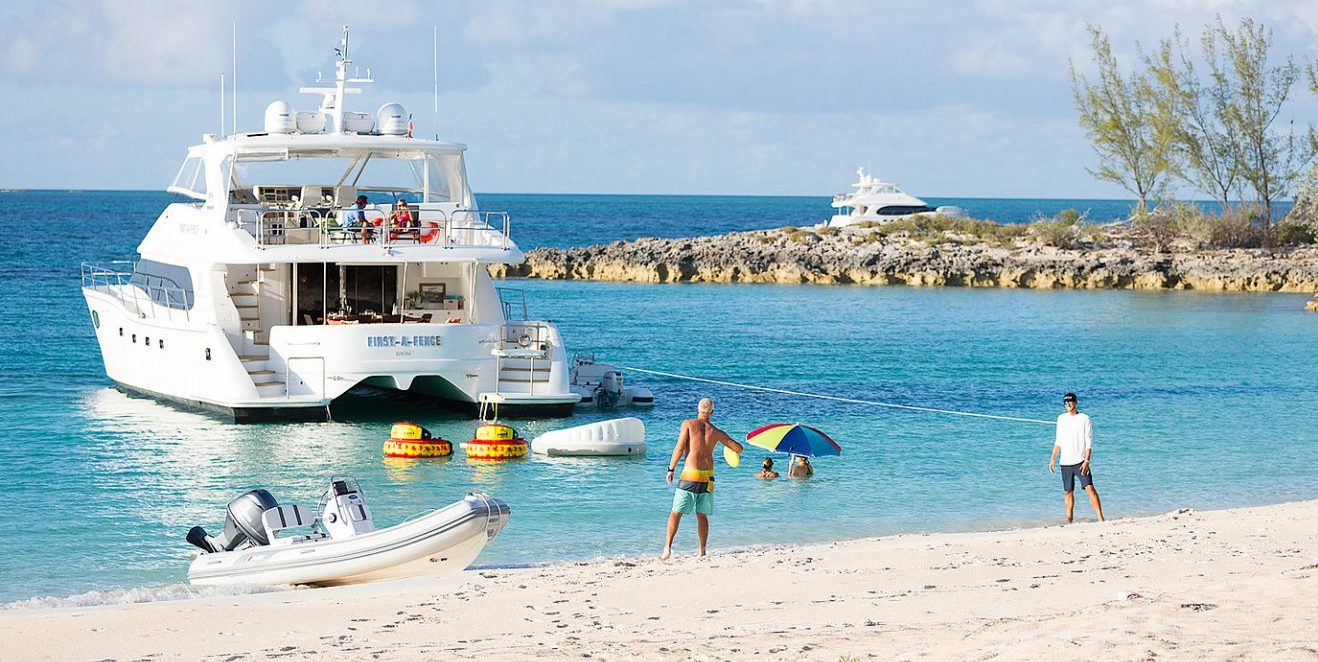 Wonderfully designed and beautifully bedecked, First-a-Fence is an enticing and spacious power catamaran that shouts out luxurious comfort and unforgettable fun. Ideally set up for family getaways, this stunning 2014 power cat is perfect for small groups that are seeking a St. Thomas Power Catamaran Charter and for those who dream of indulgent adventures in one of the world's most idyllic yacht charter destinations... the U.S. and British Virgin Islands.
Wood flooring, leather lounges, a gorgeous color scheme, and appealing artwork give First-a-Fence a very inviting atmosphere. With an abundance of natural light drenching every space, as well as ample outdoor decks, this is one pussy cat that's custom-built for relaxation and enjoyment. The exceptional onboard service manages to outdo all the yacht's excellent features, if that is even possible.
A dedicated dream-team, bursting with enthusiasm and experience, the crew aboard First-a-Fence is undoubtedly the yacht's most revered bonus. Add to this a bevy of toys and wide array of extracurricular activities, and you've got yourself the perfect St. Thomas power catamaran charter. With premium stability and a shallow draft, First-a-Fence is ideal for meandering into coves that most of the larger yachts simply can't reach.
One of the Best Crews on a St. Thomas Power Catamaran Charter
Charter First-a-Fence for your next seafaring vacation, and what will make your jaunt truly unforgettable will be Stuart and Hannah, First-a-Fence's beloved hosts. This British duo seems to instinctively know what guests need, even before they themselves do. Like having an exquisite lunch at the ready the moment you return from an extraordinary snorkeling excursion, or showing up right at the tick of sunset with a few mouthwatering Smoking Pink Cadillac Margaritas, Stu's signature cocktail that enjoys a cult following in the BVI. Just one sip and you'll be totally hooked!
The attention to detail of this enchanting couple has won them hearts from all over the world, and we sincerely believe they are the cherry that tops off the delectable First-a-Fence cake. They deliver all of the "must dos" that most other crews do, but they inject a bit of "added extra" to create very unique and personal experiences for their guests. Just to give you a glimpse, here's what they did on a recent charter:
Snorkeled for conch in Anegada with a guide who cleaned it and Hannah later transformed it into conch ceviche
Accompanied guests on Gumptions Nature Tour on Necker Island where they saw baby tortoises, giant tortoises, parrots, and flamingos. The kids even got to go in the habitat with lemurs
An outing to the fabulous beach at Anegada Beach Club where the kids were in awe of the young kite boarders' daredevil tricks. And then flying their own kites at sunset
They shared their own treasure chest of pirates' costumes and tattoos, and off they all went – kids and grown-ups alike - to the Happy Arrgh Pirate Show with Michael Beans in Leverick Bay.


And so much more! We cannot give away all of their secrets, but we are sure you get the drift that it's all about creating an atmosphere of fun and adventure. If you have energetic teens, curious kids or simply enjoy doing it, seeing it and experiencing it all, then trust First-a-Fence to deliver in spades.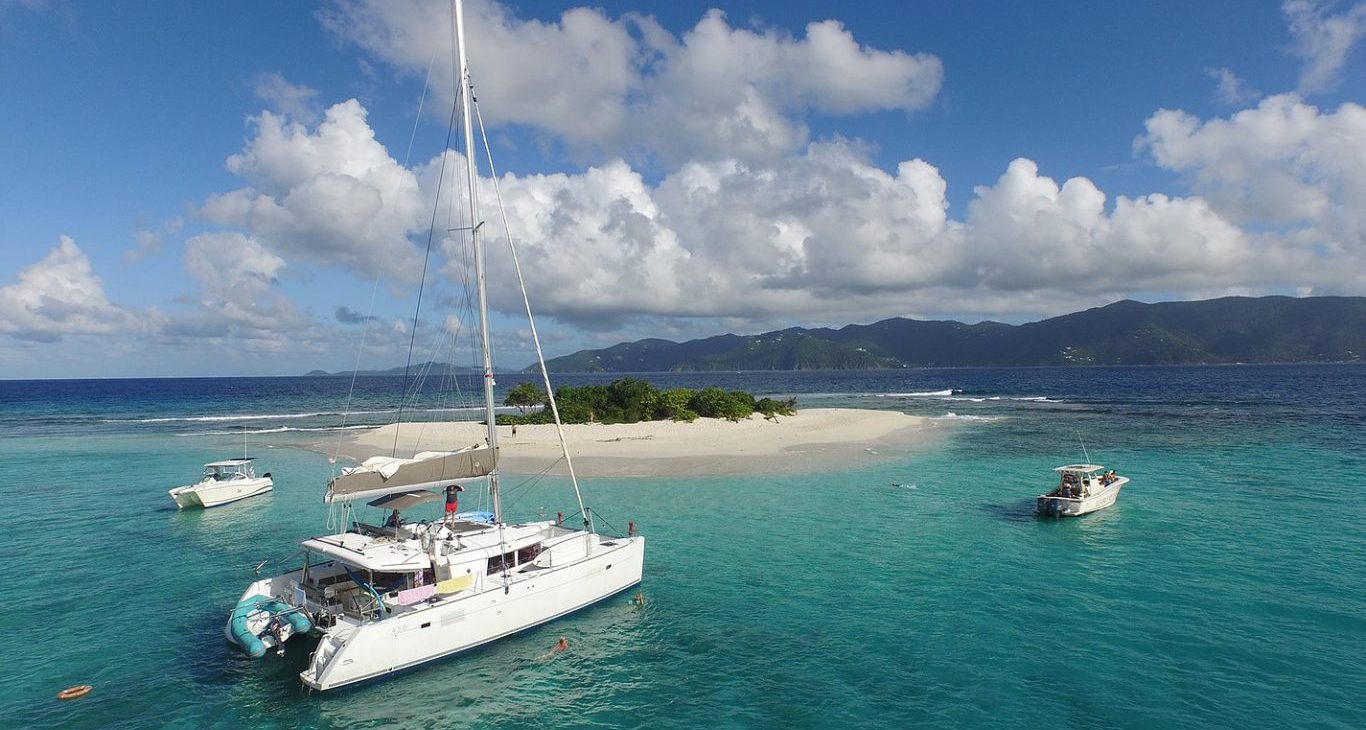 First-A-Fence Amenities and Specs.
Built by renowned Horizon in 2014, First-a-Fence combines modern high-tech with old-world elegance, creating an enchanting living space that sails the high seas with superb performance, safety and stability. She can be zoomy when she wants (or needs) to be, reaching speeds of up to 22 knots, although she's just as happy chilling out anchored in a hidden Caribbean cove. The open-plan galley and salon with its expansive bar is ideal for entertaining, and the seating area transforms seamlessly from lounging area to dining room. Of course, no one ever dines there as the preferred spot for meals is the alfresco dining area on the aft deck.
A very unique feature is the enclosed sky lounge on the second deck. With flat-screen TV and comfortable sofa, this gives the children space to watch their favorite movies while the adults enjoy their after-dinner cordials. The exterior decks are equipped with sun chaises and plenty of cushions for basking in the sun or shade. A swim platform and plenty of beach toys allow you to enjoy the warm waters of your chosen destination by day, and modern in-cabin amenities means you can also enjoy a quiet 'night in' if you so wish. For unrivaled St Thomas Power Catamaran Charters, First-a-Fence is tailor-made.
Accommodations on First-A-Fence
Three luxurious suites accommodate up to six guests, with a VIP King, a Queen, and one Twin cabin which can convert to a queen, each with a private bath. There is also a bonus twin cabin that is only suitable for small children. The nautical colors of the linen, combined with an extensive use of wood, will make every avid sailor feel right at home.
Toys For All Ages
When you cast off on a St. Thomas Power Catamaran Charter, you should expect loads of fun in the sun. This wonderful floating playground is bursting with a sensational array of toys that'll thrill and entertain young and old(er) alike. Snorkel gear offers guests the chance to explore the magnificent underwater world of the Virgin Islands.
And if you are new to snorkeling, not to worry. The crew are excellent guides and teachers. For leisurely enjoyment, you'll find light fishing gear, floating mats, wakeboard, kneeboard, 2 SUP boards and a 2-person kayak that has a transparent bottom which lets you see the reefs without even getting wet. Swimming noodles, a towable tube and a host of beach games means even the youngest guests can have barrels of fun.
World Class Cuisine on This St. Thomas Power Catamaran
The cuisine aboard First-a-Fence is world class, with Hannah dedicating her incredible skills to wholesome, organic and international meals. She grows her own organic greens and has perfected the art of risotto-cooking that would put any Italian chef to shame. She has a knack for pairing ingredients and delights even the fussiest taste buds. On a recent visit aboard this magnificent catamaran, Ocean Getaway's own Trish Cronan was treated to a superb feast – and she just won't stop raving about it! Here's just a sample what she was served and the kind of culinary delights that await you:
Starter Asparagus risotto with a chorizo crumb and a Parmesan tulle topped with Hannah's homegrown micro greens.
Main Course French trimmed chicken breast, with a potato puree, buttered spinach, charred onions, toasted pine nuts finished with a chicken and thyme jus
Dessert Deconstructed Tiramisu - coffee sponge pieces with a Kahlua mascarpone cream, hazelnut dust, a milk chocolate shard, a white chocolate and hazelnut shard, complete with a shot of espresso
As our Trish gushes: "Not only was the food exquisite…but the ambiance, the conversation, the laughter and the relaxation made it even better." Every day aboard First-a-Fence is a memorable experience, as is every meal, every excursion and every single little treat.
First-a-Fence Charter Price
Charter rates for six guests are $30,500 per week all-inclusive in the Virgins and $26,000 plus expenses the Bahamas.
First-A-Fence…at a Glance
# of guests: 3 (plus an additional cabin for small kids only)
# of cabins: 4
# of crew: 2
Summer Location: Caribbean Virgin Islands, Bahamas
Winter Location: Caribbean Virgin Islands, Caribbean Leewards
Rates start at: USD 24,000/week all-inclusive
Yacht type: Power Catamaran
Length: 60' (18.2m)
Beam: 24' (7.3m)
Draft: 5' (1.5m)
Year Built/Refit: 2014
Top Speed: 22 knots
Cruising Speed: 18 knots
Fuel consumption: 33 US gallon/hr
Builder: Horizon
If you're dreaming of a luxurious, intimate catamaran to entertain and indulge your loved ones, you certainly won't want to sit on the fence with this superb charter option.
Search for other St. Thomas Power Catamaran Charters