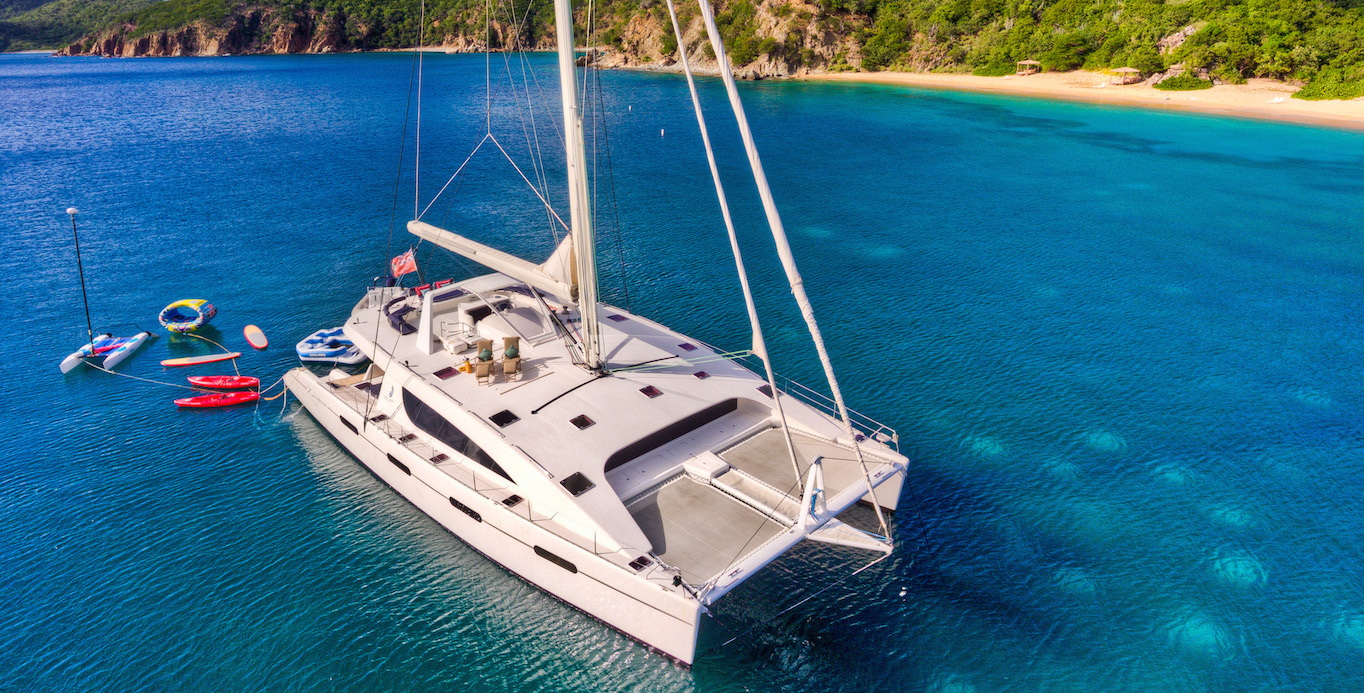 ©Rainbow Visions Photography[
Catamarans can be hard to come by when you are looking for 10-person BVI catamaran charters. We have about 20 great choices. Although that sounds like a lot - they book early and fast. You really have a choice of four different types of catamarans with each being at a different price point.
The Voyage 580s: The lowest cost 10-person BVI catamaran charters are on the Voyage 580s like Yes Dear and Pelican. Each features four similar king/queen cabins with a fifth cabin that is smaller so if you are a group of five couples sharing the cost, one couple will draw the short straw. They are loaded with toys including scuba diving for certified divers. Which one should you book? If you have a choice of more than one of them being available, then the crew should be your deciding factor. That is where our knowledge of the crews helps you decide which crew is the best fit for you. Contact us to learn which is best for you. Rates range from $23,000 for Pelican and $26,500 for Yes Dear for 10 guests.
The Leopard 58: After the amazing charter reviews we received on The Annex, this is becoming new favorite. We love the two ondeck cabins that give you broadband view of the Caribbean each morning as well as your own doorway to an ondeck seating area. One of the three queen cabin below can also be converted to twins. They are easily recognized in an anchorage as being the cat with the most floating toys tied off the stern. Let's see, shall we have cocktails in the flamingo or the unicorn? Stellar crew of three. $32,000/week.
The Fountain Pajot 59s and 60s: We were thrilled the first time we saw one of these - it is the slickest design and we are still amazed at how spacious they are! Five comparable queen cabins with baths en suite; an aft deck with a bar, dining for ten and lots of sun pads; a nifty dinghy "garage" with a rooftop that offers an extended lounge area aft; and a flybridge deck. Lots of places for everyone to spread out. Plus these yachts were designed to be eco-friendly, and the crews take great care to protect the lovely seas in which they sail. Right now, we have two of these that will take ten guests - Alive and Dreamsong with both offering scuba $32,890 for ten guests all-inclusive on Amara; $31,900 on Alive and Slivochka; Amara and Alive are about $2,000 less from May 1 - October 31.
Lagoon 62s: This is one of our favorite catamaran designs for 10-person BVI catamaran charters. These cats are bright and airy with lots of space and an enormous flybridge. Sea Home and Sailaway are great choices with 10-person charter rates of $40,000 and $36,000, respectively.
One of A Kind: We used to see a lot of Privilege 65s being sailed in the 10-person BVI catamaran charter fleet. Kelea is the remaining beauty. Formerly named Angel Glow, she was private for many years and has been meticulously maintained. $28,500/week for a 65' cat is an amazing price.
Fountain Pajot 67: Stepping up in space, luxury, and service is the brand new Nenne - our favorite crew on a 10-person BVI catamaran charter. The sun deck is large enough for a disco party, a square dance, or just rocking out in paradise. Everything on this cats is state of the art new. A great choice for a 10-person family reunion or Big Chill Getaway. $46,075/10 guests; book a year in advance and get 5% off; $250 off for each child 12 and under for up to 2 kids.
Silhouette 76: Zingara - one of the early queens of the BVI catamaran charter fleet. It has an on-deck master with king berth facing forward - so you'll wake up to a 180-degree view of the surrounding Caribbean waters. Four additional queen cabins, one of which can be converted to twins. The crew of four definitely offers service extraordinaire. Zingara's rates are $49,100 for 10 guests per week. Tranquility is the newest of the Silhouettes, and it can take up to 12 guests with one king, three queens and two twin cabins for $49,950/week. We have a few others that we can tell you about - just inquire!
Search our 10-person BVI Catamaran Charters.