Super Yacht Charters - Sail
Channel your inner ancient sea explorer and discover new lands aboard one of our striking luxury sailing super yachts. Few experiences can match the relaxing, romantic and rejuvenating effects of sailing through world's most idyllic destinations with the wind in your hair and the sails in full bloom. You'll feel a million miles away from the hectic pace of modern life and enjoy an unparalleled charter experience with your loved ones.
For a mere fraction of the price of actually owning one of these beauties, you can be master and commander for a week, and even more. You can sail on the breathtaking Maltese Falcon, or the Aquijo, both multi-million dollar sailing super dames of the sea.
If you're seeking the best in what sailing charters have to offer, you need look no further. All of our featured sailing super yachts showcase exemplary luxury, incredible comfort and the utmost functionality. Ultramodern technology keeps you connected and entertained, superbly designed cabins grant you privacy and a dreamy night's sleep. And for that pampering you'll no doubt desire, you'll have an impeccable crew, fully-equipped gyms and private spas on board.
The cherry on the sailing super yacht cake is the fact that most only accommodate for a group of up to 12 guests. So what you get is unmatched space, privacy and comfort.
Unique, Stylish Interior and Design
Every sailing super yacht boasts that little something which makes it utterly unique. That extra oomph, that evocative piece of soul that the owner – and the designers employed– have poured lovingly into creating your charter sailing super yacht. From old-world classic to modern Zen minimalist, there is a style to suit all tastes. Our fleet of favorite sailing super yachts showcases the best designer upholstery, impeccable interior design, exceptional artwork and that attention to detail every discerning charter guest appreciates.
You'll be impressed with the craftsmanship on display, fall in love with one-of-a-kind furniture and be awestruck by the high-tech sound and lighting systems installed throughout. Aside pleasing the eye, of course, the unique stylish interiors afford you uncompromised comfort and luxury. They lounges aren't just stunning, they are luxuriously comfortable. The beds are selected to offer a perfect night's sleep not just look great in photos.
The stunning en-suites afford you space. The hand-picked dining tables soon become the favorite place where family and friends make lifelong memories. What's more, our pick of the best include extras like beauty spas, Jacuzzis, gyms, cinemas, and even business cabins. When duty calls aboard a luxury sailing super yacht, you may not even mind one bit. Everything aboard our sailing super yachts has been implemented for aesthetics and functionality, a most sought-after attribute for all experienced sailors.
An Array of Toys and Ample Space
All of our best sailing super yachts offer a multitude of outdoor deck space for you and your sailing group to enjoy. Al fresco dining, sunbathing and relaxing in good company are paramount private charter experiences and best enjoyed on a luxurious super yacht. And when you've had your fill of the pools, Jacuzzis and sun loungers you'll have a mind-boggling array of water toys to enjoy! Here is where super yachts really get totally crazy! Their spaciousness allows for a large collection of powered, inflatable and sport. These immense luxury vessels are equipped with FUN in mind and showcase the best in on-the-water entertainment. All for your pleasure.
Experienced Crew, Utmost Discretion, Unrivalled Professional
Every sailing super yacht needs its super crew, and this is one of the uncompromised priorities we look for, when selecting top yachts for charter. The crew we know and love are experts at their craft. They navigate, service, provide and guide like no-one else in the business.
They're trained in discretion and seem to have a telepathic quality. They seem to know what guests want and need even before the guests do! An average 1-to-1 crew to guest ratio guarantees attention and personalized service. Imagine an opulent 6-star resort with your own private butler, chef, service personnel, activities instructor, driver, masseuse, and cocktail-maker? That's our sailing super yacht families, in a nutshell.
The Best in Entertainment
Nature, the open seas and infinite horizons are the hallmark highlights of a superlative and unforgettable sailing charter. But a family movie night might be the way to relax after dinner, right? Each luxury sailing super yacht boasts a collection of entertainment options which will keep everyone enthralled no matter their age and likes. On-demand films, dance floors, open-air cinema screens and private screening rooms are just a few delightful additions you can enjoy.
Your stellar crew is also experienced in the art of party-making, and can organize themed party nights, gala dining parties, island treasure hunts and more. If you're looking for fully-engaging charters, than sailing super yachts are more than ideal.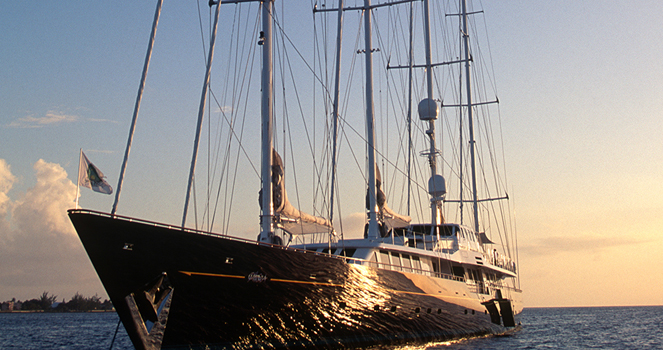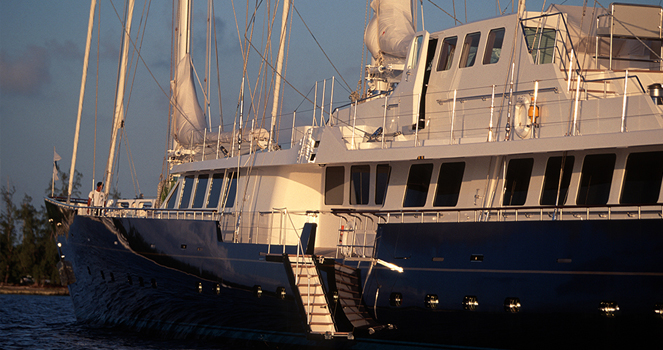 © Mike Ward