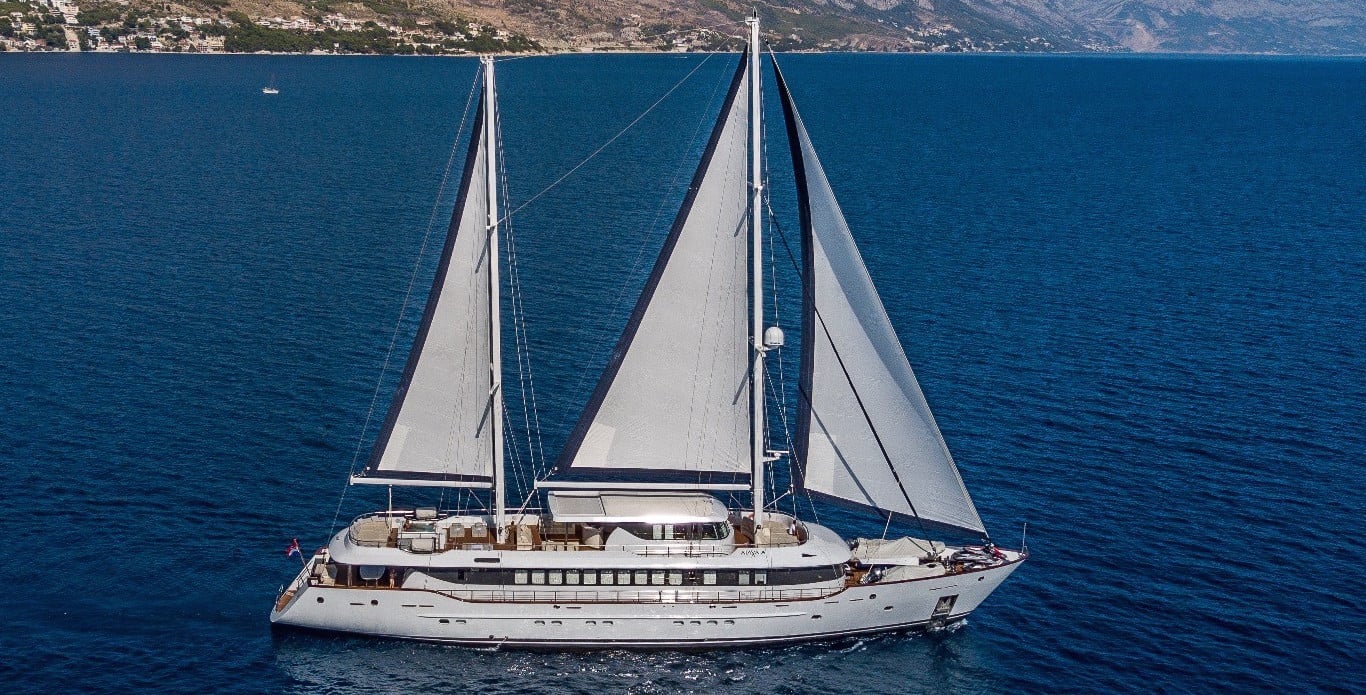 Luxury yacht charter in Croatia just took a leap forward. It wasn't that long ago that Navilux, Croatia's most revered luxury gulet, took to the Adriatic Sea and stole our guests' hearts and imagination. Well, let us tell you - there's a new kid in town. One that is set to take luxury yacht charters in Croatia to a whole new level. AIAXAIA is Navilux's sister ship.
Her stunning comrade in sails is a sensationally sleek sailing yacht that's tipped to be the most luxurious Croatian flagged sailing yacht to be based in the Adriatic. At 151', she is spacious but not overwhelming. A show stopper without being a show-off. The incredible fusion of romantic design and state-of-the-art luxuries set sails ablaze in the yachting world. Just proving that the two most coveted yachting elements – tradition and opulence – need not be mutually exclusive.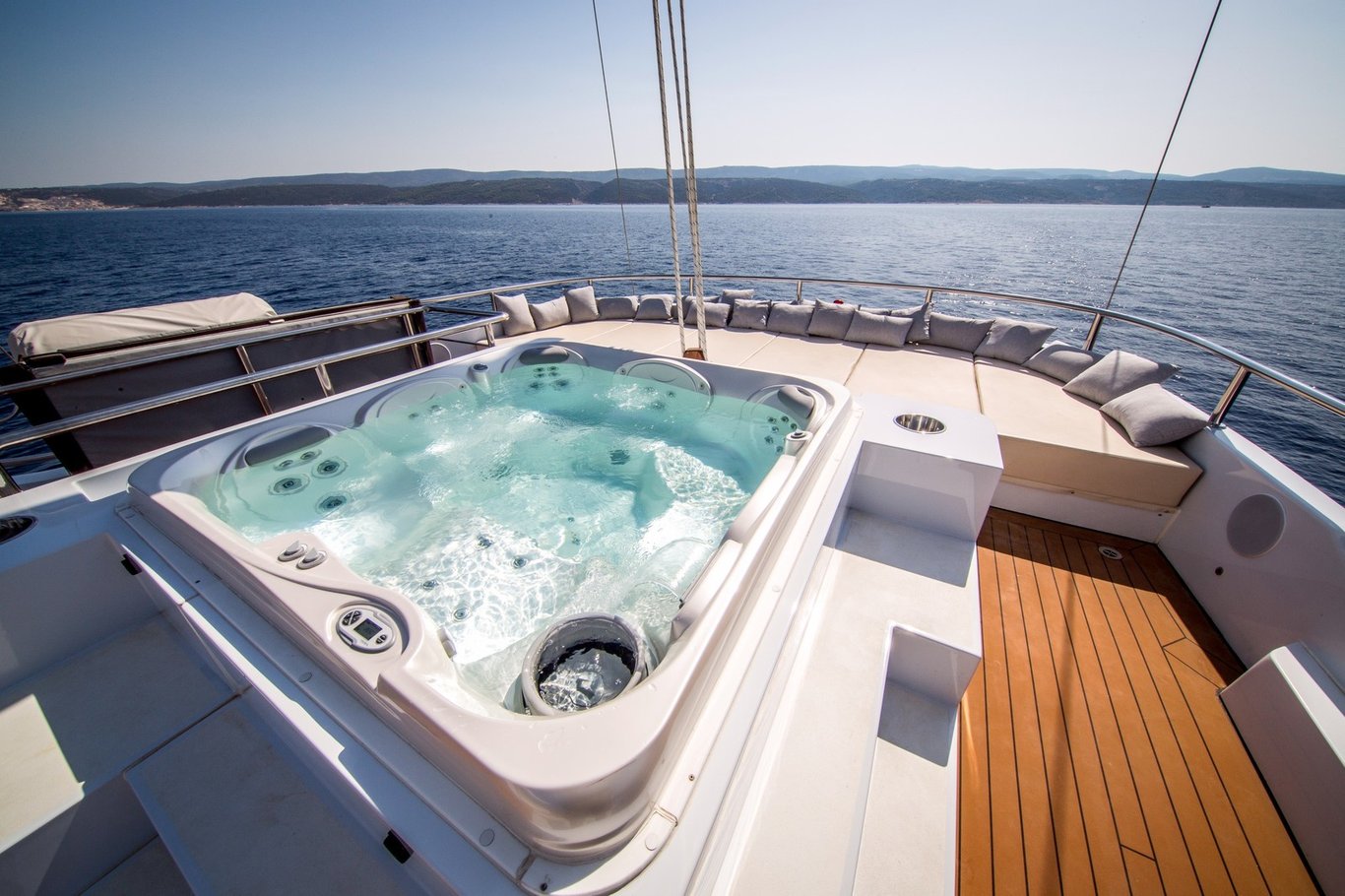 Built by the owners of Navilux, who continue to showcase their endless aptitude for elegance, charm, comfort, and class, Aiaxaia accommodates 12 guests in 6 cabins, all boasting plush décor, modern amenities and plenty of storage space. Unlike Navilux's bold carpets and color-splashed art, Aiaxaia is understated with muted tones and light blond woods that add to her zen like appeal. The minimalist design invites stress to ease away.
The Main Salon and dining room are warm and welcoming, with an extensive entertainment system designed for lazy afternoons spent together with loved ones meandering through the maze of Croatian islands. Aiaxaia boasts office space for those emails that just can't wait, exercise equipment to burn off all those sumptuous Croatian delicacies at every meal and a delightful sauna for extra pampering. Her range of recreational equipment is impressive. Bicycles for onshore explorations and a host of fun water toys, including wave runners, SUP boards, kayaks, snorkel gear and a variety of inflatables.
The piece de resistance aboard Aiaxaia is her ample outdoor deck, complete with a luxurious seating arrangement, sunbathing space and a totally divine Jacuzzi.From here…the Adriatic has never looked so incredible.
Luxury Yacht Charter Croatia - Bathe Yourself in History
Croatia is one of the most delightful treasures of the Mediterranean and the crowning gem of the Adriatic. Boasting more than 24,000 miles of dramatic coastline – including 1,246 unique islands – this small and unassuming country is a yachting paradise, bar none. Crystalline waters, historic seaside villages and a flurry of charming ports showcase the kind of cultural and nature-based adventures you can expect aboard Aiaxaia in Croatia.
On a luxury yacht charter, your options for both land and water-based activities are endless. You can lose yourself in hidden coves aboard Aiaxaia's numerous water toys or head on shore for explorations of the many historic and arresting islands. Shop to your heart's content, go on a wine-tasting tour, hike through verdant hills covered in olive groves and wild lavender and wander through fortified historic towns long revered by UNESCO and the rest of the world alike. Oozing culture, natural beauty and fascination at every turn, Croatia is an all-encompassing yachting destination and Aiaxaia…the ideal luxury yacht to take you there.
# of guests: 12
# of cabins: 6 - master king, Viking, 2 queens, 2 cabins that can be queens or twins
# of crew: 10
Yacht type: Luxury sailing yacht
Length: 151' (46m)
Beam: 30' (9.2m)
Draft: 10' (3m)
Year Built/Refit: 2017
Cruising Speed: 11 knots
Builder: Ultramarine,
Croatia Rates start at €87,000/week for 12 guests, 10 crew members, accommodation fuel for 4 h engine work daily, fuel for generator 24/7, fuel for tender (for transfers and water sports), guest taxes, and Croatian VAT.
Additional costs are food, beverage, port fees, national park entrances, and fuel for personal watercraft and add about 10% to the Charter Fee. Luxury Yacht Charter Croatia - search for more Luxury Yacht Charter Croatia