People who choose crewed motor yacht charters appreciate the luxury, the space, and the ease and speed of getting from one exotic port to another. You'll notice that we refer to both superyachts and motor yachts. A superyacht is defined as a yacht, either sail or power, over 24 meters or 79 feet. So when we talk about motor yachts for charter, we are referring to power yachts that are under 80 feet in length.

© Jim Raycroft
Lots of space: Luxury motor yacht charters under 80' typically have 3 decks. The guest cabins are generally on the lower deck and include a large master cabin with 2-3 guest cabins with either queen or twin berths with all of the cabins having en suite bathrooms. The main deck features a large dining and living salon with a state of the art entertainment center. Al fresco dining is staged on the covered aft deck which is also a great spot for snoozing in the shade while underway. Most crewed motor yachts charters either have a small seating or sunbathing area forward on the main deck.
The top deck or "bridge deck" of luxury motor yacht charters often has an additional dining or cocktail area as well as lots of room for catching some rays and basking in a chaise as the world passes by.
Luxurious Decor: The decors vary from classic to contemporary, from minimalist to opulent, from Ralph Lauren to whatever you fancy!
Toys Galore: Crewed Motor yacht charters have more storage space than their sailing counterparts and can carry a lot of toys – waverunners, snorkel gear, sport fishing gear, towed toys like skis and wakeboards, and sea scooters. Some offer a large 28-35' tender that is towed and used for sport fishing, shoreside excursions, and scuba.
Speed: Speed varies from yacht to yacht depending upon their design and types of engine and propulsion. A trawler style luxury motor yacht charter may cruise at 10 knots whereas some of the new, sleek planing hulls like a Lazarra can cruise up to 30 knots. How fast do you want to get there?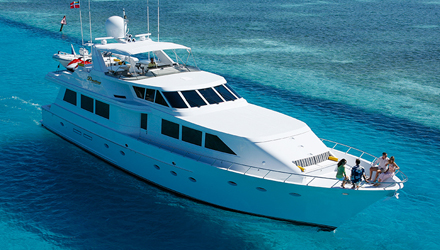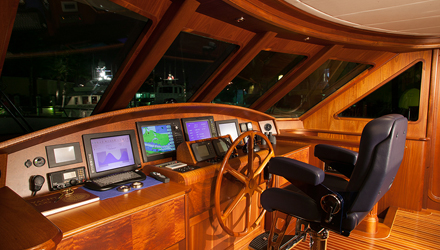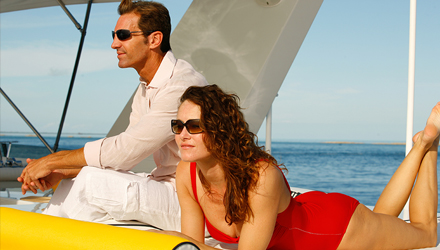 © Jim Raycroft
Attentive crews: Crewed motor yacht charters under 80' generally have 2-3 crew including a professional captain, gourmet chef, and first mate/steward. One crew member also serves as watersports instructor.
Destinations: Luxury motor yacht charters are readily available in most of our worldwide destinations. They are ideally suited to the Bahamas where they can quickly cover the distances between islands. You'll also find numerous crewed motor yacht charters along the coasts of France and Italy where they can jet set you between glamorous ports.