Tis the season for a Grenadines Catamaran Charter
.... with many private charter yachts re-locating there this winter.
Once again, the islands of Martinique, St. Lucia, St. Vincent and the Grenadines, and Grenada were untouched by the recent hurricanes which swept through the Caribbean.
One of the most outstanding catamarans available is the 
SandiSeas
, a stunning luxury catamaran crewed by a couple of friendly and professional Brits for whom the Grenadines, and the Caribbean in general, has been home for many years. The SandiSeas is a spacious, comfortable and luxurious vessel and combines a modern sleek design with a subtle elegance that makes the yacht a welcoming and sumptuous home away from home. With a small fitness area, a bevy of water toys and the lure of award-winning culinary treats, a Grenadines catamaran charter aboard the SandiSeas is just what the soul needs to rest, play and recharge.
Luxury Accommodations on Your Grenadines Catamaran Charter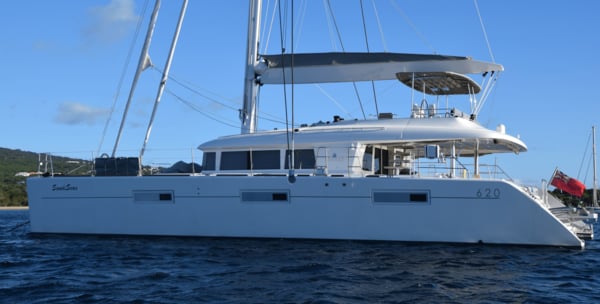 The SandiSeas' three en-suite cabins can accommodate up to 6 guests in great comfort. The Master Cabin, luxuriously ample with the addition of a settee area, boasts an extra-wide design and makes it difficult to believe you are actually sailing on a catamaran. Both Aft and Forward cabins likewise offer space, light and a fresh Caribbean breeze thanks to overhead hatches. Queen Size beds, comfortable en-suite bathrooms, wardrobes and writing desks complete the picture in all cabins, with an extensive use of teak and white furnishings allowing plenty of natural light to reflect through. Plush robes, gorgeous linen, and top-quality toiletries are provided for your comfort and enjoyment.
Specs and amenities
No matter where you stand, sit or recline aboard the SandiSeas, spectacular Grenadines vistas are all but guaranteed. The cockpit's day-rest area, with a plush lounge and large dining table, will undoubtedly be your favorite chill-out spot, with sliding doors connecting to the salon to create a blissful open-plan living, socializing, dining and relaxing space.  Then there's the Flybridge, a firm fave-spot contender on your Grenadines catamaran charter. Sofa beds, sink-in lounging beds and easy access to refreshments adorn a spacious teak terrace. The ideal spot to sip cocktails as the setting sun gingerly kisses adieu on yet another idyllic day out sailing on your Grenadines yacht charter.
Toys
The warm waters of the Caribbean are perfect for year-round enjoyment so it's no wonder the SandiSeas comes equipped with a selection of water toys to suit guests of all ages. 
Kneeboards, wakeboards, and water skis
 ought to scratch those adrenalin itches, whilst 
kayaks, paddle boards, and SUPs
 will delight those who wish to enjoy the turquoise waters at a more leisurely pace. 
Snorkelers and anglers 
will also have top-quality equipment at their disposal, whilst rendezvous trips can be arranged for those with SCUBA diving certification. For light exercise (or in an attempt to burn off the second helping of Andrea's decadent sweet treats) the SandiSeas is equipped with an exercise bike, yoga mats, and resistance training bands.
Crew
Skipper Chris Worsfold and his very best First Mate Andrea Worsfold are a truly formidable team. Guiding, hosting and satisfying every guest since day 1, this dynamic duo has an ability to foresee what is needed and desired, going to great lengths to ensure guests are having the time of their lives. Experienced, charming, professional and friendly, Chris and Andrea enhance every SandiSeas charter experience, ensuring they consistently become one of the most treasured parts of every SandSeas Grenadines catamaran charter vacation. Andrea and Chris operated a boutique hotel and restaurant back in the UK a few moons ago, and the success of their previous business (as well as their current luxury yacht charter careers) is a testament to their dedication, experience, love of their job and true care for their guests. But let's get to the best part: the culinary genius of Andrea! We're quite convinced that the addition of an exercise area aboard SandiSeas was due purely to Andrea's exceptional cooking skills. Try as you may, you'll find it immensely difficult not to beg for seconds of her mouth-watering seafood risotto with scampi, baked Mahi Mahi with Wasabi sauce and her truly wicked – and we mean wicked – white chocolate mousse with fresh strawberries and pistachio ice cream.
SandiSeas at a glance – Luxury Grenadines Catamaran Charter
# of guests:                   6 # of cabins:                   3 # of crew:                      2 Summer Location:      Grenadines Winter Location:         Grenadines Rates:                            $30,000 for six guests all-inclusive Yacht type:                   Lagoon 620 Length:                         62 ft/18.9m Year Built:                   2013
Book Your Holiday Grenadines Catamaran Charter - Sandiseas Still Available
$33,000/week for up to six guests for either holiday week