Why is Nenne our nomination for the
Best New BVI Catamaran Charter?
Here are our top ten reasons:
1. Brand new in 2017- 67 feet of sleek luxury
2. Award-winning crew and one of the top ten best BVI catamaran crews at the helm - Donald and Audrey Harper, formerly of Flow and Aletheia - assisted with smiles by their deckhand Richard.
3. No expenses spared on the amenities -
4. A vast array of brand new top of the line water toys including skis, kayaks, paddle boards, kneeboard, wakeboard, towables, and fishing gear
5. A scuba diver's dream - Donald is an instructor; 10 sets of new gear including regulators with dive computers, BCDS with integrated weight systems and an onboard compressor.
6. 5 luxury cabins - a master king, 3 queens and one twin whitecap convert to make. All cabins have baths en suite with AC, Sony TV and Apple TV with access to over 500 films.
7. Superb Cuisine - Audrey creates food with love and creativity - winner of several chefs' awards at charter yacht shows
8. Eco-friendly - the Harpers and Fountain Pajot (the yacht's builder) are committed to keeping our oceans pristine and have adopted many green practices without sacrificing luxury or comfort.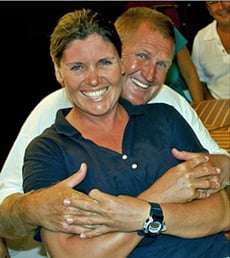 9. The Fun Quotient- The crew's enthusiasm plus all of the toys plus the splash of the Caribbean Sea = more fun than you've had since you were 6 years old.
10. Comfort -Nenne was built with lots of input from Donald and Audrey. Their years of experience translated into a wish list that got implemented. As an example - retractable shade coverings - allowing for different guests' preferences for sun or shade.
All-inclusive rates FOR 2018/2019 $46, 000/10 guests; $44,500/8 guests; $43,000/6 guests plus $35 pp/dive for certified divers; a "learn to scuba" course is available for new divers - $135 pp.
BOOK A YEAR IN ADVANCE AND SAVE 5% OFF THE ABOVE RATE - contact us soon. Take off $250 each for up to 2 children under 13. Search for other Best New BVI Catamaran Charters