Indonesia Luxury Liveaboards – Gaia Love
Indonesia is arguably the best SCUBA diving yacht charter destination on the planet and certainly the one pocket of Southeast Asia that offers an immense number of options. From the famous Komodo and Raja Ampat islands to the hidden treasures of the Southeast Moluccas, Banda and Lesser Sunda isles, Indonesia is a diver's absolute dream.
An exciting addition to the fleet of Indonesia luxury liveaboards is Gaia Love, a sleek, swift and stylish luxury yacht that was specifically built – and designed – for live aboard scuba adventures. This no-fuss beauty offers diving enthusiasts a chance to explore some of the most remote archipelagos on earth in excellent comfort, something which has been in relatively short supply down in this part of the world. Yet here at Ocean Getaways, we love to seek out exceptional vessels, even in the most unlikely of places.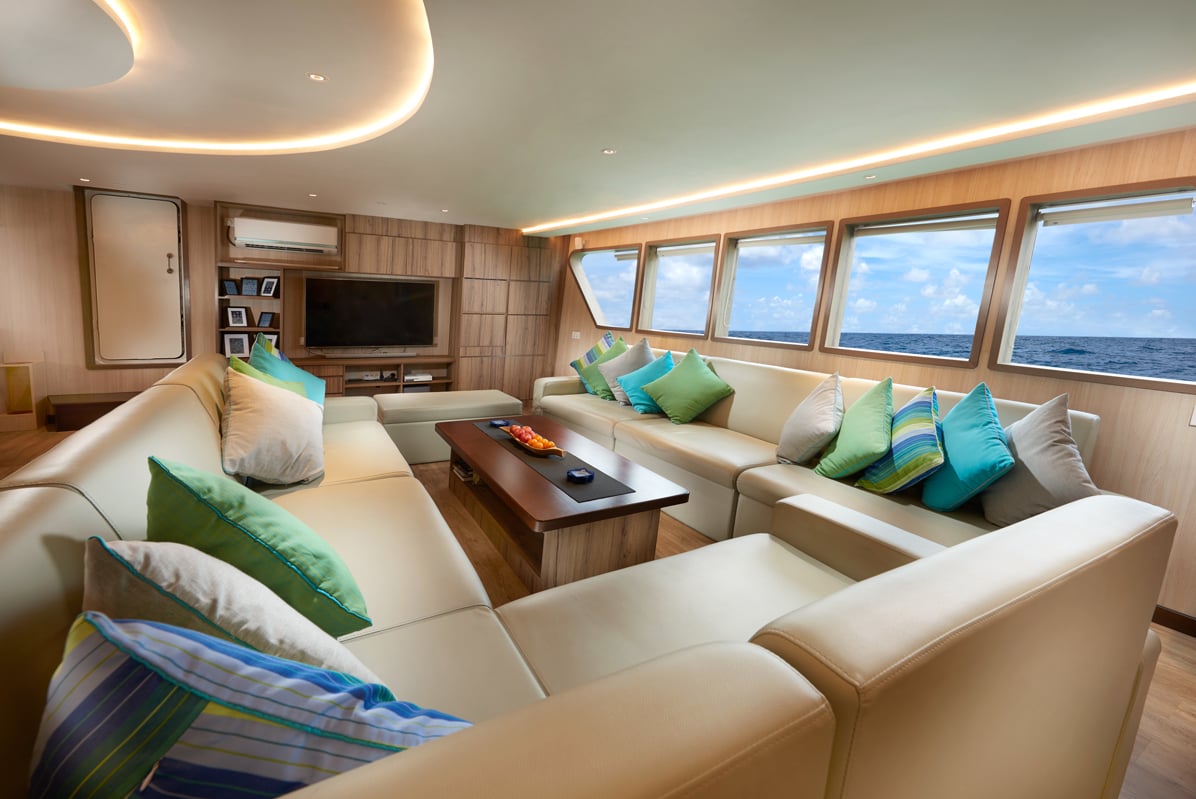 Built in 2016 and accommodating up to 22 guests, Gaia Love takes its diving seriously. The modern minimalist décor allows for ample gear space, with tank racks and personal storage lockers taking center stage on the aft deck and an indoor room dedicated entirely to the preparation of underwater camera gear. Serious about an unrivalled Indonesia luxury liveaboard experience? Then you'll love the Gaia.
Onboard Highlights for Gaia Love
Gaia Love's focus may well be on diving, but this doesn't mean there isn't any space left over for relaxation. Copious outdoor and indoor space offer an abundance of sunbathing spots and plenty of shaded ones too. This four-decked Indonesia luxury liveaboard yacht is spacious and bright, with lounge and dining saloon large enough to accommodate everyone comfortably whilst still offering plenty of enticing private corners should you crave some contemplative time to yourself. A rear diving deck accommodates up to 28 divers at once and an adjoining boat deck houses two skiffs for divers to use. A stunning top deck – with gorgeous bar – means you can soak up the wonders of Indonesia's other treasure: its startling sunsets.
Air-conditioned throughout, Gaia Love has at-sea stabilizers to give your sea legs a break and WIFI connection when possible so you can Instagram those dazzling pics just as soon as you're back onboard. Showcasing its commitment to diver safety, Gaia Love has state-of-the-art navigation, communication and recovery equipment, so you can dive with peace of mind. Fancy a deep tissue massage after a full day of exploring the underwater wonders of Indonesia? Yes. Gaia Love offers that too.
Luxurious and Flexible Accommodation Aboard Gaia Love
A total of 11 suites accommodate up to 22 guests, with 6 upper-deck cabins (each with private balconies) and 5 lower-deck cabins offering comfortable ensuite accommodation. Each 20 sq. meter cabin has an independent air-con system and entertainment system, as well as a clean finish and an uncluttered fashionable décor. One king, 4 queens, and 2 twin cabins.
Stellar Array of Toys for Sea Lovers
Head off on an Indonesia luxury liveaboard and you make the sea your playground. Choose Gaia Love and, all of a sudden, the playground is full of stellar toys. Three 55hp tenders get you on land – or at a diving site – in a jiffy, and an array of fun gear for fishing, snorkeling, SUP, kayaking and wakeboarding means you can have just as much fun on the sea as under its crystalline surface. Gaia Love has two onboard compressors including Nitrox. You can bring your own personal dive gear or rent it onboard.
An Exceptional Crew of Trained Professionals
Young, fun and diverse, the team aboard Gaia Love comprises an experienced Indonesian Captain, an excellent chef adept at creating local and international culinary delights and two international SCUBA diving instructors. Amiable, competent and attentive, the 18-strong crew of Gaia Love will ensure your Indonesia diving experience is one you'll fondly remember for the rest of your life.
Indonesia Luxury Liveaboards - Itinerary Options
The largest archipelago in the world, home to more than 17,000 islands, Indonesia offers so many magnificent diving destinations that simply picking one can be a colossal challenge. Luckily, the Gaia Love offers a comprehensive year-round sailing itinerary, focusing on specific regions at certain times of year. Perhaps your best bet is to trust the itinerary on offer for the time of year you wish to travel.
No matter which itinerary you choose, an Indonesia luxury liveaboard journey always delivers a multitude of discoveries. These biodiverse islands and nutrient-rich waters are home to a mind-boggling array of land and marine wildlife as well as unique landscapes you won't see anywhere else. The local government tourism slogan calls it Wonderful Indonesia but to anyone who's lucky enough to have been, this would have to seem the understatement of the year. Indonesia isn't just wonderful…Indonesia is out of this world.

Raja Ampat – November to April, each year Off the northwestern tip of West Papua, the Raja Ampat archipelago was known to only the most avid divers just a few years ago. The Four Kings Islands (what Raja Ampat translates to) comprise four main islands and over 1,500 smaller ones. Combined, they encompass the largest marine wildlife colony on earth. Jungle-covered islands boast pristine beaches and an underwater world that is teeming with life. Remote and not easily accessible, Raja Ampat is the undisputed jewel in the Indonesia luxury liveaboard crown. Read more about Raja Ampat, right here.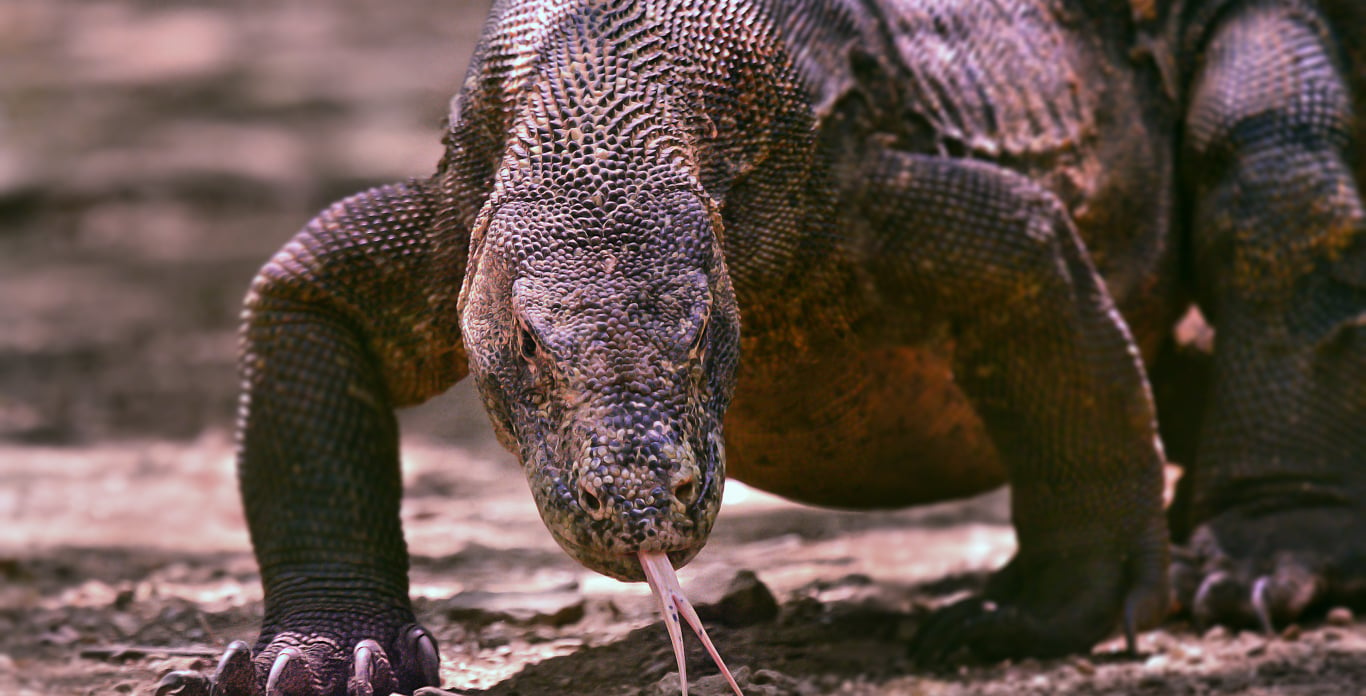 Komodo – June to August, each year Home of giant dragons, majestic manta rays and a maze of coral reefs brimming with marine life, the Komodos are on every diver's bucket list. Declared 'the 7th Wonder of Nature' in 2011, the Komodo islands display an extraordinary biodiversity. The fiercely protected treasures include more than 1,000 different species of fish and hundreds of corals of varying sizes and colors. The natural diversity offers something for every diver: sheer underwater cliffs, colossal pinnacles and caves, as well as some challenging currents. You'll find more info on the Komodo Islands, right here.
Banda Arc Crossing & Lesser Sunda Islands – May, September and October The Gaia Love makes its first crossing, from Raja Ampat to the Komodos in May so this is your first (but not only) chance of the year to hop aboard and enjoy fantastic jaunts through the Lesser Sunda Islands. The latest corner of Indonesia to receive Government protection, the Lesser Sunda offer a bevy of diving options. As the Gaia meanders through this maze of volcanic islands on its way south to the Komodo, you'll have much to explore both on land and under the sea. Given the remoteness of the Banda Arc islands, it is here that you'll find some of the most pristine and lesser-visited reefs in all of Indonesia. Outstanding marine highlights include giant octopus and enormous schools of surgeons, snappers, rays and grey reef sharks.
Gaia Love Liveaboard Prices
Rates for Gaia Love Indonesia Luxury Liveaboard trips start from USD 88,440 per week, all-inclusive*.
Please note that the yearly schedule is quite flexible. You may request a specific relocation, which comes at a fee of approximately USD 30,000.
*Extra fees: spa treatments, diving gear, port and National Park fees, alcoholic beverages aside from beer, communications fees for data usage.
Gaia Love…at a glance
# of guests: 22
# of cabins: 11
# of crew: 18
Summer Location: Southeast Asia/Indian Ocean
Winter Location: Southeast Asia/Indian Ocean
Rates start at: USD 88,440 per week
Yacht type: Motor
Yacht Length: 131'3" (40m)
Beam: 32'10" (10m)
Draft: 6'11" (2.10m)
Cruising Speed: 10 knots
Top Speed: 12 knots
Year Built/Refit: 2016
Builder: Purpose-built in Batam, Indonesia
Do you prefer a sailing yacht live aboard? Check out Silolona or Lamima For more information on Indonesia Luxury Liveaboards on Gaia Love, contact us at 239-896-7278 or e-mail us.