O'Mega Yacht Charter for 30 Guests
The introduction of the spectacular O'MEGA yacht charter to the balmy waters of the Caribbean for the winter is an absolute dream scoop. This is one of a rare few superyachts that can accommodate 30 guests. An absolute floating powerhouse of comfort, elegance, mod-cons and unrivaled convenience. O'MEGA is already a much sought-after group charter in the Mediterranean and now enjoys spending the winter months in warmer waters. We have absolutely no doubt that this amazing superyacht charter will soon become one of the most popular group charter yachts in the Caribbean.
Have a group of 30 on your hands and don't wish to deal with two adjoining yachts? Then the O'MEGA and her fabulous crew are your dream-team. It is indeed a rare find among the luxury yacht charter world and is particularly ideal for family reunions, milestone birthdays, corporate charters and special event adventures. A favorite with influential business people and sports stars, the O'MEGA oozes exclusivity and elegance like few other megayachts do.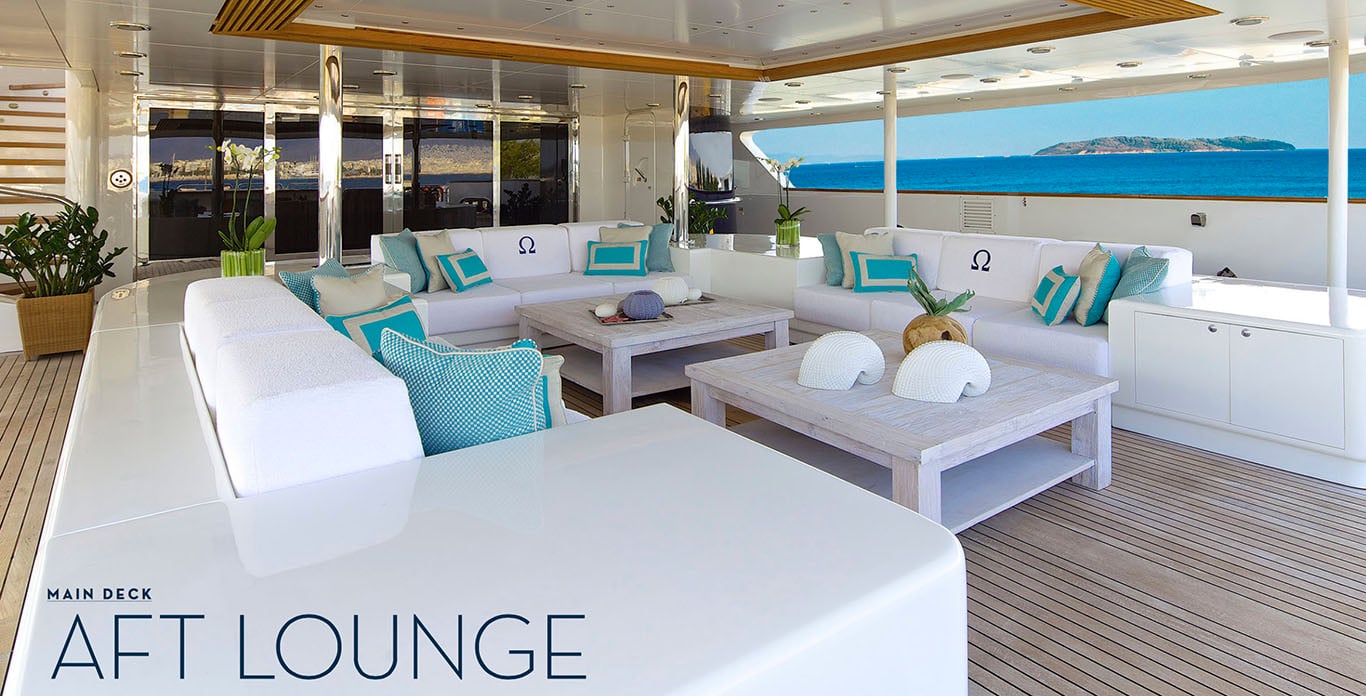 O'MEGA's highlights include the ample space she offers guests and the quality of her fittings and furnishings. Sleek white finishing, mahogany detailing, marble flooring, and the extensive use of Italian and French designer fabrics make this motor yacht an absolute knockout. Yet where she shines best is undoubtedly in her spaciousness. A host of outdoor and indoor dining and relaxing lounges, as well as a gorgeous piano bar with plush oversized sofas, make O'MEGA ideal for socializing in a group. When guests crave some alone time, they'll find the private cabins to be superbly light and airy, finished with the same elegance seen throughout the yacht.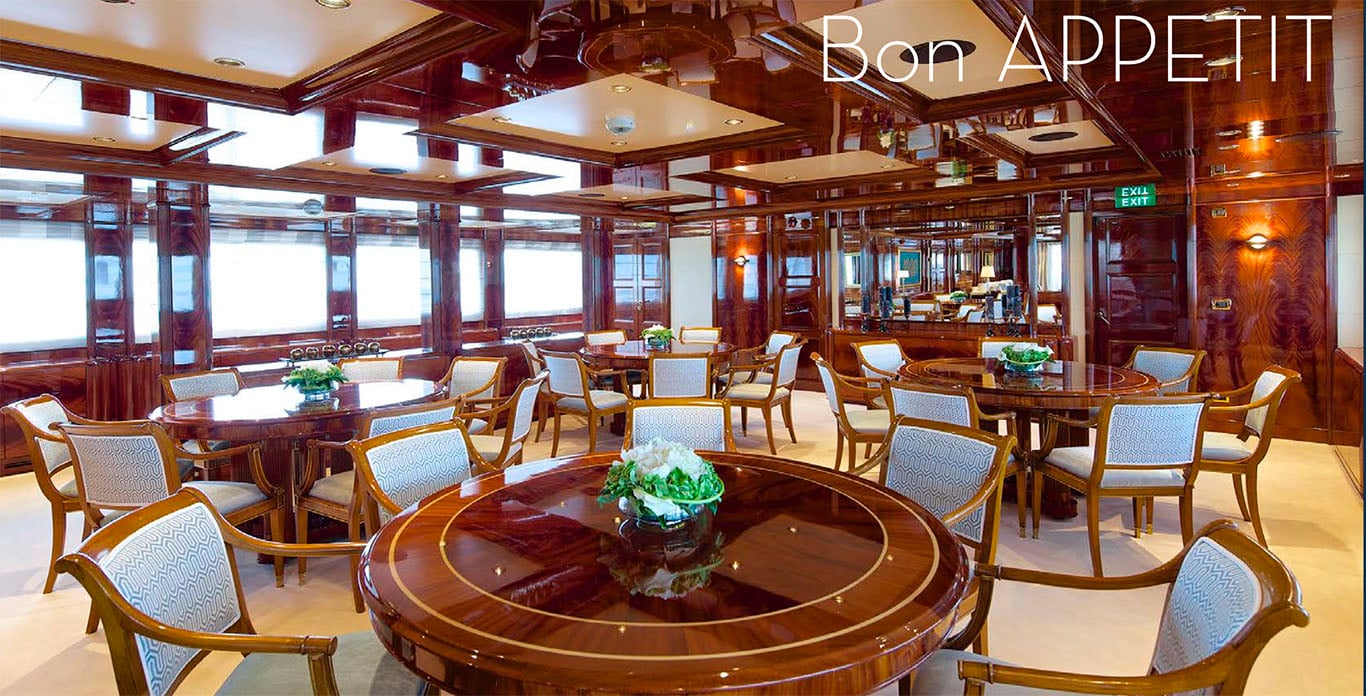 Above all, the experienced and attentive crew, as well as an extensive collection of water toys, are what will make your O'MEGA group charter an unforgettable experience.
Amenities on an O'Mega Yacht Charter
Pressed to name our favorite O'MEGA features, the first three which stand out most are the retractable swimming platform – which makes getting in and out of the sea a breeze – her spectacular cinema and the stunning upper saloon which accommodates 30 guests with incredible ease. The gym, massage room, jacuzzi and extensive dining room also deserve a mention and give you an idea of the kind of luxury and comfort you can expect.
A fully-equipped business center is perfect for exclusive corporate group charters. Air-conditioning, WiFi, comprehensive video, and audio system, and high-tech stabilizers make cruising relaxed and enjoyable. In fact, guests aboard the O'MEGA often mention that the hardest part of a group charter on this phenomenal resort at sea is being forced to disembark!
Accommodations on an O'Mega Yacht Charter
O'MEGA's guests can be accommodated in 15 deluxe cabins, comprising a Master Suite with breathtaking front-facing windows, 5 VIP Queen suites, 5 Doubles and 4 Twins. Finished with polished detailing, lush linen and elegant furnishings, all the cabins aboard this superyacht offer the perfect retreat after a full day of play in the sea, sun, and surf. Marble ensuites, individual air-conditioning, and high-tech home entertainment systems complement the flawless cabins.
Toys R Us
The O'MEGA is marketed as the epitome group charter superyacht and as such she doesn't hold back when it comes to her selection of toys. Water-skis for guests of all ages (yes, children too!) seabobs and jetskis, kayaks, wakeboards, snorkeling equipment and a great choice of inflatables make O'MEGA brilliant for entertaining large groups. The inclusion of 4 x full SCUBA diving kits is just that extra bonus you'll love if you have certified divers among your group.
O'Mega Yacht Charter Crew
Revered by past guests for their attention to detail and warm hospitality, Captain Dimitris and his 29-strong crew are the much-celebrated families behind the continued success of O'MEGA. One can only imagine the kind of work and discipline needed to keep such a colossal and luxurious yacht operating smoothly. And imagining is precisely all you do. Embark this yacht and from the moment you unpack, until you leave, they'll make your journey seem incredibly easy to coordinate. Let us tell you: organizing a smooth and successful charter on a megayacht with 30 guests on board is anything but easy!
The crew aboard O'MEGA is a delightfully eclectic bunch of men and women, hailing from different parts of the world and all bringing unique traits and a kaleidoscope of experiences. From one of the world's best hotel managers to enthusiastic water sports instructors, an exceptional Italian chef, and a Michelin-restaurant trained sous chef. The O'MEGA crew and captain will go far beyond the call of duty to ensure your clients, employees and family members are splendidly pampered and looked after.
O'MEGA Yacht Charter Price
450,000 Euro per week + expenses in the Caribbean; 550,000 Euro per week + expenses, in the Mediterranean
# of guests: 30
# of cabins: 14
# of crew: 30
Summer Location: Mediterranean
Winter Location: Caribbean
Rates start at: 450,000 Euros in the Caribbean; 550,000 Euros per week, plus expenses
Yacht type: Custom motor yacht
Length: 207 ft (82.5m)
Beam: 38.06ft /11.6m
Draft: 14.44ft /4.4m Year Refit: 2009/2011/2015
Top Speed: 15 knots
Cruising Speed: 12.5 Knots
Fuel consumption: 790 Lt/Hr
Search for more megayacht charters