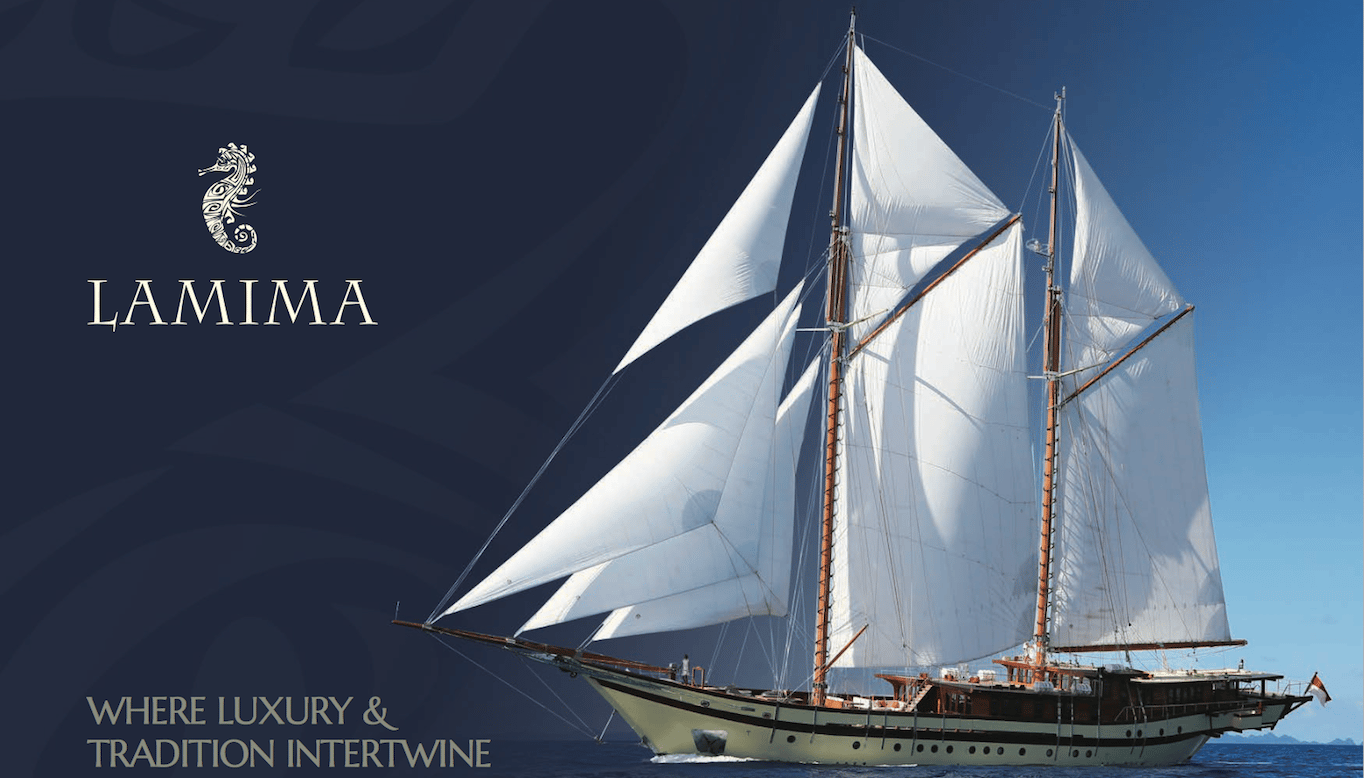 Very few yacht charter experiences can surpass the romance, class and authentic adventure offered by a luxurious wooden sailing yacht. Lamima is one of the most striking yachts on the charter market in Indonesia, and she sails to some of the remotest, most pristine and outstanding archipelagos on the planet. With this winning combination, an Indonesia luxury yacht charter simply does not come any better.
At just over 213' in length, a crew of 19 and a guest count of 14, Lamima offers pure and unadulterated luxury in the utmost comfort. Spacious, elegant and oh-so-pretty, this wonderful sailing yacht is the largest of its kind in the world and could turn the dullest destination into an unrivalled bucket-list adventure by sheer splendor alone. The fact she sails to such coveted destinations as the Komodo Islands and Raja Ampat simply adds to her allure.
Built by a team of traditional boat builders in Sulawesi, following the design of Spanish yacht designer Marcelo Pena, Lamima gives a defining nod to Indonesian tradition and world-class yacht technology. She's warm, inviting and distinctive, whilst simultaneously offering unrivalled safety, amenities, comfort and aesthetics. The best of both worlds, one might say. And the very best of East and West.

Excellent diving and snorkeling excursions are the calling cards of Indonesia's most coveted islands. Because of the unique and exotic cultural experiences, exquisite culinary delights and abundance of on-land natural highlights, you do not need to be a master diver to enjoy an Indonesia luxury yacht charter aboard Lamima. Step but one foot aboard Lamima on an Indonesian luxury yacht charter and you'll never think of a sailing vacation the same way again. For sensational sailing expeditions to remote and titillating Indonesia, let us introduce you to your ultimate sailing home.
Lamima's Onboard Highlights
At first sight, Lamima seems tailor-made to turn heads. Her stunning white sails, ultra-polished teak and dreamy fore-deck adorned with plushy white cushions are enough to make you giddy with delight before you even step on board. Her construction was a true labor of love and her owner's insistence that travel should be not only about the destination but also the journey, translates to an impressive list of amenities. Lamima's décor can best be described as understated, contemporary Asian elegance. The extensive use of wood, soft colors, lush furnishings and integrated lighting make her a cocoon of tranquility. Her high-tech mod-cons, on the other hand, including iPod docking stations, HD TV and movie library, also make her the ideal family charter yacht.

Centrally located midship, the lounge, bar and dining saloon accommodate all passengers very comfortably. The outdoor terrace, designed to soak up the glorious year-round climate, accentuate her spaciousness. Forward of the main deck you'll also find an intimate, private space, ideal for that D&M you've been meaning to have with a special someone. Outdoor sunbathing space, complete with Indonesian sunbeds, offer plenty of relaxation between excellent diving, snorkeling and on-land excursions.
In-house gym equipment, moreover, will cater for the exercise buffs in your group. Privacy, togetherness, intimacy and outdoor fun and relaxation: Lamima manages to seamlessly deliver on all counts. Able to cruise comfortably at 8 knots, Lamima is a top-class sailing yacht, stable and safe and immensely smooth. A modern dame of the seas with infusions of traditional character, Lamima is the ideal Indonesia luxury yacht charter liveaboard for the discerning sailor who wants to see the best whilst sailing the best.
Luxurious and Flexible Accommodation on Lamima
A total of 7 luxury cabins accommodate 14 guests - 5 Doubles and 2 Twins. Cabins are roomy and bright and blessed with an unmistakable Indonesian decorating touch. Superb ensuites, sitting areas and abundant closet space gifts your own little oasis retreat.
Lamima Experiences & Water Toys
Indonesia's islands offer plenty of unforgettable highlights yet Lamima has a few brilliant distractions of her own. Two Balinese masseuses, part of the Lamima crew, offer their services in the massage center located on aft deck, which also includes a bevy of beauty treatments. If you're feeling energetic after your treatment, you'll surely want to take advantage of Lamima's extensive toy collection, which includes Jetskis, SUP board, traditional Indonesian canoes, kayaks, wakeboards, waterskis, surf boards and a number of towable inflatables for all manner of exhilarating fun.
Three RIB tenders get you off the yacht (albeit, begrudgingly) and straight into the seaside fun. Being an Indonesia luxury yacht charter live aboard means that Lamima is fitted with a PADI SCUBA dive center. There's enough diving and snorkeling gear for every single guest and a PADI instructor ready to certify newcomers to the sport. An array of guided excursions also offers a great many activities to non-divers. Hop ashore, meet the exotic wildlife and explore the extraordinary islands of Indonesia.
Lamina's Professional & Friendly Crew
You'd be hard-pressed to find a more accommodating and gracious culture as the Indonesian culture, and the professional and welcoming crew aboard Lamima is a prime example. Always smiley and upbeat, the Lamima family is an absolute pleasure to be with, with Captain Ifan, a veteran with 15 years' sailing experience in his home country, leading the crew in impeccable fashion. The 19-strong crew includes a Cruise Director who will plan your activities, a dive instructor, two masseuse and several engineers whose job it is to keep Lamima sailing without a hitch.
We'd forgive you for taking a special shining to Head Chef Rezida, however. We certainly did! Rezida learnt to cook on his grandmother's lap and evolved to head kitchens in some of the most prestigious hotels in Indonesia, including the Shangri-La and Sheraton. He plays guitar the same way he combines ingredients, with the most effortless skill. Apt at catering to all culinary needs, Rezida is a master of fusion cooking and we're sure you will love his delectable creations.
Explore the Best of Indonesia with Lamima

Indonesia is a dreamy destination for sea lovers. The year-round idyllic climate and concentration of marine treasures tug at the string of divers and snorkelers yet, dare we say, you'll find an Indonesian Luxury Yacht Charter experience incredibly rewarding even if you were to keep your head above water the entire time. Biodiverse and home to a vast cache of unique land and underwater wildlife, the country of a million islands – or so it seems – is a nature lover's paradise.
Lamima shares her time between the Komodos and Raja Ampat, both renowned internationally for being authentically exotic, rewarding and, quite frankly, drop-dead gorgeous. A few of the wildlife highlights include the revered Komodo Dragon – the largest lizard on earth – as well as deer, wild boar and several species of birds including the loud and proud King Cockatoo. In the water, you'll meet manta rays, dolphins and whales in migration. Thousands upon thousands of exotic fish and a nearly infinite range of coral is visible by diving and snorkeling alike.
Lamima Prices & Sailing Itineraries
Lamima sails with the winds and the best weather conditions in the region and can be chartered anywhere in Indonesia, Thailand and Myanmar. Her Indonesian itinerary takes advantage of the best season for optimal underwater visibility, seeing her in Raja Ampat in March – May and between Bali and the Komodos during June - October, before making a dash for the enticing Spice Islands in November.
Rates in Indonesia start at USD 109,000 per week which includes a LOT of added extras:
• Ground transfers • All Meals • Refreshments and all beverages – including local alcoholic beverages • Diving with qualified instructors • Watersport activities such as snorkeling, kayaking, paddle boarding, etc... • Spa treatments and massages • Shore excursions and island hopping • All admission fees to National Parks and permits • Fuel: cruising + generators
Lamima…at a glance
# of guests: 14
# of cabins: 7
# of crew: 19
Summer Location: Southeast Asia/Indian Ocean
Winter Location: Southeast Asia/Indian Ocean
Rates start at: USD 18,000 a night
Yacht type: Luxury sailing yacht
Length: 213'11" (65.20 meters)
Beam: 36'9" (11.20 meters)
Draft: 12'2" (3.7 meters)
Cruising Speed: 8 knots Top Speed: 10 knots
Year Built/Refit: 2014
Builder: Haji Baso, Indonesia
View Silolona and Gaia Love - two of our other favorite Indonesia Luxury Yacht Charter vessels For more information on Indonesia Luxury Liveaboards on Lamima, contact us at 239-896-7278 or e-mail us.
Search for additional Indonesia luxury yacht charter vessels