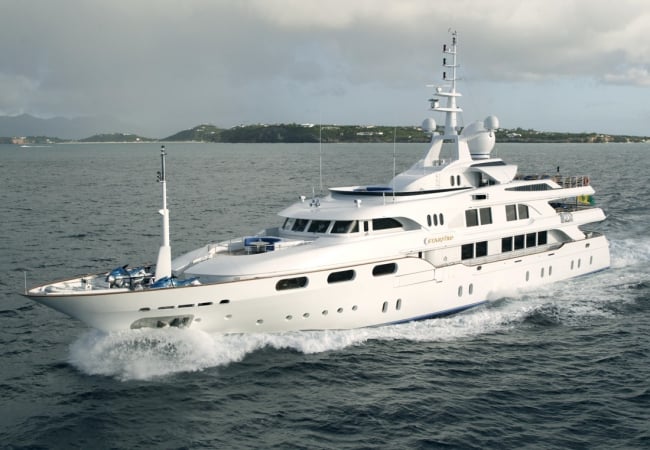 Since her major overhaul, the splendid Starfire has been causing quite the stir and is one of the top Caribbean Megayacht Charter options. She's sleek, stylish and sassy and she's been turning heads at every port. Who could blame her? This 178-foot Benetti-designed Caribbean queen offers a phenomenal yachting experience and is one of the most popular Caribbean mega yacht charter options in our fleet. And it certainly doesn't hurt that she's easy on the eye, we'll admit that!
12 guests in 6 elegant staterooms
Not known to be shy about her assets, Starfire offers a luxurious stay for 12 guests in 6 elegant suites: 2 kings, 2 queens, and 2 twins. Her Art Deco interior is stupendous, as is the inclusions of mod cons such as wifi and a laptop in each cabin. To further prove that no expense was spared in her makeover, this gorgeous mega yacht offers state-of-the-art entertainment and communication systems, glorious marble furnishings, Italian linen, warm wooden finishes, and extravagant fabrics. It's this lovely fusion of modernity and old-world elegance that sets Starfire apart from the crowd. Oh...perhaps the outdoor cinema, gym, Jacuzzi, as well as massage and sauna rooms, may play a part in that too.
A yacht-load of toys on your Caribbean Megayacht Charter
Once you pry yourself from your opulent suite and step out onto the sun deck, you'll have a collection of water toys at your disposal: double-jetskis, kayaks, toboggans, snorkeling equipment, water skis, a 36ft Jet Drive Hinckley, two brand new seabobs and lots of inflatable and towable toys. So whether you want to chill, play, sun worship or just lounge about, your options on this Caribbean mega yacht charter are near-endless.
Seasoned Charter Crew As with all the most popular yacht charters, the absolute highlight of Starfire is her dedicated team. Hop aboard this Caribbean mega yacht charter and you'll feel like you've come home. A beautiful, stunning, comfortable and luxurious home, complete with 12 crew members whose main aim, it would seem, is to spoil and indulge you in every way imaginable. Captain Carl, the fearless leader, is one of the most respected captains in the industry. He's a truly season sailor, has a passion that's unrivaled and is a wealth of info and advice.
His partners in crime include a chef and a sous chef who are literally obsessed with making sure the guests are always well fed (no complaints so far!) plus a small team including stewards and stewardesses who'll cater to your every need. The kind of epicurean delights you can look forward to on your Caribbean mega yacht charter aboard Starfire are homemade mushroom ravioli, seared local scallops with tarragon coulis, Roquefort cheese soufflé and poached sea bream with wild mushroom risotto. We probably need not mention that you'll savor a homemade gourmet dessert at the end of every meal and that it will soon become the absolute highlight of your day. It's best you discover these kinds of secrets on your own…
Rates and availability: Reserve this über-luxurious Caribbean megayacht charter for USD$228,000 a week – plus expenses.