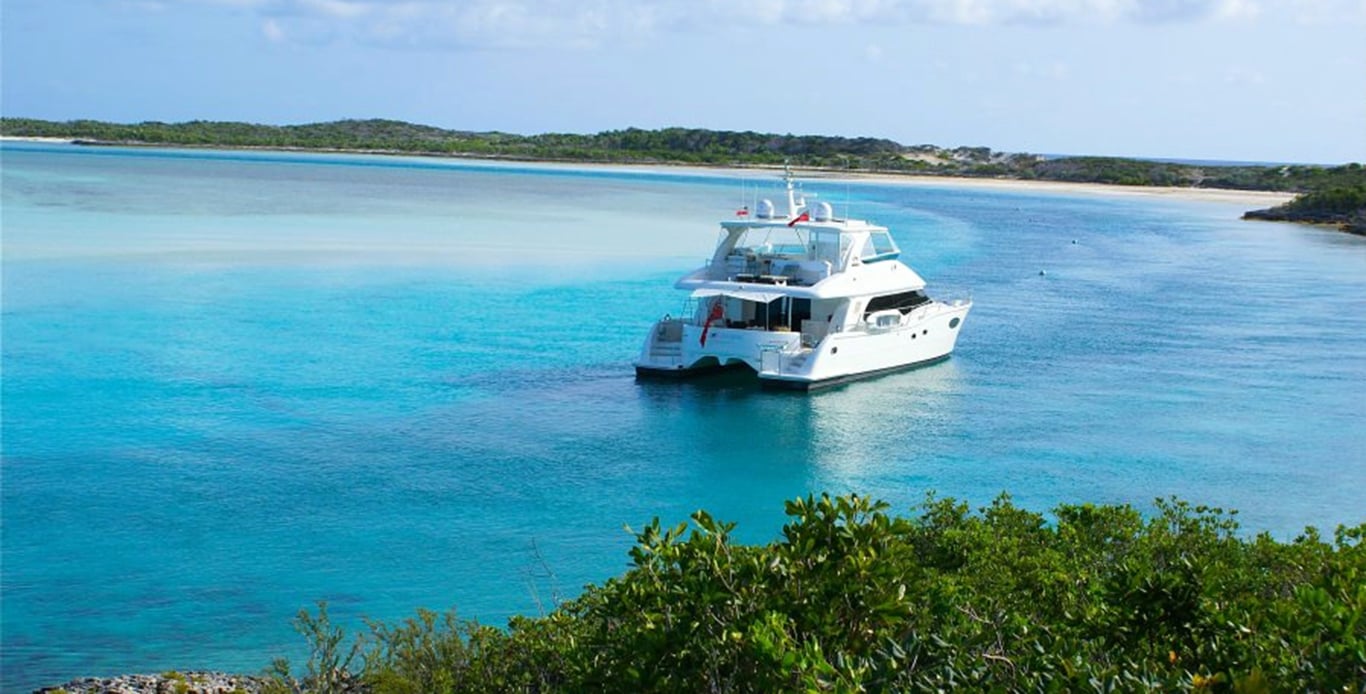 Horizon yacht charter powercats are renowned for being luxurious, comfortable and striking, and the phenomenal Sea Boss is certainly no exception. This custom-built 60' power catamaran is a real head-turner, with a sleek design that'll seduce anyone looking for a discerning yachting vacation in the Caribbean. Modern, sophisticated and edgy, the Sea Boss is a true feast for the eyes and you're sure to be impressed before you even set foot aboard. Offering many the bells and whistles of a large luxury superyacht – but ideally sized for an intimate affair at sea – the Sea Boss is that perfect compromise when you're looking for a superb jaunt around the idyllic Virgin Islands in an unparalleled, value-for-money luxury catamaran. The Sea Boss is ready to take you and 5 of your nearest and dearest on a delectable journey of exploration and fun. Let us guide you on a virtual tour of this brilliant Horizon yacht charter option, meet the dynamic duo running the show and come sail the high seas like a boss.
Accommodations on the Sea Boss Horizon Yacht Charter
Sea Boss can sleep up to 6 guests in 3 cabins, with 1 x King, 1 x Queen, 1 x Twin making this an ideal charter option for families or small group of good friends. The Twin can convert to a King with ease. As the crew enjoys a separate companionway, guests can luxuriate in privacy. You'll find a private bath for each cabin.
Specs & Amenities
The compact size and world-class hull design make the Sea Boss a pleasure cruiser like few others. Whether you're zooming at her top speed of 24 knots or leisurely cruising at 8, you'll find this Horizon yacht charter offers a very smooth ride. The state-of-the-art Saloon TV and entertainment system, as well as the plush L-shaped lounge, are perfect for those family nights in. Although we have an inkling that you'll spend your evenings spotting shooting stars out on the decks instead. We know you'll love the extensive use of teak, beautiful décor and soft lighting. We sure do. This is one of the most welcoming luxury power catamarans on offer in the Caribbean, a warm and cozy home at sea that ticks all the right boxes.
Toys & More
Offering a wealth of added extras belying her compact size, Sea Boss is a high-power rocket of fun and entertainment. From water skis for adults and children to wakeboards and paddle boards, snorkel gear, deep sea fishing equipment, tubes, floating mats and a bevy of beach games to take on shore, you're guaranteed to have 101 active options at your beck and call. The swim platform allows for easy access to the crystal clear waters of the Caribbean, where the underwater camera gear will surely come in handy.
The Sea Boss Crew
It is often said that behind every great luxury yacht is an equally superior crew,. Aboard the Sea Boss, you'll find two of the most welcoming, professional and competent crew members in the biz. For Darrel Hearne and Jenn Hart, the Sea Boss is home, a home they lovingly serve up on a silver platter for all guests to enjoy. The power couple complements this power catamaran to a T and their combined skills make chartering the Sea Boss not only a pleasure but a real privilege.
Jenn's culinary prowess and her entertainment talents are second to none. Her "farm to table" night with Good Moon Farm delivering directly to Sea Boss while you're onboard is a big hit. Her infectious energy, caring nature and ready smile woo adults and children alike. Darrel is the consummate sailor. A South African native, he spent years sailing both North and South America, before "settling down" in the Caribbean with Jenn as first (and only!) mate aboard the Sea Boss. Darrel is your ideal playmate, a man who's up for all of the water sports on offer. So if you're looking for a partner in water-fun crime then he'll definitely be your sidekick!
Looking for a Horizon yacht charter with a difference? Then head straight for the splendid Caribbean this year and don't let the Sea Boss sail you by. At this incredible rate and with all the stellar reviews we continually receive, she's bound to be booked out in a flash.
Contact us now for more info.
Here's the Sea Boss at a glance:
# of guests: 6
# of cabins: 3
# of crew: 2
Summer Location: BVI and Bahamas
Winter Location: BVI
Rates start at: USD $28,500 all-inclusive
Yacht type: Horizon yacht charter
Length: 60ft (18.3m) Beam: 24ft 11 (7.3m)
Draft: 5ft 7 (1.4m)
Year Built/Refit: 2013
Top Speed: 24 knots
Cruising Speed: 18 knots
Contact Us for more information on Sea Boss and 5 other Horizon yacht charters