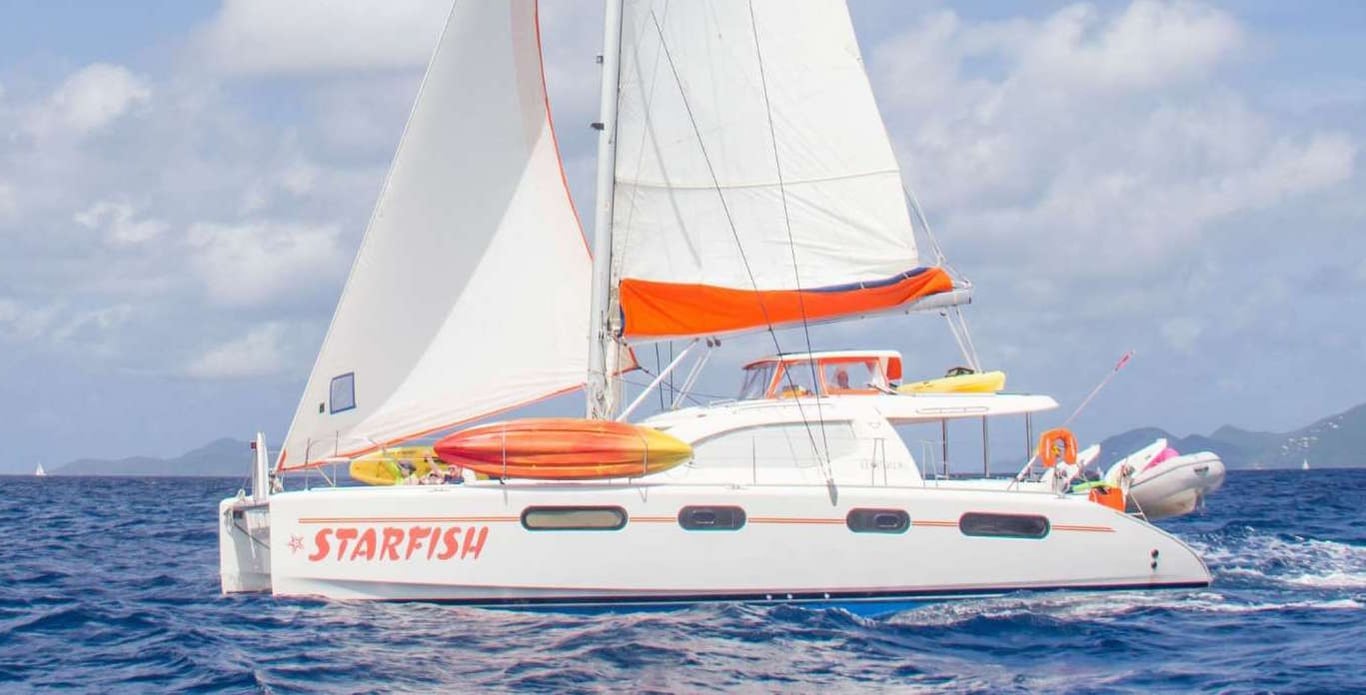 USVI Catamaran Charter Special:
One of our favorite 40-something cats is offering a sweet deal this winter.  Book a 7-night charter for six guests on these dates and take $2,000 off the rate: February 22 – March 4, 2018; April 15 – April 26, 2018; May 21 – May 28, 2018; June 17 – June 28, 2018 We first introduced
Starfish
in 2014 when we awarded it the best new USVI catamaran charter special under 50 feet that year.  First, let's clarify the new.  "New" means "new to charter", not new as in "fresh out of the factory".   Typically, when we at
Ocean Getaways 
view a new charter yacht and new crew, the "green around the edges" is palpable. We silently say to ourselves, "okay let's give them a year to get their feet wet and work out the bugs.  Then we'll book them".  Every now and then, a gem appears on the dock - a "new"  charter yacht whose owner/operators have taken great care to outfit the yacht like a fine hotel and have carefully considered all of the details. .. a crew that was ready to excel at the launch.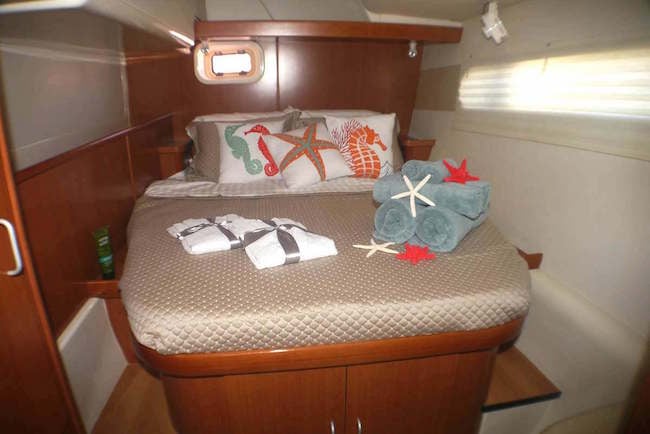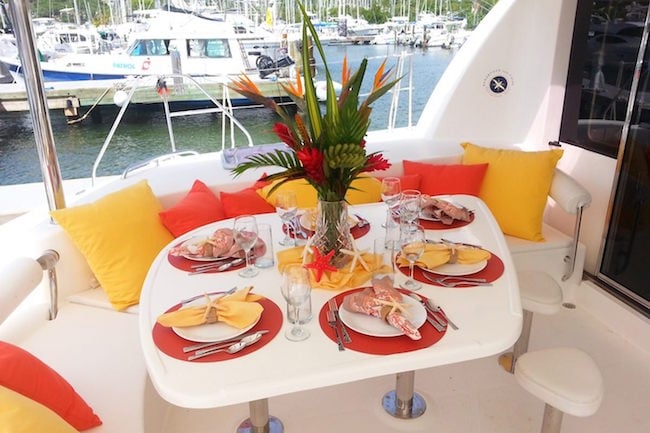 The 46' catamaran
Starfish
fit that bill for us that year, and now that they have countless charters under their keel including a 4-time repeat, everything about Starfish still looks new - it is crisp, clean, contemporary with colorful fabrics and shouts out, "sit down and enjoy me".  From the 100% Pima cotton 500 thread count sheets to the waffle spa robes in each cabin to the aromatherapy bath products, Starfish has the finer things of yacht charter vacation covered.  Not to mention the expected array of toys including 2 SUPs, 2 kayaks, and tube.  Plus some unexpected like an underwater camera and video, every board game imaginable, and a huge inventory of sand toys for the kiddies. More than we have seen on any other catamaran in its class. Jen and Sam offer down-home, gracious hospitality and a wealth of experience.  They have sailed halfway around the world with their own children, and safety is their top priority.  They also share a passion for keeping our oceans healthy and blue. From her years of living aboard and sailing the world, Jen has acquired her own style of yacht cuisine that incorporates fresh local ingredients from land and sea and flavors of the islands that she has visited. She delights in introducing guests to unique Caribbean flavors in her menus. Regular rates are $12,950/2 guests; $13,950/4 guests; $14,950/6 guests. Remember with their USVI Catamaran Charter Specials - take $2,000 off the six-person rate.   Call us today - 239-896-7278 for special rates for 2 and 4 guests.