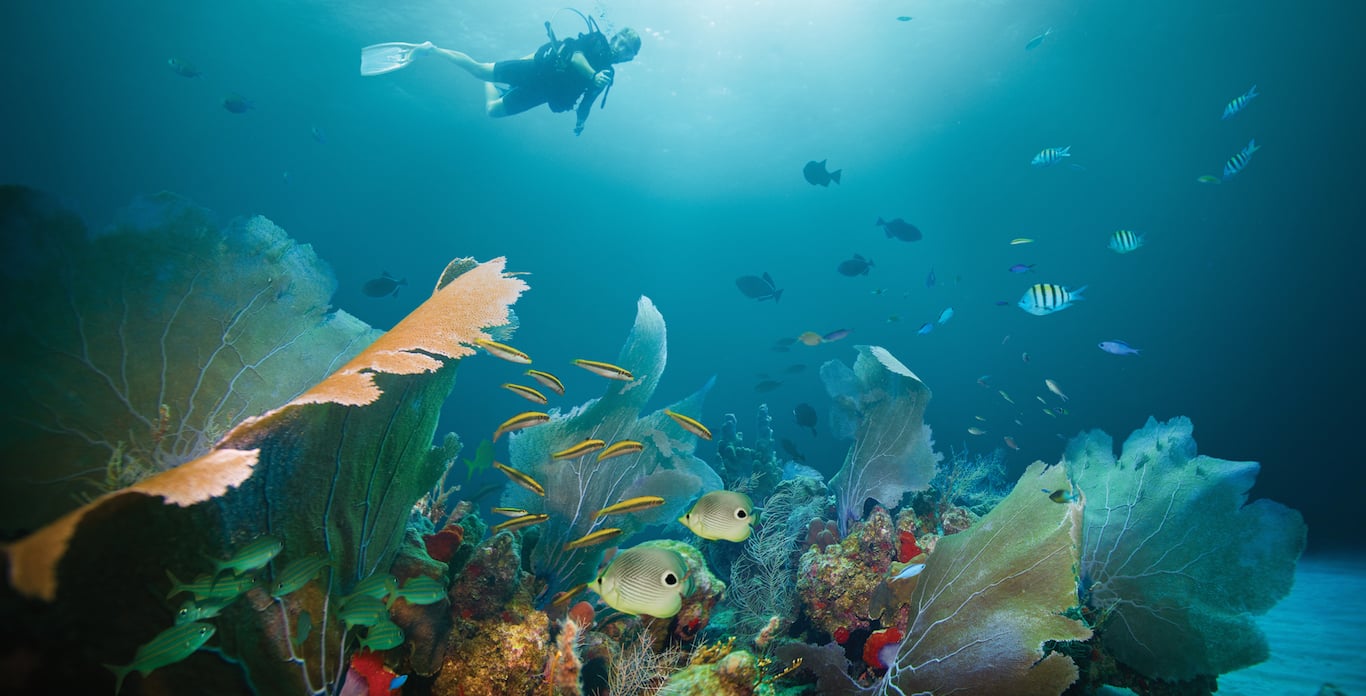 © USVI Tourism
Ten Best Catamarans for Caribbean Scuba Diving Charters
All-inclusive Caribbean scuba diving charters offer you the convenience and personalization of diving from your own private yacht, complete with captain and gourmet chef. No schedules, no crowds - just you, your dive buddies and your exclusive divemaster or instructor. So what criteria do we use to select the Ten Best Caribbean Scuba Diving Charters?
Although there are numerous charter yachts that offer casual diving for certified divers, the yachts we selected for our ten best have made a serious investment in fully equipping themselves to offer a turnkey dive experience. Most have an onboard compressor and all of the necessary gear - tanks, BCs, regulators, weights, etc. At least one of the crew members is a dive master, and some even have instructors which allow them to offer an introductory scuba resort course for new divers as well as certification. Beyond that, they have lots of other things for non-divers to do. Plus diving does not pre-empt superb food and service.
High End Caribbean Scuba Diving Charters
NENNE 67 Feet. - the most premium dive experience with every conceivable piece of top of the line dive equipment that you need - including all new dive gear. Plus one of the most highly respected charter teams in the business - Donald and Valerie Harper plus a third crew member. Your Caribbean scuba diving charter will not go un-noticed with 2 underwater Go Pros onboard as well as a Mavic Pro Drone. Sleeps 10 Guests in 1 King master, 3 Queens, and one twin that converts to a King. $46,000/week all-inclusive for 10 guests. Plus beginners can take a Discover Scuba Diving course, including one dive, for only $135. Also: $250 discount per child aged 12 and under, up to 2 children
ZINGARA 76 Feet. (Cat) - If you want the best of everything - best scuba, best service, best chef, best inventory of toys, we will steer you to Zingara. With a crew of four, including a dive instructor, dedicated to your fun, everyone will be easily entertained. She's got all of the usuals suspects with toys plus a Hobie Cat. Zingara sleeps 10 guests in an ondeck master king plus 3 queens, and queen/twin convertible. $49,100/10 guests or $45,900/8 guests includes all meals, an open bar, watersports and up to 10 scuba dives per week for certified divers, and resort courses for non-certified divers. Plus they can even do open water certification.
TRANQUILITY 76 Feet. It has a fantastic dive platform that can raise and lower 10 divers into the water. No need for the roll-off backwards gymnastics. Lively and attentive crew of four. Sleeps 12 Guests in 1 King, 3 Queens, 2 Twins; $54,950/week all-inclusive for 12 guests; $53,950/10 guests; scuba details
ANASTASIA 61' Cat - Lots of ooo-la-la on this cat with three King cabins. The new owner spared no expense in outfitting Anastasia to a very high standard that surpasses others in its class. With an adrenaline junkie captain and a very talented chef, this cat is ideal for foodies, families and fun. The captain also loves to fish. Sleeps 6 Guests in 3 Kings. If you have a small stowaways, there is a 4th cabin suitable for a child or teen. Scuba details $30,000/6 guests/week. Want to spend slightly less? We also really like its sister ship Elysium which charters for $28,000/week.
Mid-Range Caribbean Scuba Diving Charters
VIRAMAR: 56' BRAND NEW TO CHARTER - two dive instructors so both learn to scuba courses and dive certification are offered onboard. Sleeps up to 8 Guests in 3 Queens plus a twin bunk cabin if you have kids. This is a great choice for lively, high energy charterers. $28,000/week all-inclusive for 8 guests; $26,500/6 guests; scuba details
BRAVEHEART 58' cat - both crew members are dive instructors and are passionate about diving. You will be enthralled with their tales and adventures of their worldwide diving experience. They cherish the ocean and are leaders in reef protection. One of the highest dive operator's certifications for a catamaran. Sleeps 9 Guests in 4 Queens and 1 Single; $23,000/week all-inclusive for 8 guests. $750 additional for a 9th guests. Scuba details . Resort course and certification available.
SASHA 51' Cat; Chef Sylvia must have been a fish in her past life - an extraordinary teacher and guide - excellent for new divers; very safety oriented with lots of extras Sleeps 6 Guests in 3 Queens; $16,000/week all-inclusive for six guests; scuba details
EXTA-SEA2 46' Cat; Simmering with South African hospitality, Mike and Leslie are a welcoming couple with miles and miles of ocean experience. They love all things about the water. Leslie is an excellent snorkeling guide, and Mike will be your personal dive master. An avid surfer and waterski enthusiast, he is great at teaching people watersports.Sleeps 6 Guests in 3 Queen(s); $15,000/week all-inclusive for 6 guests; scuba details
KELEA 65' Feet. (Cat) - the biggest bang for your buck for ten people Sleeps 10 Guests in 1 King(s), 3 Queen(s), 1 twin bunk. $28,500/10 guests; $26,500/8. Scuba details
GAMBIT: 50' cat: We love this floating country inn. Owner operators Doug and Valerie will surround you with the warmest of hospitality and a lot of laughter. Perfect for casual divers who was to do only 3 dives per week. 3 queens and one two cabin. $1,000 extra if you want four queens. $20,500/8 guests; $19,000/6 guests
Our Caribbean scuba diving charters include the hire of the yacht and crew, all meals, snacks, open bar (champagnes, vintage wines, extraordinary brands, and excessive consumption are additional), the use and instruction of all onboard watersports equipment, cruising taxes, and port fees. Scuba charges vary with each yacht. Click on the yacht's name and go to the Specifications Page for details. Airfare, ground transfers, shoreside activities, and crew gratuity (15-20%) are additional.
Need to reduce the cost? A 6-night charter is ideal as there is no surcharge. Just divide by 7 and multiply by 6. Search for other All-inclusive Caribbean Scuba Diving Charters