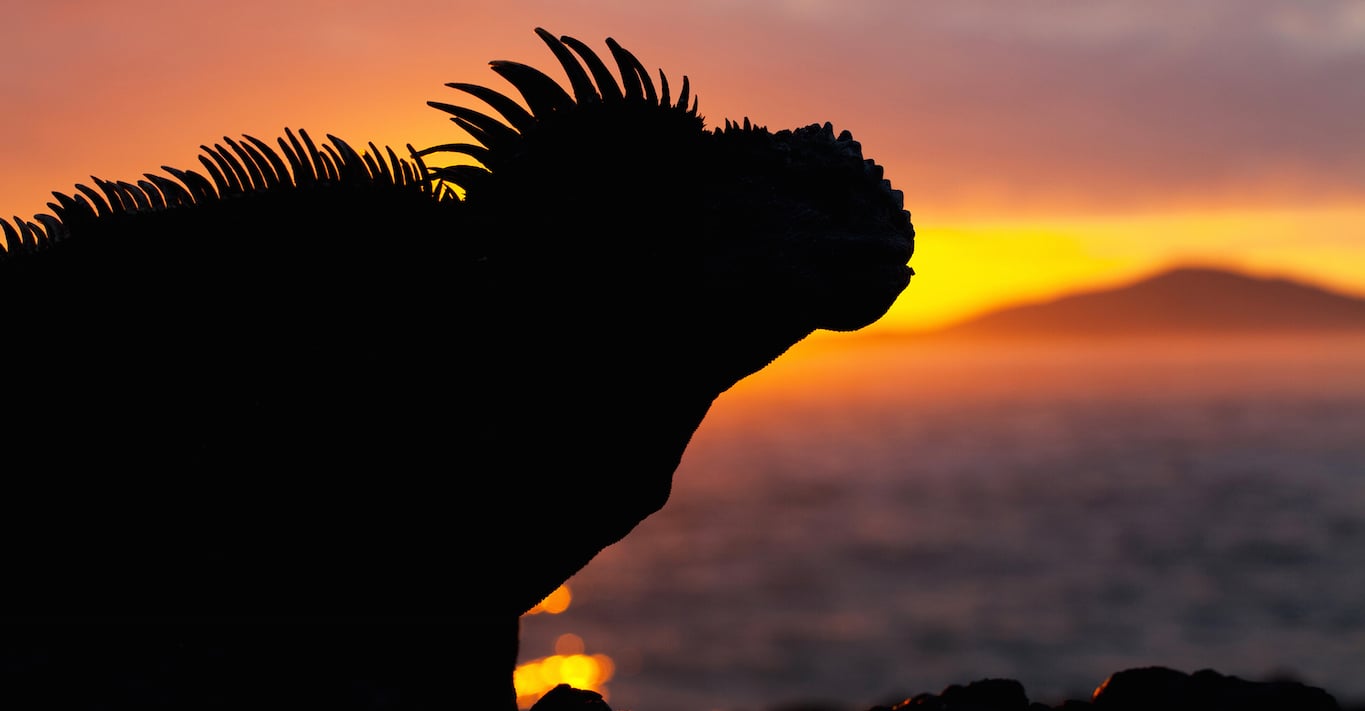 Galapagos Luxury Yacht Charters cruise to remote, pristine and awe-inspiring islands off the coast of Ecuador.  The
Galapagos
are home to unique wildlife and showcase very dramatic landscapes. Charred volcanic coastlines interspersed with blinding white sandy beaches; turquoise waters home to seal pups and marine turtles; and sapphire seas where hammerhead sharks roam undisturbed. For SCUBA divers and snorkelers alike, these treasured Ecuadorian islands offer a world of underwater delights.  While on land, leisurely hikes get you up close and personal to an impressive array of unique birds, like the stunning waved albatross and flightless cormorant, among hundreds more. Aboard one of the best Galapagos luxury yacht charters, you'll explore this archipelago the best way possible. The only way to see the breadth of these islands is by yacht as most are uninhabited, and the distances between islands are considerable enough that day trips are not an option. Here's a list of our five favorite yachts that will sail you into the magic wonder that is the Galapagos archipelago. Do note that all our best Galapagos luxury yacht charters offer full snorkeling gear for every guest, as well as kayaks for more in-depth explorations.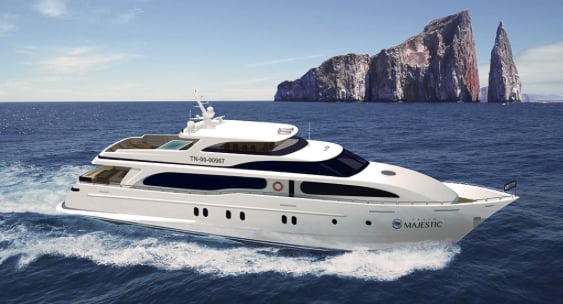 Grand Majestic
This brand-new addition to our fleet is a US-designed and built mega yacht, entirely fitted locally in the Galapagos. Grand by name and substance, the Grand Majestic came hot off the shipyard this year and offers an unrivalled 5-star option. A sleek and modern vessel, this 127' luxury mega yacht reachies a top speed of 25 knots, and is the fastest in the Galapagos. An oversized Master Suite and 7 sumptuous suites accommodate up to 16 guests, the ideal group size for enriched charter experiences in the Galapagos. The accommodation is spread out over 2 decks and gives ample room for flexibility. A crew of 10, including a bilingual naturalist guide, ensures all your needs and desires are met. The friendly local crew offers heartwarming service. With three cruising itineraries to choose from (3, 4 and 7-night charters), the Grand Majestic offers a wealth of options and her speed means you can explore remote Galapagos islands most visitors simply never get to see.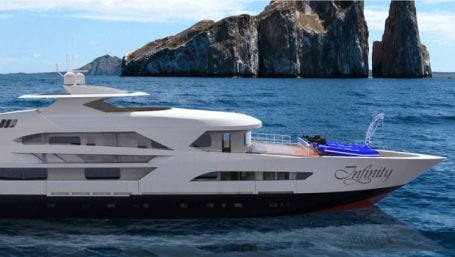 Infinity
Another newcomer to the Galapagos scene, the 2018-built Infinity plans on giving the Grand Majestic a run for its money. This 161' luxury motor yacht accommodates 20 guests in 10 splendid cabins (all with private balconies) and maximizes her ample space with spacious outdoor decks. Including a gorgeous Jacuzzi sundeck for blissful relaxation. A modern and fresh finish suits the destination to a tee, with the sleek and minimalist décor enhancing the bright and airy feel. A choice of itineraries for 3, 4 or 7 nights, offer you the chance to explore the northern, southern and east/west cluster of Galapagos Islands. On board, you'll meet an excellent team of 16, including two local, bilingual naturalist guides.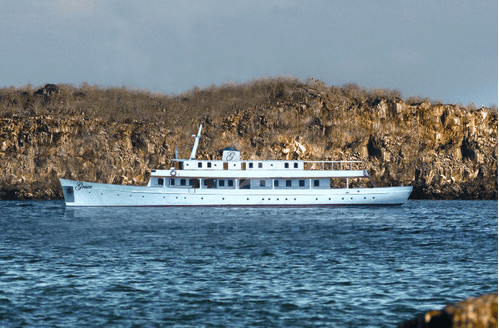 Grace
The historic yacht with the famous name is now gracing the Galapagos with her presence, bringing with her a hint of Hollywood glamor and an abundance of European regal flair. Grace Kelly's own private yacht has been meticulously refurbished yet the old-world elegance of her design still shines resplendent. This classic dame is more traditional than other luxury yachts in her league and for dedicated sailors, she is simply unbeatable. Stretching for 145' and offering a stylish rest for 18 very lucky guests, the Grace commands as much attention as the Galapagos themselves. An on-deck jacuzzi and plush indoor and outdoor seating will certainly make you feel like royalty yet if you're after all the mod-cons of everyday life (like wifi) this may not be the vessel for you. The Grace and her owners strive to offer a most 'uninterrupted Galapagos experience', one not offered by any other yacht. Charter this iconic stunner for a week and we bet that wifi-connection is the very last thing you'll be craving.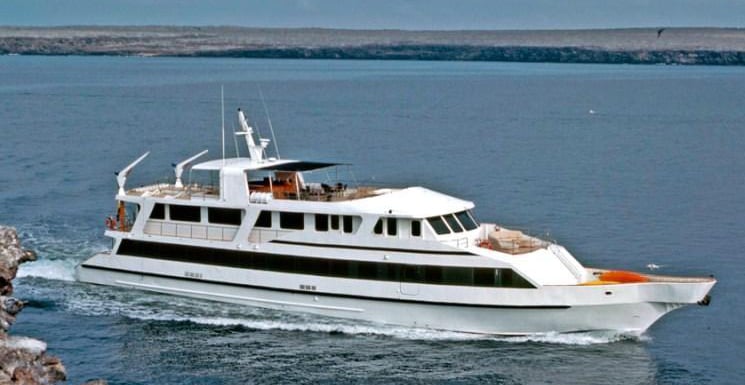 Integrity
A wide-screen Media Centre that's tailor-made for media reviewing at the end of every day is one of Integrity's main attractions. This striking 141' luxury yacht sleeps 16 in 9 suites, all with wide picture windows to soak up those startling Galapagos views. The 10-strong team of professionals onboard are revered for offering service perfection with the naturalist guide hosting lectures and presentations to give you a more in-depth cruising experience. Beautiful, comfortable and spacious, Integrity is a fabulous choice, especially for guests wishing to make the most of their time in this magnificent destination. As opposed to the previous options, Integrity offers 2 distinct 8-day itineraries.

Passion
It is often said that everyone who visits the Galapagos wildlife one develops a deep passion for remote, pristine and ethereal wildlife-brimming destinations. Aboard the Passion, in the Galapagos, the chances of that are doubled! 159' of sheer comfort and luxury, all recently refurbished to the highest standard, the Passion showcases Italian marble bathrooms, lustrous teakwood decks and a panoramic sky lounge that'll make your jaw drop. Described as 'palatial' by all standards, the Passion sleeps 12 guests in 6 cabins, including a Master Suite and a VIP Suite. The crew to guest ratio is above 1:1, ensuring you a highly personalized and attentive service. Alfresco and indoor dining areas, a superb outdoor deck with hot tub and plenty of relaxation space mean your Galapagos expedition is both fun, exhilarating and chilled out.
Six Helpful Hints about   Galapagos Luxury Yacht Charters
Yachting restrictions are set by the Ecuadorian Government –
Given the heightened protection status of this priceless marine reserve, the Ecuadorian Government imposes restrictions not only on the number of yachts allowed to sail here but also where they are allowed to go and how long they are allowed to stay in any one spot. The itineraries of all the best Galapagos luxury yacht charters are, therefore, government mandated and cannot be amended. Do note, however, that a luxury yacht charter here is absolutely spectacular, restrictions notwithstanding. The imposed timing ensures that only a small number of yachts visit the same port at the same time. Your group, when going ashore,  will not feel like they are touring with crowds, and in many instances, you will have the trail to yourselves.
The options for super luxe Galapagos yacht charters are limited –
Of the 60 or so yachts licensed to sail here, there are only a very few which meet our high standard of luxury, comfort and safety. The ones we do represent sail with flying colors on all three counts and offer excellent service and amenities. They are 'the best of the lot' with top-notch crew.
Yacht size is limited –
Most luxury yacht charters in the Galapagos accommodate between 12 and 30 guests. Unfortunately, there are no options for smaller groups.  Many yachts do offer "cabin bookings" so if you have a small group and cannot afford the entire yacht, ask us about cabin bookings.
Yachts must be Ecuadorian owned and have a local crew –
To maintain the integrity of the yachting practices in the Galapagos, the government only allows locally-owned and crewed yachts to sail here. Crew teams must also include a local naturalist guide and let us tell you: this infinitely enhances the whole Galapagos experience. You'll no doubt learn more fascinating information on your luxury Galapagos yacht charter than you ever would watching a thousand episodes of BBC Earth!
You need to book ahead of time –
The best Galapagos luxury yacht charters are usually booked out 6-12 months ahead of time. Avoid disappointment by booking early.
Keep it in perspective –
Of all luxury yacht charter destinations in the world, the Galapagos archipelago is, perhaps, the most distinctive. Luxury yachts sailing here do not carry a horde of water toys, for example, as the only activities allowed are swimming, kayaking, snorkeling and SCUBA diving. The level of luxury, moreover, may not be as high as in other prominent destinations yet never, in our experience, as any guest felt something was amiss. Galapagos yacht charter experiences are truly a once-in-a-lifetime dream come true for all lucky enough to indulge. The rewards and lifelong memories cannot be overstated. This is, without a shadow of a doubt, one of the world's most magical places to explore.
Galapagos Luxury Yacht Charters Sample Itinerary
Galapagos
Luxury Yacht Charters
Photo Tour
For more information on
Galapagos yacht cruise on Integrity
, contact us at
239-896-7278