Book Alba Now For Next Year and Save $$$$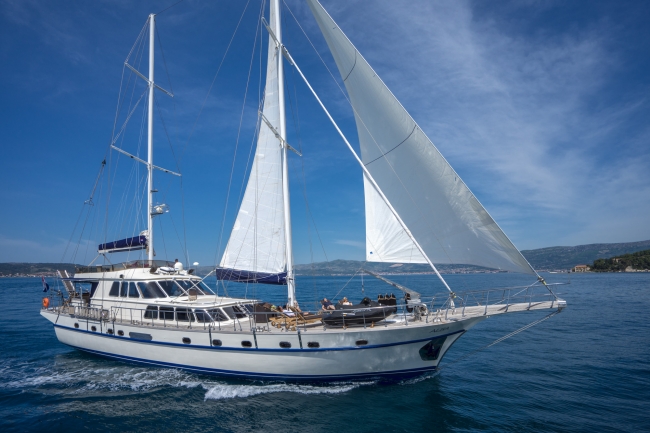 We had the sheer pleasure of casting off on one of the best Croatia gulet charters in May of 2017 - the 98 foot (30 meters) Alba. This luxury gulet has been meticulously restored and outfitted by its owner. In its second charter season, Alba is sold out until mid-September.. and for good reason. The crew is 5-star, the meals are superb, the deck space is gi-normous, and the cabins are spacious and well appointed with tons of storage.
Best of all, the price is well below its value (Shhhh! The owner may be listening). At rates starting at €14,000 per week plus some expenses for up to 10 guests, this is the best bang for the buck in all of Croatia. 2017 rates will be going up, but if you reserve it now, you can book it at the 2016 rate.
The Best Croatia Gulet Charter Crew
Croatian Captain Mirko and his New Zealand wife Tash who serves as the chief stewardess are a remarkable team. Their passion for what they do is contagious, and their wealth of local knowledge so enhanced our experience onboard. Want local restaurant recommendations? Ask Tash. Want to be introduced to the best tour guides? Ask Tash. Where to buy lavender? Ask Tash. In fact, you don't even have to ask her as she cheerfully offers up the best things to do in every port of call.
Soft-spoken Mirko will sail (yes, this gulet really sails) you to all of Croatia's hot spots, but if you want to get off the beaten path and chart a course that's less crowded, more remote, and oozing with natural wonder - he's your man! He maneuvers Alba with ease and no fuss - the true signs of a lifelong sailor.
Chef Zlatko is a wonder in the galley. Professionally trained (as are most of the Croatian chefs on gulets), he adds his own unique twist to traditional cuisine. Being the seafood lovers that we are, we enjoyed fresh caught fish and shellfish every day. Carnivores, not too worry, we were told that his veal risotto and lamb roasted with Dalmation herbs were sumptuous.
Stipe (pronounced Stee-pay), the mate added to the warmth and hospitality. No request too big and never a smile missing from his face. Here is the bottom line - we are fussy. We've been in this business for over 30 years, and we have very high expectations. This crew exceeded them, and they have surpassed the wildest dreams of our clients. Here are a few other things that get them on our Best Croatia Gulet Charters list.
Exterior deck space with lots of separate seating areas - the dining cockpit which can be fully enclosed, the sundeck which is smothered with sun pads, the chase lounges forward, the deck chairs aft, and best of all (for us), the open air "salon" on the foredeck with its optional shade - a perfect place for cocktails and aperitifs.
A high powered 5-meter tender that gets you to and from shore comfortably and fast. Perfect for those who don't want to dock in port and prefer to anchor out
Lots of toys - water skis, kayak, fishing gear, stand up paddle board, wave runner, and snorkeling equipment
Ideal Layout for Families or 3-4 Couples
Alba's homeport is Split. From here, you can sail the most sought after part of Dalmatia, heading outward along the coast to Dubrovnik, visiting the islands of Hvar, Brac, Vis, Korcula and Mljet en route. If it's your second journey to Croatia, then point the bow north to the Kornati Islands and Zadar.
Alba Yacht Charter Price
Until May 28 and after October 3 - €14,000 May 28 - June 25 and August 27-October 3 - €15,000 June 25 - August 27 - €16,500 The rate includes VAT and up to 4 hours of navigation per day. Additional costs are food, beverage, dockage, crew gratuity, marina fees and wave runner use at €150/hour. Food and beverage packages are available. We recommend the half board which includes all breakfasts and 7 other meals ( can be any combination of lunches and dinners) for €350 pp/week. As good as Zlatko's cuisine is, you'll definitely want to enjoy some shoreside treats including a local peka. A beverage package of soft drinks, water, local beer and wine, and spirits is €175/pp/week; non-alcoholic is €105. When all is accounted for... the person rate for this yacht including meals, bar, marina fees, and crew gratuity will be less than €2500 pp/week in June and September. Search for Croatia Gulet Charters Inquire About Chartering Alba