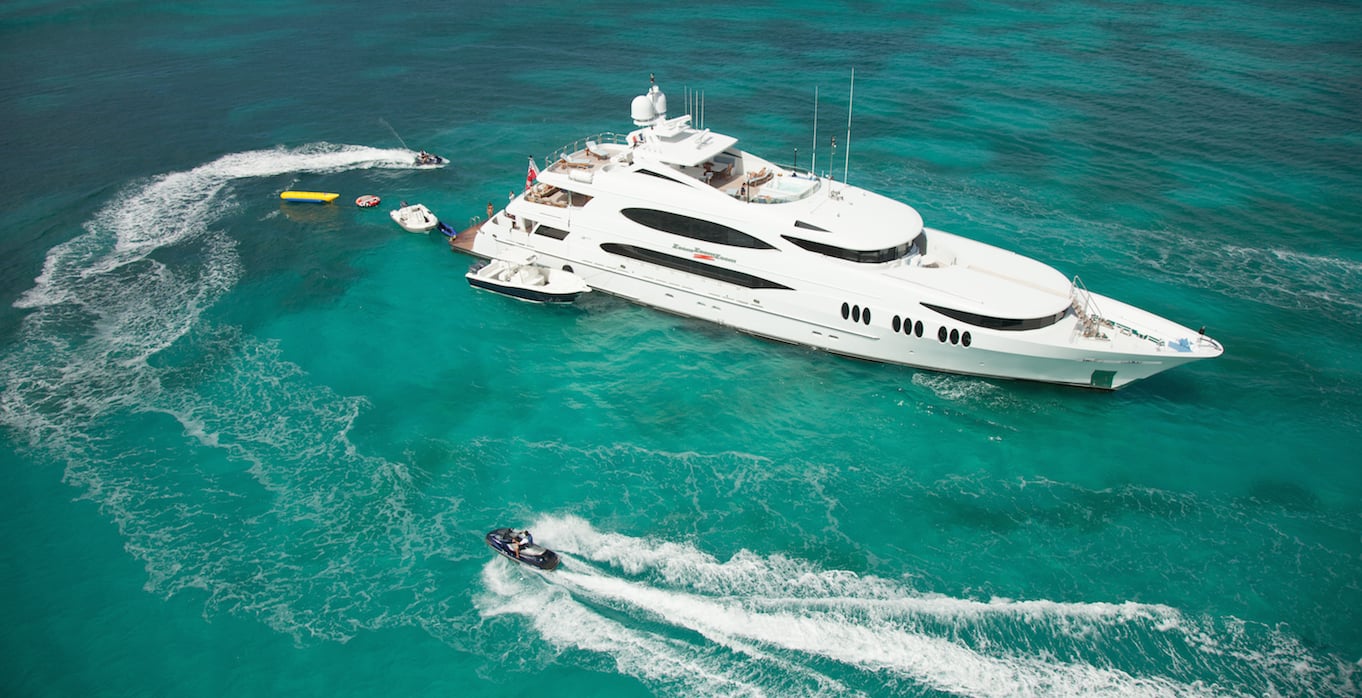 One of the world's most coveted yacht charter destinations, the Exumas island chain in the Bahamas is a dream at every turn. With turquoise waters, sparkling sandy shores, luscious landscapes, exceptional snorkeling, diving, and swimming… yachting is simply better on a Bahamas power yacht charter. What we love most about this haven and the astonishing Exumas archipelago in particular – where you can explore a different cay every day of the year – is that they offer a little of everything that makes this region so captivating. Activities abound for young and old alike. Whether you're an adventure-seeker, a nature-lover, a wildlife enthusiast or on a quest for contemplative solitude, a Bahamas power yacht charter will fit the bill.
Our favorite 6 things to do on a Bahamas power yacht charter in the Exumas
Frolic with wild, but friendly – pigs
You'll no doubt hear the grunting, snorting locals even before you see them…doing their piggy paddle on the shallow shores, crunching their cute snouts upwards towards yachts in anticipation of a 'traditional Pig Beach greeting' which, for the record, had better involve some delicious leftovers. The swimming pigs of the Bahamas are by far some of the most revered (and cutest!) highlight of the whole region and whether you actually swim with them or just watch their seafaring antics, you just can't miss visiting them. Want to know more about these swimming pigs?Meet the Iguanas of Allen's Cay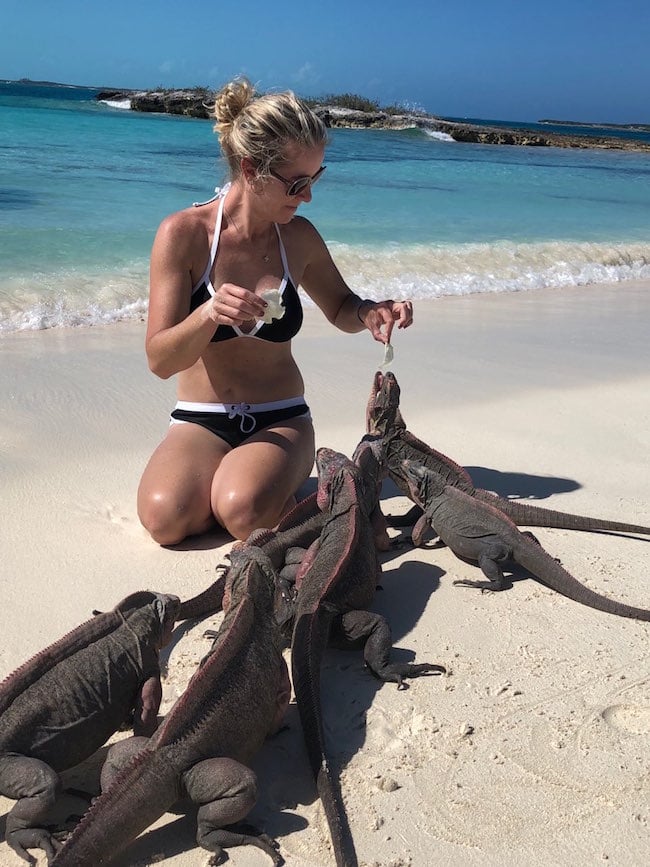 Epicurean offerings to resident wildlife will soon become the recurring theme of your Bahamas power yacht charter, as you visit Allen's Cay to meet one of the most threatened species of Bahamian Rock Iguana. Yes, they too appreciate offerings of the delectable-nibble variety which, perhaps unsurprisingly, also happen to bring out their friendliness even more. The iguanas of Allen's Cays are endemic to the region and found nowhere else on earth. Due to their isolation, they are an endangered species so your food offerings will be restricted to only a little of the fruits and vegetables they'd normally find in the wild. Bahamian Rock Iguanas hey can reach a ripe old age of 40 years and grow to weigh more than 24 pounds.
Swim with Nurse Sharks at Compass Cay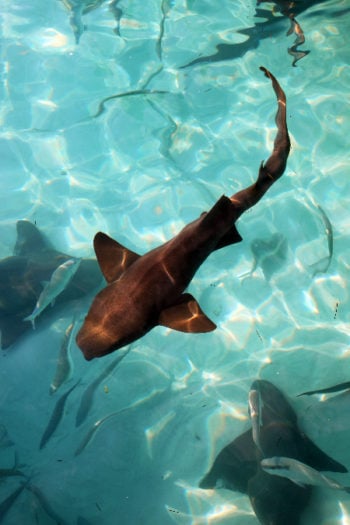 From one cute Bahamas resident to another: the Bahamas are so perfect that not even the wildlife wants to leave! Head to Compass Cay in the Outer Exumas and come see how docile and friendly the resident nurse sharks can be. These happy, squealing creatures have taken up residence in the Exumas Cay Land and Sea Park and although they look menacing – we assume it's the sharky dorsal fin – they're totally harmless and snorkeling with them is an absolute treat. And do not worry, your Captain will make sure the nurse sharks have been well fed before YOU jump in! Aside from the close-up and personal contact with these gentle giants, you'll also get love the beach on this island.
Land a BIG One on a Bahamas Power Yacht Charter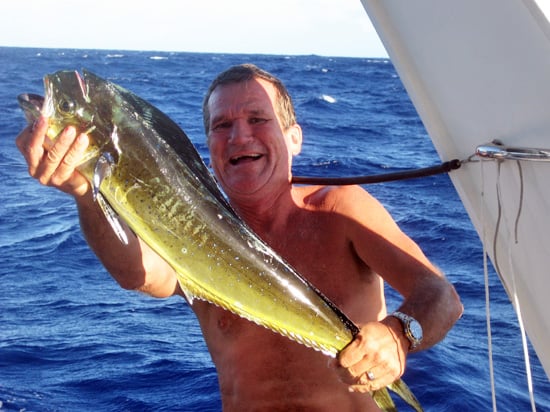 Serious sports fishermen and women will have a field day in the Bahamas, one of the most rewarding big game and deep fishing destinations in the world. So give your personal Chef a run for his fishing line when you seek out tuna, mahi-mahi, barracuda, marlin, and wahoo right off the side of your yacht's tailor-equipped tender. Trust your Captain to know the best fishing spots in the Exumas and when conditions are ripe, you can cast off for deep drops in search of bigger groupers and red snappers. Because nothing beats a mouthwatering self-caught fish dinner on a Bahamas power yacht charter
Scuba the Wild Blue Under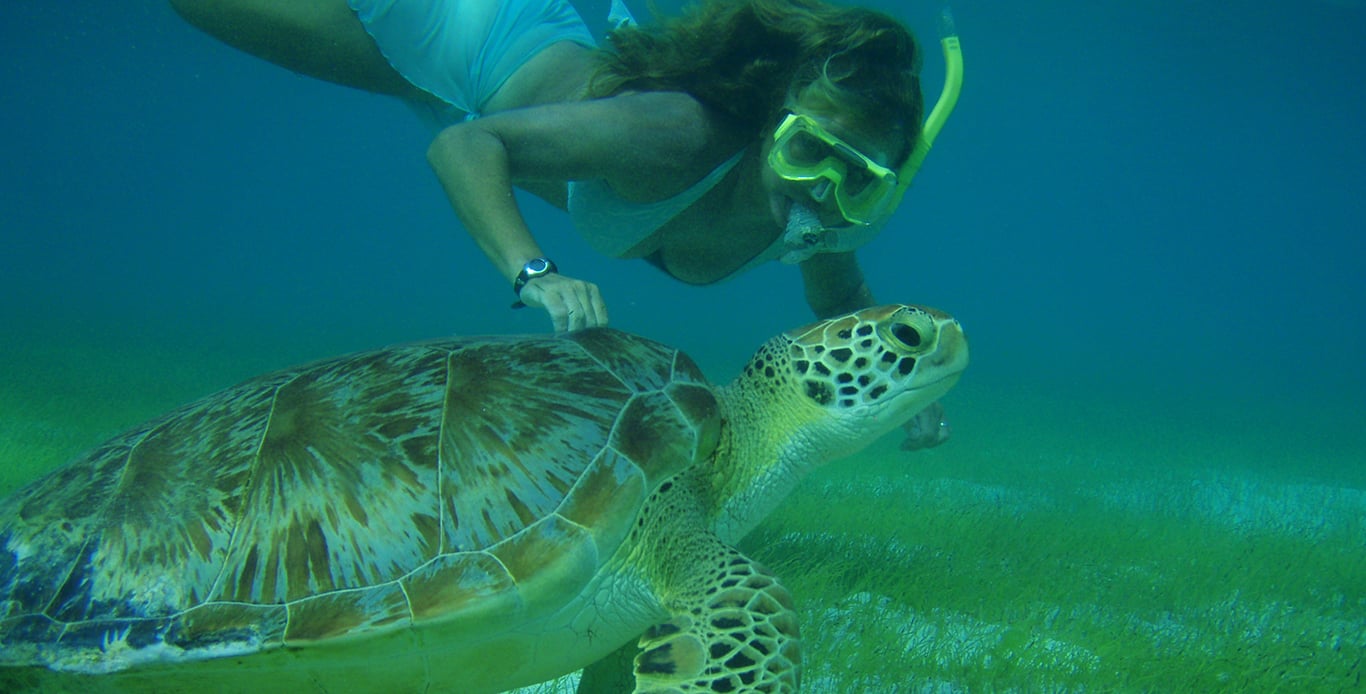 With perfect underwater visibility of the Exumas and idyllic conditions for most of the year, it's not surprising to know that this is a diving destination with very few rivals. What makes this region such a unique diving hub is the sheer number and diversity of dive sites on offer. From the mesmerizing tidal Blue Holes to the fish-enriched reefs at Amberjack and Barracuda Shoal, not to mention the coral-brimming sunken Jeep now home to a mind-boggling array of colorful marine life, the waters of the Exumas archipelago are a spectacular Bahamian highlight.
Swim through the Fluorescent Thunderball Grotto
James Bond film aficionados will undoubtedly be familiar with the magnificent beauty of Thunderball Grotto, the crown jewel of Staniel Cay. Not only is the underwater cavern a spectacular site in its own right but the concentration of coral and sea life make it an astounding snorkel spot as well. The resplendent sun reflection makes the water even more translucent than usual which, we admit, is hard to imagine. The tide can be quite fierce here and you should only attempt to enter the cave at low tide. Yet once in…the whole experience turns magical. Calm, quiet and brimming with awe-inspiring visions, a Thunderball Grotto experience is – in the words of Bond –sheer magnetism, darling! Ready to cast off on an unforgettable Bahamas Power yacht charter? We represent a hand-picked selection of luxury Bahamas power yacht charters, all offering a little something unique. To find the ideal yacht for your next jaunt to the Exumas, contact us today. Search for the perfect Bahamas Power Yacht Charter