Here's our top five list for the best values in BVI catamaran charters for this upcoming season.Here's what it takes to make our top five list:
A price point of $2,000 or less per person per week
Rave reviews from satisfied yacht charter guests
Dedicated fun loving crew with a passion for what they do
Wonderful meals
A big bang for the buck - priced lower than their competitors without any sacrifice in servicetoysand amenities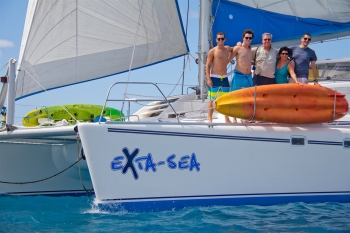 EXTASEA: Captain Mike has over 40,000 sea miles under his belt and loves to teach sailing. He's spiritedwarm- hearted and will have you laughing into the night. Chef Lesley is a true pisces - a passion for the sea and a great snorkeling guide. She LOVES kids and will happily play surrogate "granny" to the young ones while you are off on a snorkel. Diving for certified divers is $35 pp.and they have a cool swim platform that lowers into the water. $10.000/2 guests; $11,000/4 guests; 12,000/6 guests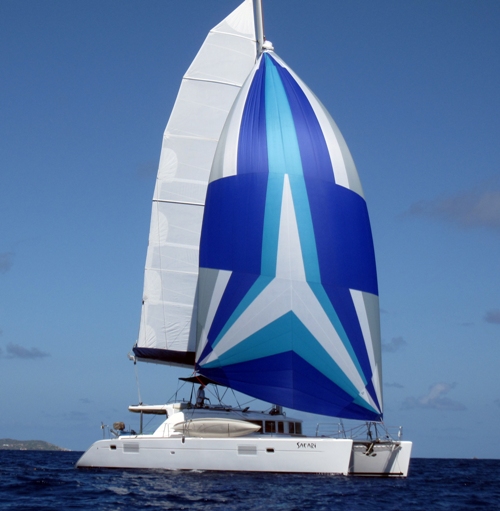 SAFARI - Whether you want to hit all of the must do party stops or head off for some peace and plenty in a quiet bayStephen and Julia are great guides. This is an amazing price for a Lagoon 44 with its flybridge deck. Three queen cabinseach with its own head and separate shower stall. It has a great seating area forward for a sunset Happy Hour $12,700/6 guests; take off $120 pp for half board.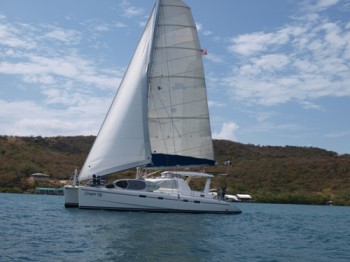 STEPPIN UP - We were very impressed with this crew when we met them last November - sophisticatedkindattentivealways a smile on their faces. This is their own catand they have put heart and soul (and a lot of sweat equity) into it. It has a few interesting features - one of the forward cabins has a single sleeper "V-Berth"  if the kids do not want to share a queen or if you have a group of singles"Movie Night"  on the bow via their onboard projectorand portable sun shades for the bow. The crew has a few years of charter under their beltsand they keep improving to make the guests' experience more comfortable. $10.000/2 guests; $11,000/4 guests; 12,000/6 guests; take $125 off per person for half board.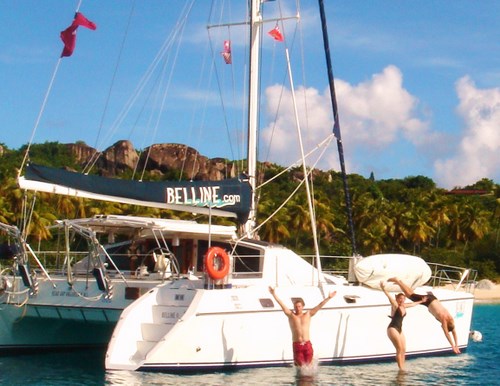 BELLINE II: A friendly "feel at home" atmosphere with a crew that encourages guests to discover the islands and to personally meet their inhabitants. The crew has traveled the worldlove the outdoors and watersports and are "no fuss"whatever you want to do. The chef loves to present the traditional and delicious South African type of BBQcalled Braaiand she infuses her menu with tastes from around the globe. A boatload of toys and diving for certified divers.$40 pp/dive includes all gear and guided by your own personal dive master. $15,800/8 guests; $13,800/6 guests $250 off for each child under 15; $150pp off for half board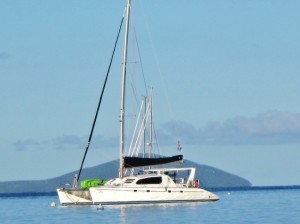 PICSES: You'll want to adopt Steve and Louise or at least invite them home for Christmas. Everyone loves them. They are the "perfect storm"  of charm talent and hospitality. A "can do" crew with an enthusiasm that is contagious. Scuba diving is available for certified divers. $11,500/4 guests; $12,500/6 guests; oopsthey are a little over the $2000 budget that we promisedbut worth it. Plus you can take $250 off for each child under 15 - that keeps us in budget!
Remember - if you need to cut costsyou can always sail for six nights - that shaves about $1500-1,700 off the above all-inclusive weekly rates.
And we have more.. search our USVI and BVI catamaran charters and keep an eye on our Yacht Charter Discounts and Specials