Take Advantage of These BVI Catamaran Charter Discounts
Foxy Lady is knocking $5,000 off its 8-person rate for the next three bookings taking place between now and June 30, 2018. That makes it $27,000 all-inclusive for 1-8 guests - the lowest price we have ever seen on a Lagoon 62, and this is one of the best crews in the BVI. Just take a look at our accolades.
You can take advantage of this BVI catamaran charter discounts by boarding the yacht in either St. Thomas or Tortola. Indulge yourself with 8 delicious days of palate-pleasing food, belly roll laughter, sublime sunsets, and raucous watersports. Your toughest decision will be should you have a Passionfruit Freeze or an Island Lime Slush?
This is the year of specials! Who would have imagined that a brand new Lagoon 62' catamaran with one of the most popular BVI crews would be offering a discount in peak season? 8 guests for the price of two for any open April week on Bagheera - $30,500/week - save $3000.
One of the best value cats just got better. Alternate Latitude shaved $1500 off its weekly rate for any charters until July 31, 2018. That makes it $8,000/2 guests; $9,500/4 guests; and $10,500/6 guests. Available in the Virgins through April 3, 2018, and in the Bahamas from May 1 on. Rates are all-inclusive in the Virgins and plus bar and tax in the Bahamas.
The 67' catamaran Lir and the 56' catamaran Aoibh are knocking 5% off their rates for the remainder of the year (except Christmas and New Years). LIR is in the Virgins now and will be in the Bahamas from May to early June , working its way down to the Grenadines for July and August. AOIBH is available in the Grenadines from now through the summer.
Yes Dear , a 58' Voyage cat, is offering a honey of a deal with $2,500 off for weeklong charters booked to take place before July 31, 2018. Or book for six nights and take off $2,143; $1786 off 5 nights. Loaded with water toys including scuba. Regular rates are $26,500/10 guests; $25,000/8 guests so take your discount off of that.
The Custom 50' Cat Pearl just announced a free sleepaboard and 10% off the listed rates on charters ending by July 31, 2018. Onboard dive instructor and unlimited diving and a resort course are included. The rate with discount is $20,700/6 guests and $18,900/4 guests.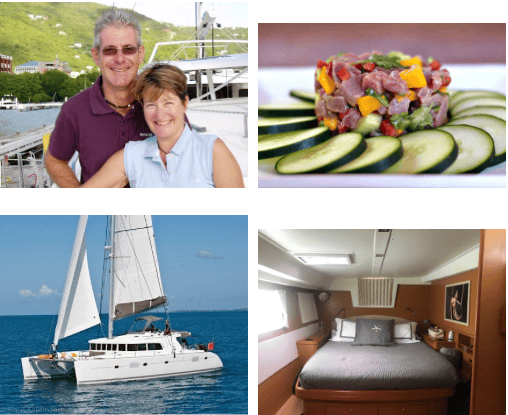 Azuria, with long time veteran crew, Mark and Sally Duncan, is offering $2,000 off its weekly rate. This is a lovely 50' Lagoon with three queen cabins and all new toys. Sail anytime before 7/22/18. Rate with discount is $19,500/6 guests; will pro-rate for six nights.
The Annex is offering $3,000 off for any 7-night charter between Feb. 26 and March 13, 2018. Better yet, take 8 days for the price of 7 and save over $4,000. Regular rates are $32,000 for 10 and $30,500 for 8.