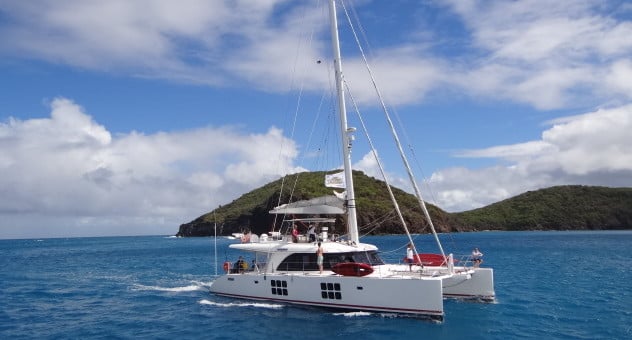 For those of you who waited for the temperatures to dip before arranging your Caribbean getaway, your procrastination might pay off - choose one of these BVI catamaran charter discounts and get the heck out of winter.   These five cats are looking to fill gaps in their schedule and are offering a 10% (or more) catamaran charter discount for a limited time.
Orion:
90' cat with 4 crew for 8 guests; Allison is a holistic gourmet chef - creating food to please the body and delight the senses.    She has cooked for guests wanting to lose weight, vegetarians, vegans, raw foodies, no fat, cholesterol-free, heart patients, diabetics, and kids  - even carnivores.  
10% off for any week this winter season if confirmed by 1/31/16.  With the discount - $39,600/8 guests; $37,800/6 guests
Lotus:
52' 2014 Lagoon catamaran with three queen cabins or if you have kids the crew will offer their bunk cabin.  Evan and Mikel are watersports enthusiasts that love families.
10% off for any week this winter season if confirmed by 1/31/16.  With the discount - $19,350/6 guests; $18,450/6 guests- available throughout the Caribbean
Muse:
Veteran French crew of three including trained chef just took the helm of one of the few cats that can accommodate 12 guests. Regular rates are $38,400/12 guests; $37,200/10 guests; $36,000/6 guests.
Take 20% off these rates for the remainder of January and 10% off in March and April.  
Do the math - that's a savings of over $7,500 in January.  Available throughout the Caribbean.
Grand Cru:
 "The best of the best" is what her name means - 46' cat with three queen cabins - ideal for a group of friends ready to have a fantastic time.
Over $2,000 off for any remaining available week through Dec. 27, 2016, including Christmas.  $14,394 for 6 guests with the discount.
Call us now - these BVI catamaran charter discounts  won't last long
Other Caribbean Yacht Charter Discounts
Search Our Yachts