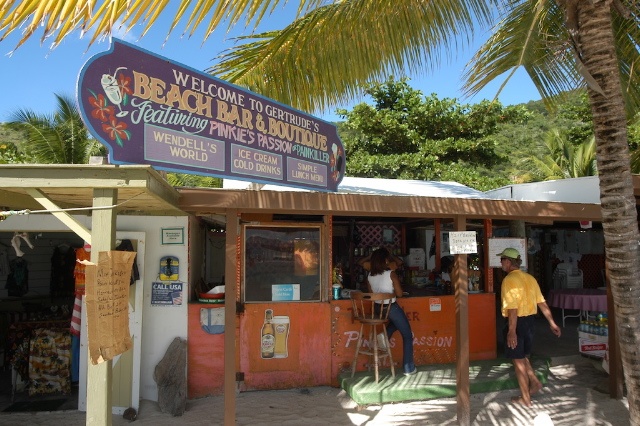 The majority of USVI and BVI crewed yacht charters on both sailboats and catamarans under 100 feet operate on an all-inclusive pricing which means that all meals and a standard open bar are included.
Recently, some USVI and BVI crewed charter yachts have been offering a half board option. Half board means that the charterer takes about 7 meals ashore during the week at their own expense, typically three lunches and four dinners. The crewed yacht charter discount offered for having these meals ashore averages about $150 pp/week.
Do you save money? Absolutely not - you do the math. At $150 pp per week, that's about $20 per meal which will not even cover the cost of your dinner entree in most places. Then you have to add on beverages and gratuity. Even the simplest of shoreside restaurants have hefty prices so cost savings should not be a motivating factor when choosing "half board". You will always end up spending more than you save.
How does it impact the itinerary? Where you are going to eat will dictate your itinerary. Basically, each day you will need to be in a harbor (either at lunch or at dinner) that has restaurants. That is not a huge deal, but it does mean being in some of the busier spots. For some of you, that is a real plus - you want action and nightlife.
Are there great restaurants ashore? 100% of our guests always say that the food on their crewed yacht charter was far superior to anything that they had ashore. We agree. Don't get us wrong - there are some great restaurants. Some of the high-end resorts like Little Dix and Peter Island have outstanding restaurants with an upscale ambiance… if you feel like casting off your t-shirt, donning some long pants, and squeezing into your shoes.
And there's a bevy of seaside "barefoot in the sand" restaurants with good local fare and island ambiance - Corsairs on Jost Van Dyke tops the list for local gourmet, and a grilled lobster dinner on Anegada is a must.
Get your painkiller at the Soggy Dollar Bar on Jost Van Dyke, then wander over to Gertrude's Beach Bar for a chicken roti. We always think it's great to have a lunch and dinner ashore - just to sample the local flavors and give the crew a break. We also think you are missing out on a lot of great food by having 7 meals off the crewed yacht charter
So what's the benefit of half board? Clearly, we are sounding like Debbie Downer on this half board option. Maybe you're the kind of person who loves to be out there in the world with lots of activity, rubbing elbows with the locals, bellying up to the bar, shooting the breeze... and a cheeseburger in paradise is okay by you.
Or maybe you're a family that likes to eat simply, and you enjoy hanging out on the islands. Then half board is for you. Just don't choose it as a cost-saving factor - it's not.