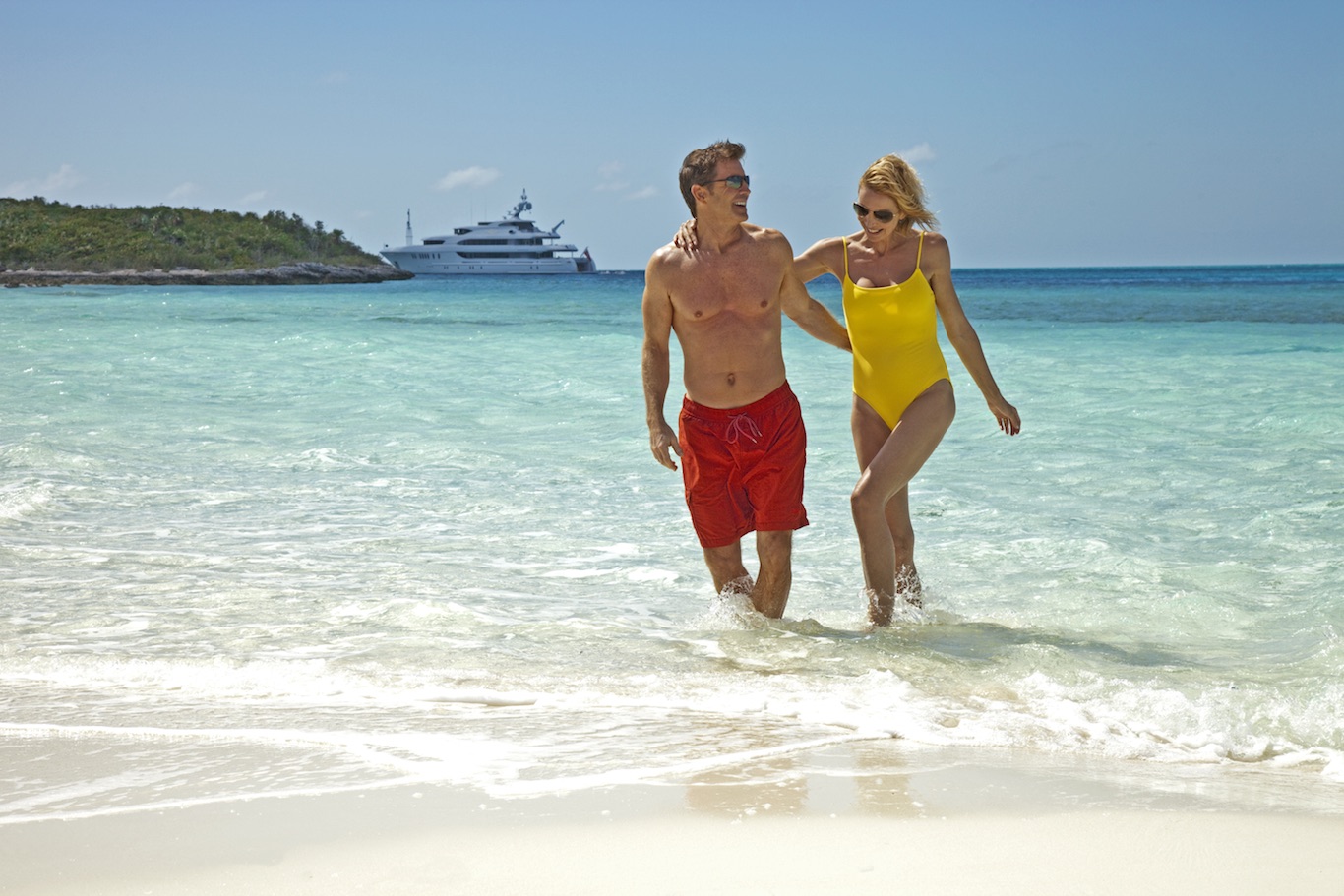 So you want to escape on a Caribbean honeymoon yacht charter and you have a pile of e-brochures of charter yachts anchored in your Inbox. What should you be looking for when you're reviewing those charter yacht brochures? We surveyed our team of charter specialist to seek their advice, and here's what they had to say:
Tip # 1: Choose a Large Master Cabin: Although most charter guests spend little time in their cabin, honeymooners probably spend more time there than others so a large master cabin is ideal. That rules out a lot of charter catamarans that are designed with 3 or 4 equal (and smaller) cabins which means a lot of unused space if there's just two of you. If you want to charter a cat, look for one that has a master suite. Blossom and Callista are good examples of cats that we recommend for a Caribbean honeymoon yacht charter.
Most motor yachts always have a large master cabin. We like the ones where the master is on the main deck, giving you a panoramic view of the ocean. The power cat Sea Boss has a full beam master suite that is delightful. Jazz has a plush master with finely crafted would that adds to it elegance.
With sailing mono-hulls, both Sayang in the lowers end of the price range and Ocean Star in the moderate end have nice masters for just the two of you.
Be sure and take a look at the heads (those are the bathrooms in layperson's terms). Some yachts have "wet heads" which means that there is no separate shower stall. The shower, the sink and the toilet are all in the same area. Probably not a deal breaker, but it is nice to not have to wipe down the toilet after you shower.
Although you can often tell the size of the cabin from the layout on the brochure, a charter specialist who has been aboard the yacht will offer you the best advice.
Tip #2: Choose an attentive and discreet Caribbean honeymoon yacht charter crew: You will want a crew that is engaging and pampering, but also has a knack for knowing when to disappear and offer you some alone time. You're not going to be able to tell that form the e-brochure. The only way you can know that is to trust the judgement of a reputable charter broker who knows the crew well.
The broker will want to know more about the types of things that you like to do, what kinds of places that you want to visit, and the cuisines that you prefer. Are you foodies or more straight up meat and potatoes kind of people? Or somewhere in between? You will be spending the first week of your married life with this crew so you'll want to choose wisely, and a charter broker can give you insights into the crew's personality and interactions with guests.
Tip #3: Special Amenities for Honeymooners: Look for charter yachts that either offer a special Caribbean honeymoon yacht charter rate or add some nice little extras like spa, champagne or ground transfers. That's also a good indication that the crew enjoys honeymoon charters.
Tip #4: Watersports toy inventory: Are you adrenaline junkies? Keen divers? Water babies? Beach potatoes? Carefully check out the list of toys and make sure they have what you want. For example, if you're keen on waterskiing, you not only need to know if there are waterskis onboard, but also what is the size of the outboard? If you're 6'2" and 210 pounds, a 25 hp is not going to do the job for you. Or maybe you want a stand-up paddle board and the yacht you like does not have it. Just ask your charter yacht broker - the owner may be willing to buy or rent one for you.
Tip #5: Charter yacht value: A special or a discount does not always lead you to the best value. Most yachts are designed for 6 to 10 guests so if there's just two of you, you are paying a premium. Some yachts, however, simply offer more favorable 2-person rates than others. A charter broker will be able to tell you which ones these are.
These criteria are not in order of importance, and if I had to choose the most important factor, it would be the charter yacht crew. You will have a lot of interaction with them so it's important that their personalities and service-orientation suit your expectations. You cannot discern this online or from a brochure. A lengthy trail of good charter reviews is a good indication although previous guests may not be looking for the same things that are important to you.
A reputable charter broker who knows the crews can help you decide which is the best crew for you. Personally, I like to work with what I call bullet proof crews - those crews who no matter what, where, or when - they keep a smile on their faces and make it look easy. Now, I am hearing more questions coming up from you as you read this.
If it's your first time chartering, the easiest thing to do is to pick up the phone and talk to a charter expert. A 15-minute conversation will have you understanding how it all works. Call 239-896-7278. Or if you prefer to do a bit more research, here's come other posts that you might find helpful.
How to Choose a Catamaran Charter?
5 Best Caribbean Honeymoon Yacht Charters Under $12,000 a Couple
5 Best Caribbean Honeymoon Yacht Charters - $12-20,000/couple