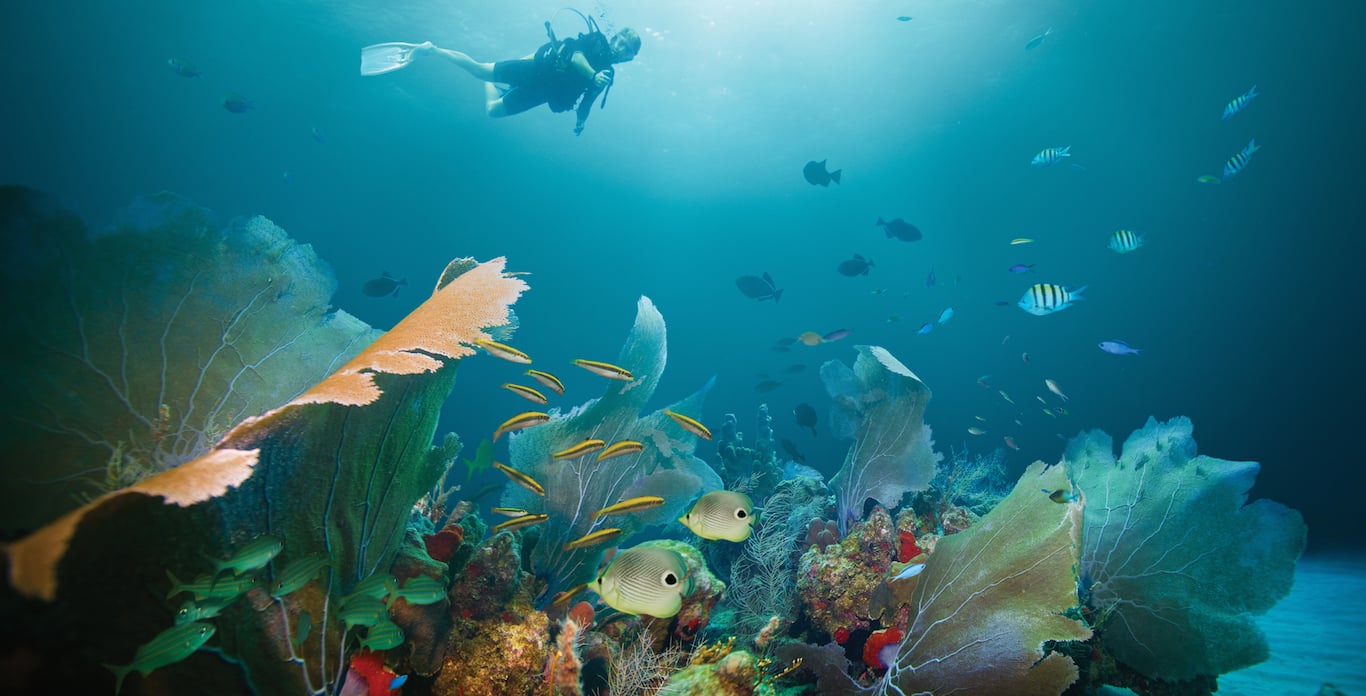 Courtesy of USVI Tourism Board[/caption]
5 Best Caribbean Super Yacht Charters for Scuba Diving
Our 5 Best Caribbean Super Yacht Charters for Scuba Diving offer you the best yachts, equipped with the most comprehensive diving facilities, in one of the world's most enticing yachting destinations. Could superyacht charters get any better than that?
Scuba diving from the privacy of your own superyacht is an unparalleled luxury, one that is ideal for anyone who treasures convenience, privacy, and exclusivity. No sharing of a boat with a handful of strangers, no compromising on luxury and comfort, and certainly no leaving loved ones behind to indulge in a sport only you may love. The latter is arguably the most enticing aspect of a private superyacht charter for scuba diving: the array of activities and attractions offered means that your yachting companions need not miss out on all the fun simply because they don't dive.
Although most of our superyacht charters offer rendezvous diving excursions – whereby a diving boat picks you up from your yacht – our Best Caribbean Super Yacht Charters for Scuba Diving are comprehensively equipped with all the diving gear you need and staffed with your personal dive instructor or master to boot. If you're an avid diver and want to take advantage of the best of both worlds, then you really couldn't choose a better super yacht charter option.
How do we choose the best Caribbean superyacht charters for scuba diving?
There are specific criteria we adhere to when choosing the best superyachts for divers. First and foremost, we ensure that you're teamed up with a crew who is experienced and passionate about diving. A team of enthusiastic experts who know the Caribbean well and can whisk you away to the most glorious hidden diving spots. Insider knowledge, in this part of the world, is paramount. The yacht must also be equipped with state-of-the-art diving equipment (including BCs with dive computers, regulators, tanks, weights, wetsuits and an onboard compressor) and a large towed tender for easy transfers to dive sites off the beaten track. To complete the perfect package, we look for superyachts which have a bevy of water toys for your non-diving companions to enjoy whilst you dive, and endeavor to create a tailor-made itinerary which offers plenty of on-shore attractions for everyone, for those times when you want a break from exploring the underwater world of the Caribbean.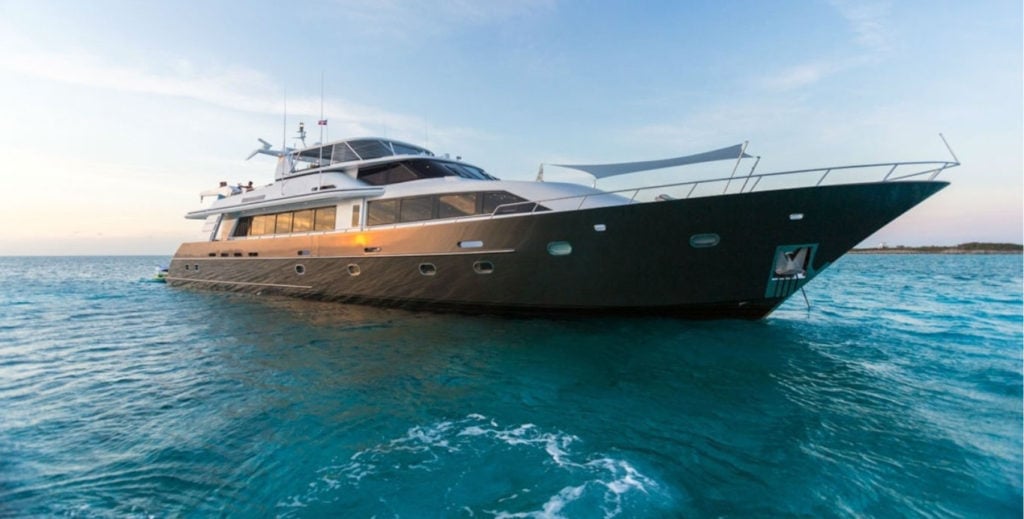 Meet Our 5 Best Caribbean Super Yachts for Scuba Diving
1. MIM 144 Feet, sleeps 12; $150,000/week plus expenses Sleek, sophisticated and sumptuous, this stunner of a yacht accommodates 12 guests in comfort. A total of 7 cabins - comprising 1 x Master Suite, 4 x Doubles and 2 x Twins – and extensive entertainment areas, makes MIM ideal for an extended family Caribbean super yacht charter. An on-deck Jacuzzi and an impressive array of toys, including jet skis, sea bobs, kayaks, paddleboards, wakeboards, and surfboards, will ensure everyone on board has plenty to keep them active and entertained. With a crew of 9, MIM offers superb personalized service, and the inclusion of SCUBA equipment for 12 divers makes this yacht perfect if your whole traveling party is keen to discover the underwater treasures of the Caribbean.
2. MILK & HONEY 125 Feet, sleeps 10; $85,000/week plus expenses Milk & Honey is as sweet as her name suggests, and is revered for her spaciousness and abundance of socializing space, both on deck and indoors. Milk & Honey sleeps 10 guests in 5 gorgeous cabins (including a Jacuzzi-fitted Master Suite that's simply divine) and is staffed by a team of 7 experienced crew members. The elegant yet cozy décor, modern entertainment systems, outdoor dining deck and wide-ranging choice of water toys, make Milk & Honey an absolute delight for all our charter guests.
Scuba diving aficionados will have a field day with Captain Kenny – a certified PADI open water instructor – and 3 fellow certified diving crew members. The Milk & Honey is equipped to cater for 10 certified divers.
3. FREEDOM 120 Feet, sleeps 9; $49,500 plus expenses or $69,950 all-inclusive One hundred and twenty feet of luxury awaits you aboard FREEDOM, an award-winning yacht which strives to offer the best of just about everything! Superb amenities, excellent comforts, superior culinary experiences, a fantastic crew and terrific scuba diving facilities, make FREEDOM an excellent choice for those charter guests who want it all on a Caribbean Super Yacht Charter. A total of 4 cabins accommodates up to 9 guests, with a wide range of water toys, and a brilliant swim and dive platform, catering for more water fun than you could ever dream. Where FREEDOM stands out most of all is in the spaciousness of her beautiful cabins (the Master Suite even boasts his and her ensuite) and the range of her scuba diving facilities.
FREEDOM offers certification courses for novice divers, a selection of diving equipment, and incredible underwater videographer classes. What's more, your underwater exploits can be chronicled thanks to the onboard underwater video services. Want to relieve your special Caribbean diving moments for years to come? Then FREEDOM is the superyacht for you.
4. UNBRIDLED 116 Feet, sleeps 8; $60,000/week plus expenses UNBRIDLED offers a tremendous amount of comfort and facilities for her compact size, accommodating 8 guests in 4 luxurious cabins. UNBRIDLED is one of our all-time favorite Caribbean Super Yacht Charters, and given she now offers a full scuba diving program, she's quickly cemented a top spot among the best Caribbean scuba diving charters. What you get aboard UNBRIDLED is, first and foremost, unrivaled elegance. Plush décor, lavish fabrics, earthy color schemes and attention to detail, make this yacht a divine choice for charter guests who want exceptional value for money. Recently refitted and boasting an oversized swim platform,
UNBRIDLED comes brimming with water toys, a top-notch entertainment system, and all the mod-cons you'd ever desire. Her 5-strong crew, which includes a certified dive instructor, will take care of your every need, and a comprehensive array of diving equipment means you can go from deck to underwater world in no time at all. What can non-diving guests look forward to? Everything! Aboard, you'll find gym equipment, kiteboarding and snorkeling gear, water skis, inflatable toys, wakeboards, tubes and much more.
5. AT LAST 144 Feet, sleeps 11; $135,000/week plus expenses At long last comes, AT LAST, a beautiful and modern superyacht you'll have a hard time disembarking. Built in 1990 and completely refitted in 2014, this 144 feet beauty is an action-packed vessel of exploration, and custom made for charter guests who wish to fill their Caribbean super yacht charter vacation with a multitude of adventures. Designed and fitted to perfection, AT LAST, can accommodate 11 guests in 5 cabins, and takes along an experienced crew of 8. If you wish to maximize your time together aboard your Caribbean yacht charter, then you'll find AT LAST to be ideal. Her entertaining and dining areas are outstanding, as is the equipment which suits guests of all ages.
A gym, on-deck Jacuzzi and fully-stocked treasure trove of toys, mean that balancing act with relaxation is immensely easy. Kayaks, paddleboards, water skis and inflatable toys will ensure everyone enjoys the splendid waters of the Caribbean, while snorkeling and diving equipment will tickle the fancy of all those who wish to explore below the sea surface too. For a truly comprehensive yacht charter vacation in the Caribbean, where diving is simply one of many pursuits in which you can indulge, AT LAST, will certainly hit the spot.
Ready to dive the Caribbean in style? Wait no more! With our Best Caribbean Super Yacht Charters for Scuba Diving, we'll have you and your loved ones exploring the best of this incredible region aboard a stunning yacht that will seem tailor-made with you in mind. With so many fantastic luxury superyacht charters to choose from, your Caribbean diving trip is bound to be an unforgettable adventure.
Search for more Caribbean Super Yachts for Scuba Diving