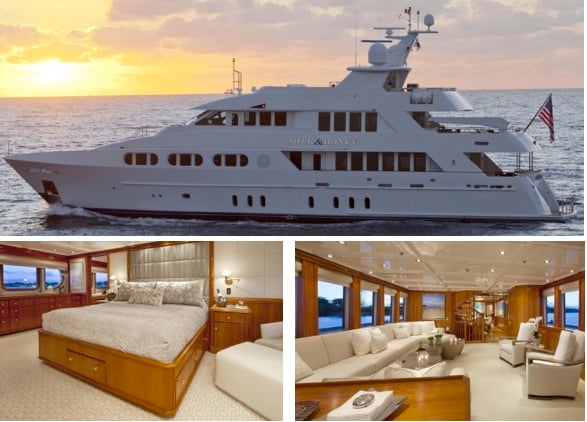 Chartering a superyacht for a scuba charter with an experienced dive instructor onboard can be a challenge.  Most superyachts prefer to offer rendezvous diving which means that the diving is provided by an outside dive operation.  Not so with Milk and Honey, one of the most beloved Caribbean superyacht scuba charters.
Milk and Honey
have long been considered top of her range and never more so than after her recent little 'pick-me-up'. If you're looking for a Caribbean luxury superyacht charter with emphasis on SCUBA diving then this is definitely the yacht you should be booking. At 125-foot in length, Milk and Honey is a tri-deck that offers guests as much room as your average 150-footer. There are a spa, pool,  sun basking areas galore , a bar,  sitting rooms,  TV rooms and more. Her outdoor dining area and Jacuzzi are divine, to say the least. Plus Milk and Honey is a pure class from bow to stern.  
Take a video tour
. Gorgeous interiors, luxe linens, romantic lighting and just the right amount of art make this a comfortable, elegant yet very home-like superyacht. What we love is the division of space here which facilitates both socializing and those few moments of privacy or aloneness which everyone seeks on occasion. With loads of entertainment for kids as well as adults, this superyacht is perfect for groups of friends or family gatherings. Five elegant suites sleep 10 guests in total including a full-width master with private office.
Lots for Non-divers to do:
 Maybe all of your family and friends are not as much of a scuba charter as you are?  No problem!   This Caribbean superyacht scuba charter carries wakeboards snorkel gear water skis (for adults and kids)tubes floating mats kneeboards two-person kayaks and plenty of fishing gear.  The onboard list of amenities is quite impressive with a kaleidoscope of fun extras like video games, board games, books, DVDs, and i-pod hookups that'll surely provide lots of entertainment on sociable evenings.  If there's something you'd like to find onboard – which isn't already part of their extensive list – then just tell us and we'll be more than happy to pass on your special request. The dedicated crew is always more than happy to fulfill their guest's wishes.
Experienced Captain and Instructor:
At the helm of Milk and Honey you'll find Captain Kenny, one of the most enthusiastic divers you'll ever meet anywhere. He's a PADI open water instructor and his dedicated services are complemented by three crew members who are also certified divers. These guys will take you deep and show you the coolest lobster hiding spots in the Caribbean or Bahamas. Really they know all the best diving spots around! Ten full sets of diving equipment are found aboard this superyacht including wetsuits, compressors tanks, and regulators. Anything you'll ever need for a Caribbean scuba diving adventure will be right onboard waiting for you – take one dive a week or one a day - the choice is yours.
5-star service:
At the end of a hard day at play in the crystalline Caribbean sea, it's nice knowing you'll be coming 'home' to the Milk and Honey where her crew of 7 will be waiting to indulge you in all sorts of delectable luxuries. Time and again, the crew continues to exceed all expectations and although this striking superyacht is impressive to no end, it's her crew which continues to amass the most accolades. And that's music to our ears. These professional and experienced guys and gals really work tirelessly to ensure you and your sailing guests have the most unforgettable adventure: from the gourmet meals to the mouth-watering sundowners and surprise desserts.  They'll make you salivate from morning till evening. We mean that quite literally. They'll organize beach parties for you and star gazing soirees. They will get you where you want to go, keep an eye on the weather and just take care of every little detail so all you need do is chill out and enjoy the stunning nature in one of the world's most sought-after superyacht yacht charter destinations… and wait for the next glorious meal.
Rates and availability:
Milk and Honey charters in the Bahamas and New England in the late spring and summer and heads to the Virgin Islands in winter. The non-holiday charter rate is  USD$85,000 a week (plus expenses).