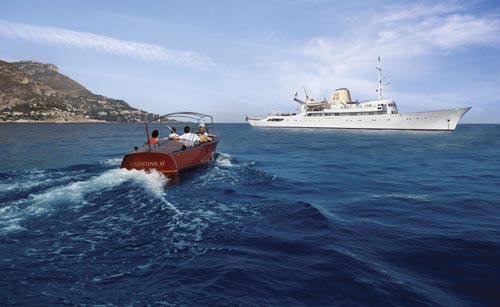 West Mediterranean Superyacht Charter - Christina O
The Christina O is one of the most magnificent superyachts ever built. At 325 feet, she is also one of the largest and arguably the one which boasts the most enticing history. She has entertained and bewitched some of the most famous VIPs with the likes of Marilyn Monroe, Winston Churchill, JF Kennedy, Jackie Kennedy and Greta Garbo - among many others – gracing her elegant quarters. If you're looking for a superlative Mediterranean superyacht charter experience, the Christina O is hard to beat. This Superyacht Queen which many believe started the jet-set sailing movement can entertain you and 33 of your closest friends and take you on the sailing adventure of a lifetime.
A step back in time…
The Christina O was always bound for stellar things, having been built in 1943 to serve in WWII and being present at both the Battle of the Atlantic and the D-Day landings. After the war, she was purchased by Greek shipping magnate Aristotle Onassis who spent more than $4 million creating a floating palace in honor of his beloved only daughter Christina. Onassis was one of the richest men in history and owner of the largest private shipping collection in the world. He was famously flamboyant and adored beautiful women. He counted famed opera singer Maria Callas among his mistresses and former US-First Lady Jackie Kennedy among his wives. The Christina O is nowadays no longer owned by the Onassis family. Since 2012, she has been made available for charter as a Mediterranean superyacht granting you an unrivaled chance to sail the high seas aboard one of the most historic ships ever built.
Amenities on This Classic Mediterranean Superyacht Charter
The Christina O was fully refurbished in 2001 retaining the kind of elegance and class that's in line with the Onassis legend whence she originated. She offers the Onassis Master Suite with private Jacuzzi, 16 staterooms, five decks – all connected by a spiral staircase – a Six Senses health and beauty spa, the Maria Callas lounge (complete with piano), and the famous Ari Bar. And that's just a tasty entrée… Sip champagne cocktails on the outdoor sunbathing decks and bars, dive into the swimming pool boasting a mosaic floor which lifts to create a dance-floor, relax in the open-deck Jacuzzi or the indoor library, let the kids run amok in the Children's Playroom while you enjoy a superb gourmet dinner in one of the many dining halls.
Every detail on this yacht, every curtain, leather lounge and fitting is astoundingly elegant. If you can pry yourself away from this stupendous yacht – no mean feat we might add – you can jet ski, windsurf and snorkel to your heart's delight. Because let's not forget: when you sail on a Mediterranean superyacht charter, your endless playground is as much off the yacht as it is on it! The Christina O also includes two varnished launches and two lifeboats. Among it all, you'll have no less than 39 experienced crew members at your service ensuring you and your guests have an unforgettable time aboard the Christina O.
The Christina O at a glance
Length: 325 feet (99.13m)
Launched: 14 July 1943
Builder: Canadian Vickers
Refurbished: 2001
Cruising speed: 19 knots
Cabins:17
Pax: 34
Crew: 39
Toys: Snorkeling equipment2 x waveriders2 x windsurfsgym equipmenttowed toysJacuzzi/pool on deckspa
Rates start at €560,000 per week plus expenses; 34 guests overnight; 250 people for dockside event; 157 guests if cruising with 5 nautical miles of shore; available in the Mediterranean View other large capacity Mediterranean Superyachts for Charter.