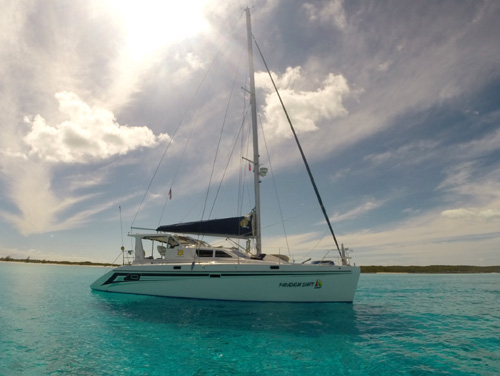 An
Exumas
Catamaran Charter - so close to home (if you live in the U.S.) yet the Exuma islands feel like miles from nowhere.  So much more "off the beaten track" than you'd expect -  more remote in fact than the BVI or the Grenadines.  And the waters shimmer 50 shades of iridescent blue hugging the shores of powder white beaches.  You can embark in Nassau which has direct flights from many Eastern seaboard cities as well as half hour flights from Ft. Lauderdale or Miami.
Paradigm Shift
is a 2011 St. Francis catamaran with three guests cabins each with an en-suite head.  Steve and Bonnie are your hosts with an assist from "Tabasco" their 10-pound toy poodle mix who spends most of her time watching fish and chasing rainbows.  Steve and Bonnie are very active - not many cats have 4 stands up paddle boards to offer.  Plus good fishing gear, snorkel gear, and 2 kayaks. Bonnie's eclectic menu varies from down home "comfort food" like freshly baked sourdough bread and chocolate chip cookies to organic free-range beef tenderloin, fresh fried snapper to Fettuccini Alfredo.  She uses all natural non-processed ingredients with a knack for combining healthy food choices with over the top quality and taste. $17,250/6 guests; $14,250/4 guests; $13,250/2 guests
Rates are for 8 days/7 nights and include all food, beverage, snacks, canapes, standard ships bar* and licenses and permits. Ships bar includes basic bar: Bahamian beer, local rum, Chilean red & white wine. Premium or imported bar items and fine wine at client expense. 
Just the Two of You?
 Sign on for their
"Ultimate Romantic Special".  
A reduced 2-person rate of $13,000 plus a $500 gift certificate for Victoria's Secret and a free case of sparkling wine.  Or skip the gifts and take another $1,000 off.  Valid through May 31, 2015, excluding holidays.  Now that's a great catamaran charter discount.
Where Do You Sail in the Exumas? 
 Check out our 
Exumas Catamaran Charter Sample Itinerary