Integrity, a 143' motor yacht, is one of the few luxury yacht charters in the Galapagos Islands... one of the most magical and captivating places on the planet. If you've not had the privilege of a Galapagos yacht cruise before, you should certainly add it to your bucket list. I was here a decade ago - mind you, I am not the bird-watching type, I'm a little too impatient for that - but I was mesmerized by the wildlife.
Since they are so fiercely protected, as is their habitat, they haven't developed a fear of humans and some can be downright curious of visitors. You can get up-close and personal without them scurrying away and this is, without a doubt, one of the Galapagos' main draws. Ecuador has been very proactive in preserving the ecology of their revered islands. The country limits the number of yachts allowed to cruise here, controls the daily number of visitors and imposes restrictions on charters, such as having to be accompanied by a local naturalist guide when going ashore. Unlike yacht charters in other parts of the world, therefore, your week-long itinerary is determined by the government. Personally, I found this all made perfect sense to me and did not at all detract from our enjoyment.
There may not be any funky bars on-land and no nightlife on the yacht, but the world is your oyster. All the revelry and enjoyment you're used to indulging in can still be drummed up there!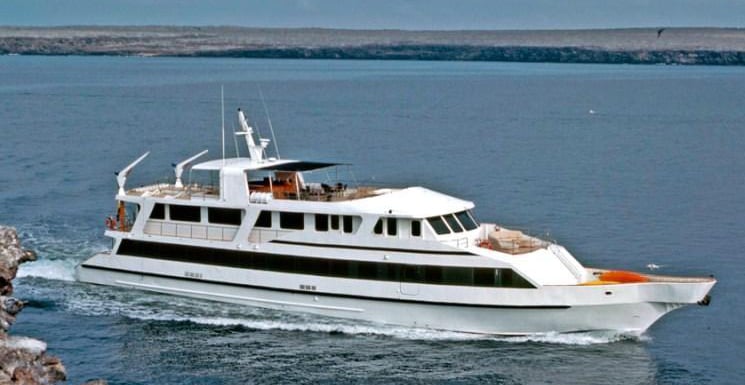 Integrity is an excellent choice for Galapagos yacht cruises: she sleeps 16 in comfort, is specially-designed for maximum viewing, and showcases the kind of amenities and luxuries one needs and craves when one cruises in such a protected archipelago. Whatever entertainment the islands may lack, the Integrity will more than make up for.
Integrity's Onboard Highlights
Cruising in such a prime wildlife-watching destination means the great majority of the excellent activity aboard Integrity resolves around snorkeling and on-shore wildlife viewing. A great feature of the yacht is its wide-screen Media Centre, where the day's activities can be viewed and which also hosts the ongoing presentations by the on-board naturalist guide. In-between presentations and excursions, you can luxuriate in the on-deck Jacuzzi and enjoy sunbathing session on the outdoor terraces. Multiple kayaks allow for further explorations on your own.
Luxurious and Flexible Accommodation on Integrity
Integrity sleeps 16 guests in 9 cabins - one King master suite, one Queen, one Twin and one Single plus 5 other cabins that can be Kings or Twins depending on guests' needs. Each cabin has large picture windows, individual climate control, satellite TV, a stocked refrigerator and an entertainment center with CD/DVD and LCD monitor.
Galapagos Yacht Cruise Experiences on Integrity
Integrity offers two separate 8-day itineraries for Galapagos yacht cruises: one which meanders on a 'regular' route west (ideal for first-time visitors) and a 'hidden treasures' route which is ideal for return guests who are keen to explore more remote and secluded destinations. Whichever itinerary you choose, you'll have an included first-night stay on Santa Cruz – the main island – to give you the chance to visit the Charles Darwin Research Center and the wonderful highlands where Giant Turtles roam free. Everything about the Integrity focuses the attention squarely on the Galapagos and their incredible wildlife. The itinerary is chock-full of on-land excursions and walks, lectures of the nature, geology and biology of the Galapagos, as well as plenty of swimming, snorkeling and kayaking too. On a typical Galapagos yacht cruise day, you'll wake up in a new and exciting place, enjoy a sumptuous breakfast and set off for an exploratory shoreside walk, before returning on-board for a delightful mid-morning snack. A stint of pre-lunch snorkeling will surely work up your appetite, just the thing you need to enjoy what is, to Ecuadorians, the most important meal of the day. A languid lunch of local specialties is a daily highlight aboard Integrity. Depending on the schedule, you can indulge in an after-lunch snorkel or kayaking excursion or, perhaps, a wee little siesta if the yacht needs to travel on. I found these early afternoons to be the most idyllic as every day brings something new! Afternoons are usually spent exploring a new island on foot and returning on board in time for sunset and sundowners, before yet another sensational meal. The perfect end to a perfect day cruising the Galapagos.
Professional & Friendly Crew
The professional, competent and friendly crew aboard the Integrity make a luxury charter an absolute pleasure and an unforgettable experience. These guys are pros through and through, they know and love the Galapagos so much and their passion is utterly contagious. Exquisite service is a given, with no detail too small and no request too big. What I particularly loved about this luxury Galapagos yacht cruise is that guests are offered a wealth of information on the islands, their history and wildlife, enhancing the already incredible experience even further.
Explore the Best of the Galapagos with Integrity
On these astonishing islands and in the nutrient-rich waters that frame them, you can snorkel with sea lions and frolic with penguins, dive with hammerhead sharks and race swimming iguanas. Watch the painfully slow mating ritual of Giant Galapagos Tortoises and the super comical ones of the Waved Albatross and Flightless Cormorant. You'll see Sally Lightfoot crabs sliding every which way and admire an array of wildlife not found anywhere else on earth. No wonder Darwin was so captivated by this magical place! If you're a love of pristine nature and captivating wildlife, there really is no better place on earth for a luxury yacht cruise.
Integrity Yacht Cruise Price
Charter rates start from $120,000 a week for up to 16 guests. This includes 8 days/7 nights cruising on yacht, fuel for main engine and generators, all meals, soft drinks and draft beer, ground transfers of guests and luggage from Baltra/Galapagos airport to the yacht; naturalist-guided tour to highland tortoise area and the Charles Darwin Research Station including lunch, and port charges. Additional charges are: airfare, Galapagos National Park entry fee, Ecuador departure taxes, transit control tax, crew gratuities, laundry, wine and spirits, specialty foods, satellite or cellular telephone charges.
Integrity…at a glance
# of guests: 16
# of cabins: 8
# of crew: 10
Summer Location: Galapagos Islands, Ecuador
Winter Location: Galapagos Islands, Ecuador
Rates start at: USD 120,000 per week
Yacht type: Luxury motor yacht
Length: 141' (43 meters)
Beam: 24' (7.30 meters)
Draft: 7' (2.1 meters)
Year Built/Refit: 2004/2011
Builder: Gulf Craft
Galapagos Yacht Cruise Sample Itinerary Galapagos Yacht Cruise Photo Tour
Check out our five favorite Galapagos Yacht Cruise vessels
For more information on Galapagos yacht cruise on Integrity, contact us at 239-896-7278 or e-mail us.