Greece Catamaran Charters
In Greece, you'll find many of the same types of modern catamaran charter yachts that are available in the Caribbean - Lagoons, Sunreefs, Fontaine-Pajots, and Privileges. They range from 44' to over 62' in length and can accommodate up to 12 guests. For larger groups, there is nothing more fun than chartering 2 or 3 of them and casting off on a tandem charter.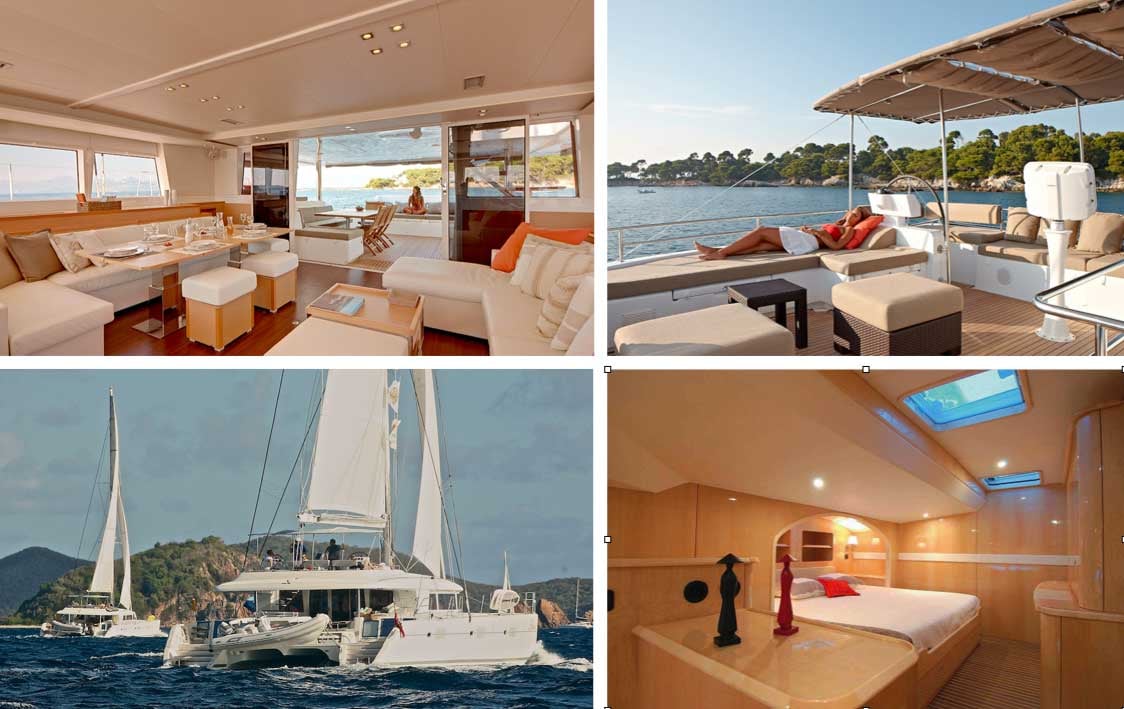 Local Crews Enhance Greece Catamaran Charters
One key difference from catamaran charters in other parts of the world is that most catamaran charter yachts in Greece have local Greek crews. This truly enhances the "get local" nature of the vacation. The crews know the best-kept destination secrets. They speak the language and rub elbows with the local people. They can get you a waterfront table at the best seafood shack in town. They can tell you a sea tale or two. They can even name the gods who have sailed the same route as you. This all translates into you experiencing an insider's view of Greece. Up close and personal.

Greece Catamaran Charters - Numerous Itinerary Options
The most popular itinerary includes the Cyclades chain of islands southeast of Athens. This includes the renowned islands of Mykonos and Santorini as well as Delos which is the birthplace of Apollo and some exquisitely beautiful islands you may never have even heard about - Serifos, Paxos, Kea. Sample Cyclades Itinerary. Another popular itinerary is the Saronic Gulf and the Peloponnese especially during the peak summer months when the wind can be strong n the Cyclades. West of Athens, it is known for its unspoiled anchorages, lush countryside, sleepy fishing villages, and vast array of islands.
Lots to Do on Your Greece Catamaran Charter
Another difference is that although you will undoubtedly enjoy a bevy of water sports, you will also want to spend more time ashore than you would on a Caribbean charter. You'll want to bask in Greek hospitality, shoot the breeze with a local fishermen, explore the winding streets of a local village, sip ouzo at a lively taverna, poke about ancient ruins, hike to a mountaintop palace at sunset, taste and toast at an island winery, watch olive oil being hand pressed, dine on the quay where freshly caught fish have just arrived by boat, and dance to the bouzouki sounds. Yamas!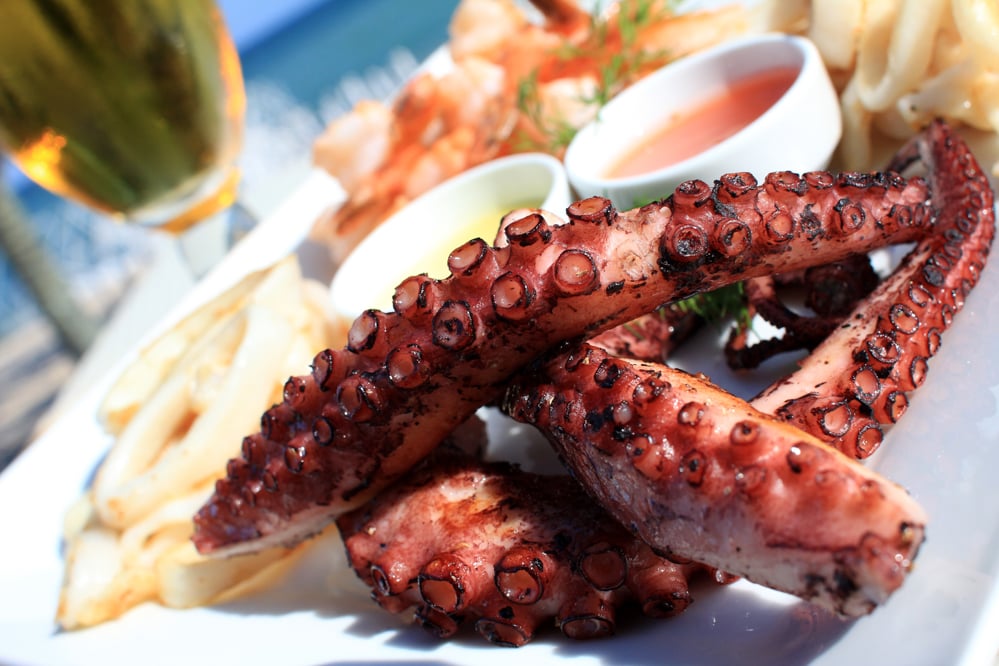 Kalí órexi: Enjoy Your Meal
Greek catamaran charter chefs are varied in their culinary talents - cooking everything from traditional Greek to continental cuisine. We always follow the "when in Greece" philosophy meaning when in Greece eat like a Greek. Freshly baked bread with a medley of olives, fresh tomatoes and a chunk of feta cheese for breakfast. A grilled octopus salad for lunch. Tzatziki with pitas at Happy Hour. A mint crusted leg of lamb or a whole grilled lemon infused fish for dinner. And bring on the moussaka baklava and spanakopita anytime!
Food and beverage are not included in the cost of Greece catamaran charters. This works to your advantage - giving you the flexibility to eat in or out as you choose. You are charged for your onboard food "at cost" meaning you pay for the actual cost of the groceries. Your captain will know all of the lovely little spots to eat ashore, and we recommend that you do just that at least for a few lunches and dinners.

Greece Catamaran Charters - Pricing
There are three seasons in Greece:
High: July and August - the busiest months in most demand so they are a higher cost
Shoulder: June and September - the shoulder months with ideal weather, less busy and a more favorable rate
Low: May and October - the best value months, much less busy and still delightful weather although it can be a bit cooler. Try late May or early October, and you have great deal.
Rates: Keep in mind that all pricing is in Euros. To convert dollars to euros, go here. The rate includes the hire of the yacht, the crew, onboard watersports equipment, and the yacht's insurance. The Charterer pays for all of the running expenses of the yacht "at cost". These expenses include the Charterer's food and beverage; consumables; fuel for the yacht, tenders and watercraft; dockage; port fees; cruising taxes; communications; personal laundry; shoreside water and electricity; Typically, these additional costs add 20% to the yacht charter fee. Although the pricing structure is not as convenient as all-inclusive, it works for Greece as you will eat many meals ashore.
VAT (Value Addded Tax): Like all EU nations, there is a VAT on the base price of the yacht charter fee. The rate in Greece is 12%.
Additional Costs: Airfare, ground transfers, and crew gratuity recommended at 10-15% of the base charter rate.
Here are some sample catamaran charters in Greece:
Nova - Lagoon 62; 8 guests; 2 kings; one queen; one twin cabin; 3 crew including a seasoned captain, superb chef, and a masseuse. One guest has chartered with the captain 14 times in 21 years - "I have loved every minute of it. Somehow, each trip has been more perfect than the last. But this last trip has been special, in so many ways. Thank you my friend! €25,200/July and August; €22,000/June and September; €17,000/other months. My Office, a sistership with all queen cabins is also available at the same rate.
High Jinks II: This 2013 Fontaine-Pajot offers five queen cabins with an enthusiastic crew of three. Plenty of toys - paddle board, skis, tube, snorkel gear, kayak, wakeboard, and light fishing gear. You've got to try the Skioufikta (traditional Greek pasta) or hilopitaki (Greek style noodles) with Feta cheese, cherry tomatoes, ruckola and white wine. So fresh! So yum! Charter it with its sister High Jinks and sail with 18 guests. €23,000/July and August; €21,000/June and September; €18,000/other months.
Boom: One of our favorite catamaran designs for its volume and spacious flybridge, this brand new 2018 Lagoon 56' sleeps 10 guests in 4 queens and one bunk cabin that is suitable for kids. You'll bask in the famous Greek hospitality with a crew of three. Phoebe's Sea bass with squid ink sauce and risotto malbec is a fave rave. €25,000/July and August; €23,500/June and September; €21,000/other months.
Lucky Clover: "Every day was full of joy and happiness". So get happy on this Lagoon 52 with 2 master cabins, 3 doubles, and one bunk cabin. Add all of that up and that is 12 guests. We think that could be two guests too many unless you are a close knit family. 8 or 10 is more ideal. Crew of three loves families. €18,000/July and August; €16,000/June and September; €14,000/other months.
Happy Feet: This brand new Lagoon 48 sleeps 10 Guests in 5 double cabins with a crew of two. Between them, the crew speaks English, Russian, Ukrainian, French, Greek and sign language. €16,400/July and August; €15,100/June and September; €12,100/other months.
Search for other Greece Catamaran Charters
Contact Ocean Getaways to Charter a Greek Catamaran Now - it is never too early to book for next year.
All of the above rates are plus expenses and subject to change without notice.