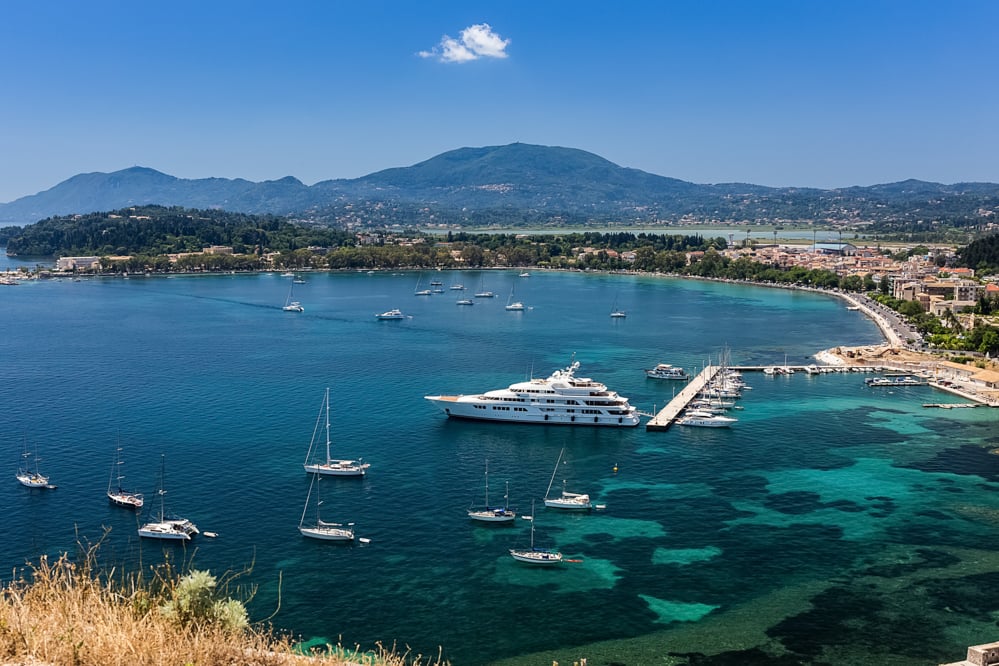 The quality of luxury yachts and super yachts available on Greece Motor Yacht charters is superb and varied.  Greece charter regulations are very restrictive,  and in most instances,only yachts with Greek flags, owners, and crew can generally charter in these waters. You can cast off on anything from the 67' motor yacht
July
that sleeps eight to the 270'
O'Mega
that sleeps 30 guests or the 295'
Lauren L
that accommodates 40 guests in the lap of luxury.  You can spend €2,000 pp per week or €20,000 pp/week or somewhere in between.  We offer  "go fast"motor yachts, power cats, comfortable cruisers, and stunning super yachts.
Greece Motor Yacht Charters – Numerous  Itinerary Options
The most coveted itinerary is the spectacular Cyclades chain of islands southeast of Athens. You can party like a rock star on Mykonos, commune with mythical gods on Delos, and drench yourself with the dramatic beauty of Santorini. Plus some off-the-beaten track  islands that you may never have even heard about – Serifos, Paxos, Kea.  
Sample Cyclades Itinerary.  
Another popular itinerary is the 
 Saronic Gulf and the Peloponnese
especially during August when the winds can pipe up in the Cyclades.  Just point the bow to the west from  Athens for the  sleepy fishing village of Epidaurus, the car" less" Hydra where donkeys are the mode of transport, and Nafplion, the original capital of Greece that simmers with history and charm.
Activities Galore on Greece Motor Yacht Charters
Although you will want to go to some lovely coves and enjoy the water toys on your Greece motor yacht charter, you will also spend a fair amount of time ashore visiting historic sites, reveling in the banter of the waterside cafes, watching the local fisherman haul in their catch of the day, biking the back roads, enjoying wine and olive oil tastings, shouting opa! as the locals  clap their hands over their heads to traditional music, or savoring the quiet of a romantic dinner in an old castle.

Kalí órexi:  Enjoy Your Meal
The chefs on Greece motor yacht charters hail from a variety of backgrounds, and most are professionally trained with stints as restaurant chefs both in Greece and worldwide. They can cook everything from traditional Greek to continental cuisine, and most specialize in fresh Mediterranean fare.  Special diets are easily accommodated. Your crew will also advise you of the best places to dine ashore.
Greece Motor Yacht Charters – Pricing
There are two rate seasons in Greece:
High Season: July and August – the busiest months with higher demand so the rates are at their highest ( a few yachts extend high season from June 15 - September 15)
Low season: all of the other months – we highly recommend June and September as the prices are lower, the anchorages are less crowded, and the weather is delightfully warm. If we had to pick the prime month, we'd vote for August.
Charter Rates: A
ll pricing is in Euros.  To convert dollars to euros, 
go here
. The rate includes the hire of the yacht, the crew, onboard watersports equipment, and the yacht's insurance.  The Charterer pays for all of the operational expenses of the yacht "at cost".  These expenses include the your food and beverage; consumables; fuel for the yacht, tenders and watercraft; dockage; port fees; cruising taxes; communications; personal laundry; shoreside water and electricity;  Typically, these additional costs add 35% to the yacht charter fee.
VAT (Value Added Tax): Like all EU nations, there is a VAT on the base price of the yacht charter fee.  The rate in Greece is 12% for most yachts.  A few yachts are at 9.6%, and we will tell you this at the time of your inquiry. Additional Costs:  Airfare, ground transfers, and crew gratuity recommended at 10-15% of the base charter rate.
Here's a sampling of our Greece motor yachts for the 2018 season: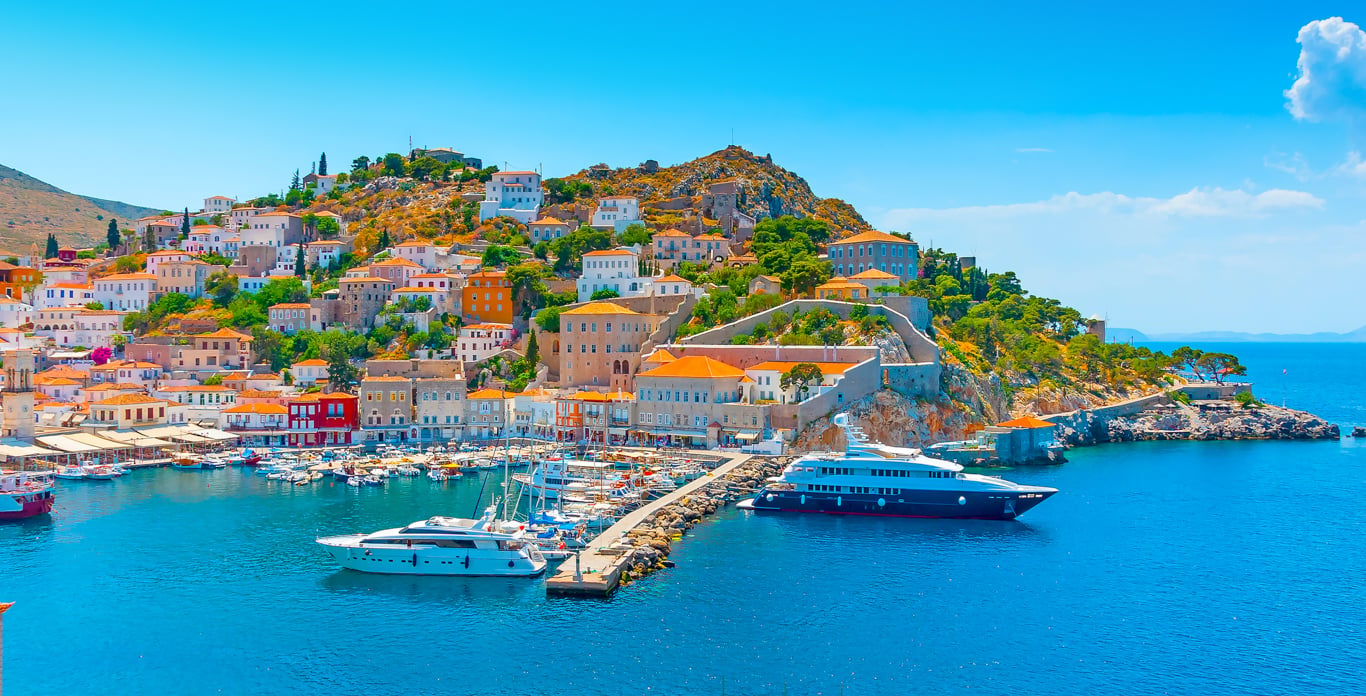 LAUREN L:  
This is an extraordinary one-of-a-kind super yacht that sleeps 40 Guests in 2 Kings, 8 Queens, and 10 Double(s).  It  the amenities of a cruise ship while maintaining the yacht like feel - beauty salon, massage room, gym and cardio, conference room, library, and kids playroom. An international crew of 45 caters to every whim! €695,000 year-round
PEGASUS :
 This classic 173-foot Headship has every toy imaginable including
scuba gear
.  Plus an over-sized jacuzzi, a gym, a Beach Club, and a spa pool. A crew of 15 pampers 12 guests  in a king master cabin, 2 queens and 2 twins. €195,000/low season; €220,000/high season
BELLA STELLA 147 Feet.
  (Power)  €95,000/low season; €105,000/high season.  Sleeps 12 Guests in 1 King(s), 4 Queen(s), 2 Twin(s)
RINI V 120 Feet.
  (Power)  €77,000/low season; €87,000/high season.  This popular motor yacht's captain has been at the helm of Rini V for nine years.  Now that says volumes about his passion for the yachts and experience in the industry.  Sleeps 12 Guests in 2 King(s), 2 Queen(s), 2 Twin(s)
PARIS A 115 Feet.
  (Power)  €63,000/low season; €73,000/high season With a cruising speed of 24 knots, this contemporary motor yacht will get you there with style and speed. The captain has been with this same owner for 16 years and has invaluable knowledge of the cruising area.  He will take you places  you haven't even dreamed about. You need to book this yacht well in advance as it is busy. Sleeps 12 Guests in 3 Double(s), 2 Twin(s)
MILOS AT SEA
 : Owned by one of the best fish restaurant owners, the 114-foot MILOS AT SEA is the perfect yacht for foodies. The chef's culinary talents include traditional and modern Greek, classic and creative Italian, French,  and  Japanese sushi. His goal is to provide unique flavors at sea
.
 Accommodates 12 guests in a king master, 1 queen, and 2 twin cabins with pullman berths.  €45,000/low season; €55,000/high season
MY WAY 95 Feet.
  (Power)  €28,000/low season; €31,000/high season Italian built with lovely interior woodwork give this yacht a rich feel. Sleeps 8 Guests in 2 Queen(s), 2 Twin(s)
DREAM 77 Feet.
  (Power)  €18,000/low season; €21,000/high season Sleeps 8 Guests in 2 Double(s), 2 Twin(s)
GEORGE V: 67 Feet.
  €14,000/low season; €16,000/high season. Sleeps 8 Guests in 2 Double(s), 2 Twin(s).  This sweet motor yacht offers  a super rate for its size.  With a crew of three and lots of toys, this is your gateway to the islands at an economical rate.
to Arrange your Greece Motor Yacht Catamaran Charter