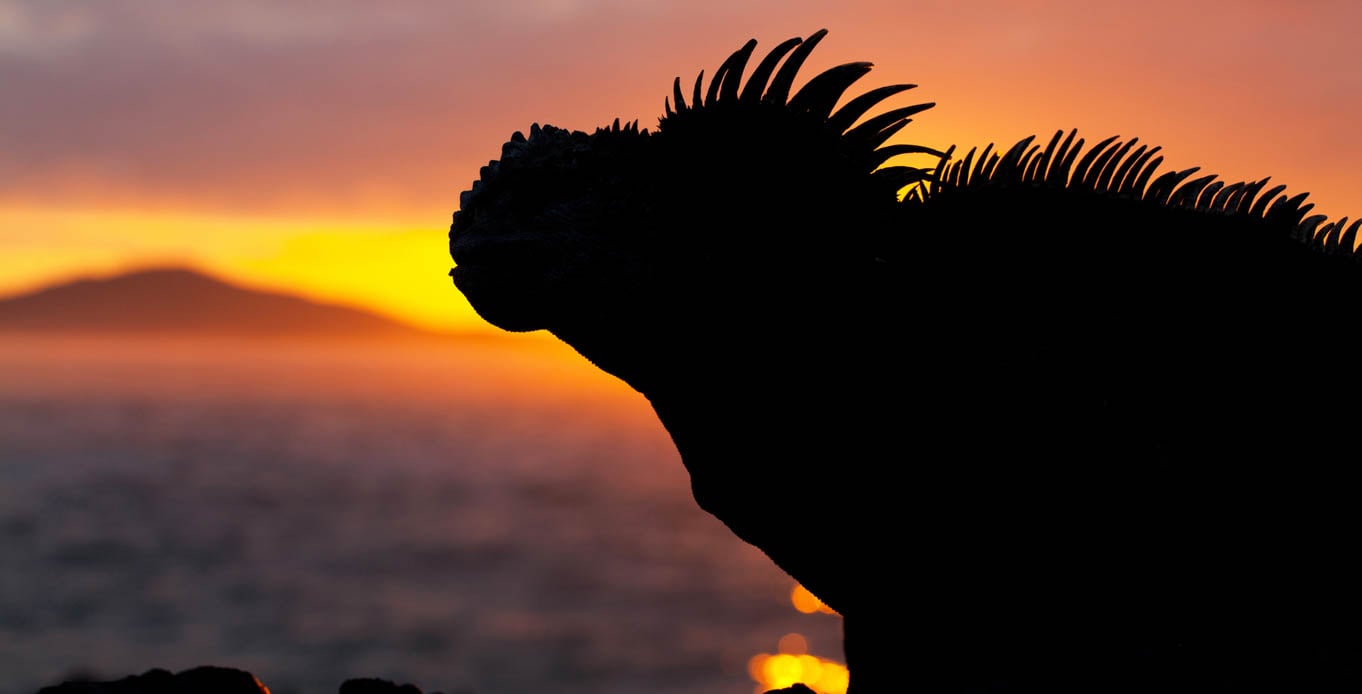 Luxury Galapagos yacht cruises on Stella Maris: experience the most magnificent wildlife destination on earth, aboard the most magnificent private superyacht available for charter in those waters.
Revered for the concentration of endemic wildlife they harbor and for being the last true unspoiled islands left on our planet,
the Galapagos
and their enticing creatures offer a cruising experience like no other. Fervently protected and with a restricted number of vessels allowed, this amazing archipelago off the Pacific coast of Ecuador offers few chances for private yacht charters, with most visitors heading here on group cruises instead. If you wish for an intimate experience, aboard your own private yacht, your choices are quite limited and that's why luxury Galapagos yacht cruises on Stella Maris are even more tantalizing.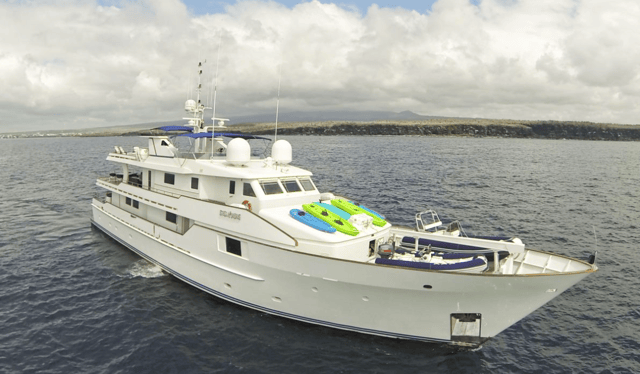 The Stella Maris, a sleek, modern and opulent 126' superyacht, is the ultimate choice for exclusive Galapagos yacht cruises and is specially-designed to uphold and protect the delicate ecosystems of its very special 'home'. She can accommodate 14 guests in supreme comfort, offers world-class gastronomy that's a crust way above the rest, and is crewed by a team of 8 passionate and dedicated people, all intent on showing you and your guests the trip of a lifetime, in what really is a once-in-a-lifetime destination. Equipped with all the gear you'll need to explore the Galapagos and all its treasures, including wetsuits, snorkel gear, kayaks, and 2 tenders to take you ashore, the Stella Maris makes the perfect home at sea, for an unforgettable Galapagos yacht charter experience.
Stella Maris at a glance– Luxury Galapagos Yacht Cruises
# of guests:                 14 # of cabins:                 7 # of crew:                    8 Summer Location:      Galapagos Winter Location:         Galapagos Rates start at:               $135,000/week plus expenses Yacht type:                  Motor super superyacht Length:                        126ft (38m) Beam:                         25 ft (m) Draft:                           8 ft (m) Year Built/Refit:         1987/2014 Top Speed:                  14 knots Cruising Speed:           12 knots Fuel consumption:      350lt/hr Builder:                       Picciotti
Luxury Accommodations for 12 Guests
Two cabins below deck, three on the main deck and a stunning Master Suite on the upper deck with private access to an outer lounge: the cabin configuration aboard Stella Maris is ideal for an extended family or group of friends wanting to share a special Galapagos journey. The yacht is designed to allow guests to soak up the views from every corner, hence the interior lounges and cabins are light, airy and spacious. Gorgeous warm hues and a modern décor create an inviting ambiance, making your Galapagos yacht cruise not simply about reaching your destination. The journey, aboard this superb superyacht, is as much a highlight as the islands themselves, making her quite unique in this part of the world.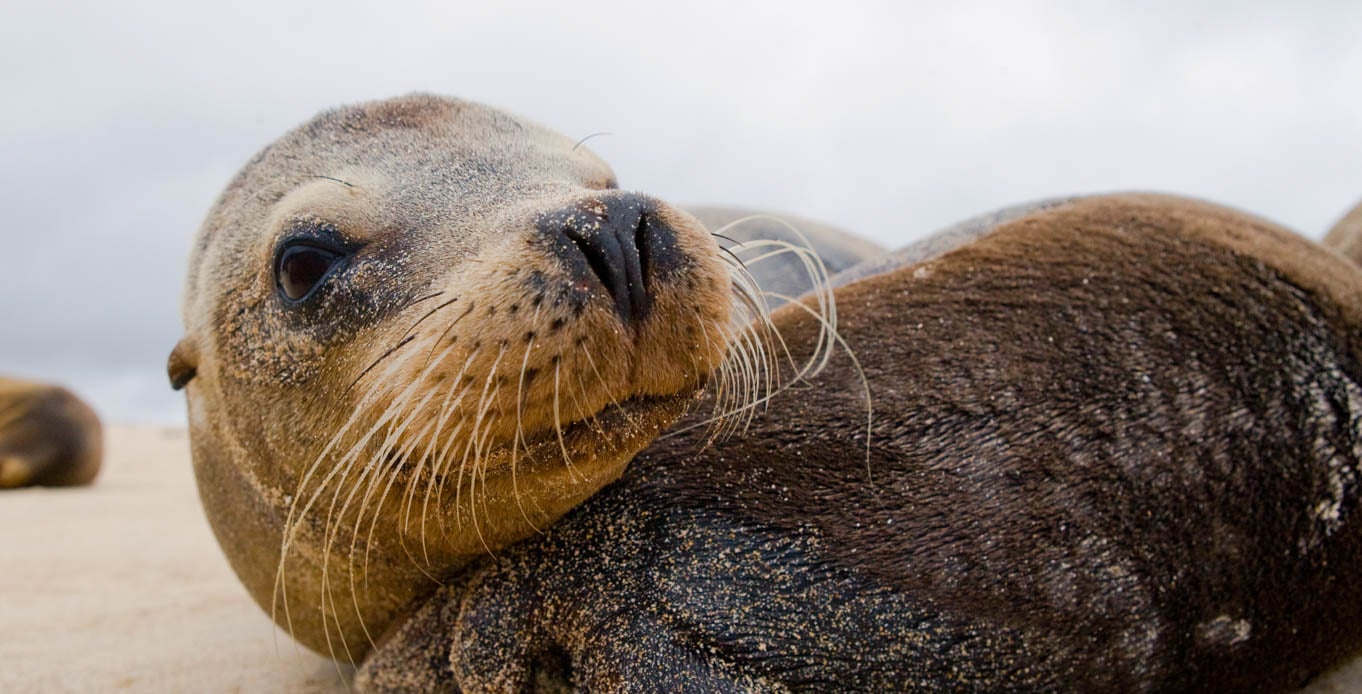 With hydraulic stabilizing systems keeping her steady and smooth at all times, the Stella Maris offers a comfortable cruise. The refitted yacht, which was designed to be as ecologically conscious as possible, lets you enjoy luxury without fault, adhering to the strict environmental regulations imposed in the Galapagos. The extensive use of the yacht's outdoor spaces makes the Stella Maris ideal for cruising in such an outstandingly beautiful destination. With a vast sun terrace on the top deck (complete with Jacuzzi) as well as viewing decks adorned with plush seating on middle and bottom deck, the Stella Maris offers copious opportunities for landscape admiring during the day and stargazing at night. In the Galapagos, a place not marred by light pollution, the starry skies are out of this world!
Toys for Your Entertainment
The Galapagos is renowned for offering up close and personal encounters with wildlife that is utterly unafraid of humans. The Stella Maris is fully equipped with everything you'll need to explore and enjoy, including snorkel gear and kayaks, along with wetsuits to keep the chill at bay.
Galapagos Yacht Cruises - Itineraries
Stella Maries offers two itineraries for Galapagos yacht charters, both one week in duration and offering slightly different routes depending on which of the 13 major islands you wish to visit. The daily plan offers diverse activities, which include exploring islands on foot, visiting historic sites and hiking to stellar viewpoints, and always having plenty of time for swimming, snorkeling, and kayaking in specific areas where marine wildlife is most present. From the idyllic beaches on
Espanola
where sea lions love to sunbathe to the colossal flamingo colonies on
Floreana
, the breathtaking vistas and fascinating lava cones on
Bartolome
, the tremendous colonies of seabirds on
Genovesa
and so much more…your Galapagos yacht cruise on Stella Maris will be brimming with utterly unique experiences.
Stella Maris Crew
Ecuadorian Captain Daniel Mora is as passionate about cruising as he is about the Galapagos. Specifically trained for this unique destination, Capt. Mora will get you to hidden coves and astound you with his insider knowledge of these glorious islands. He has been with Stella Maris since the beginning and has bestowed an 'above and beyond' credo in his team which makes cruising aboard this yacht an absolutely fun and indulgent pleasure. From the epicurean delights which showcase the best of Ecuadorian cuisine alongside an international array of specialty, your personalized menus will be based on your particular tastes and likes. Full food and liquor service on Stella Maris is available at your pleasure, 24 hours a day.
Stella Maris Rates
Luxury Galapagos yacht cruises on Stella Maris start at $135,000 plus expense for up to 12 guests
Interested in exploring the Galapagos aboard the Stella Maris? We'll be delighted to plan your extraordinary Galapagos yacht cruise and advise you on the best time of year to visit, as well as the best way to reach this enigmatic and unique destination. Contact us for more info.