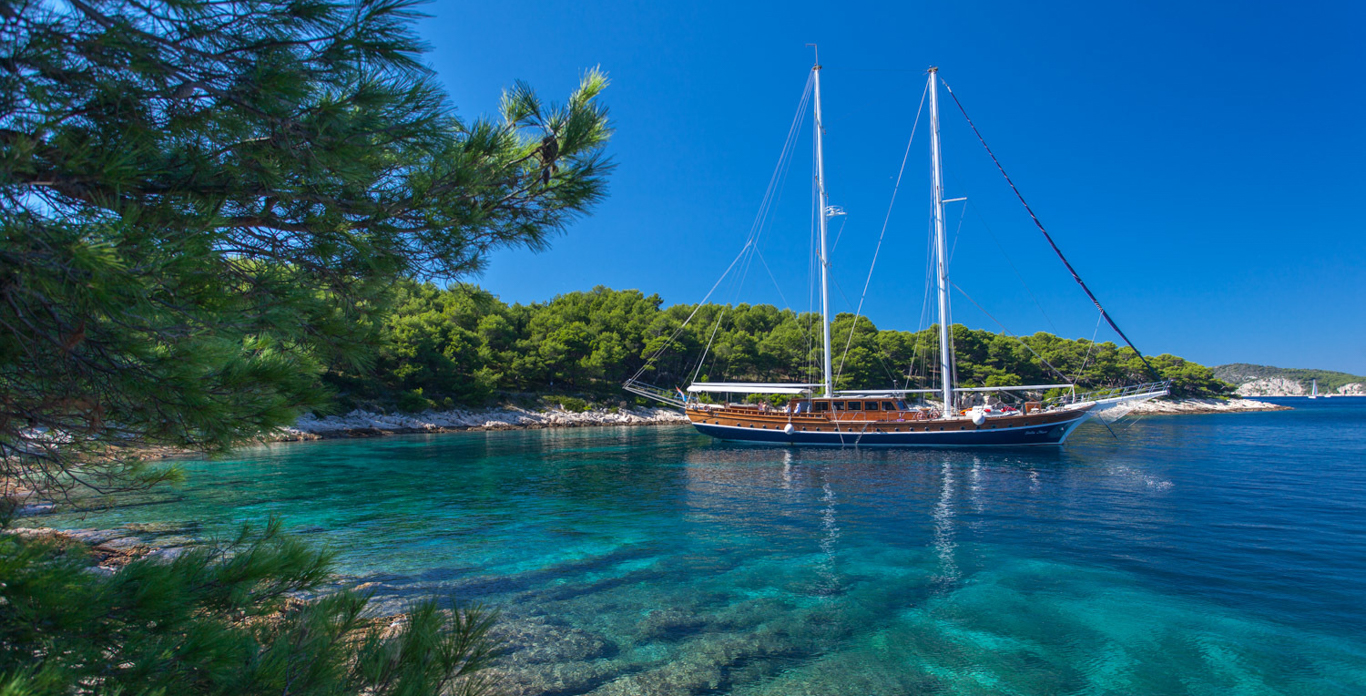 Luxury Gulet Charters in Croatia offers a unique yachting experience that adds an exotic cultural flair to exceptional the Ocean Getaways luxury you've come to know and love.
What are Luxury Gulet Charters in Croatia?
Pronounced goo-let. Gulets are traditional wooden sailboats originating from the southern coastline of Turkey. Nowadays, gulets have become immensely popular as tourist sailing vessels in the Mediterranean. They are fairly inexpensive to build and offer lots of space. Their quality and service can vary dramatically. Here at Ocean Getaways, we only represent the top of the line gulets, la crème de la crème, if you like. Collaborating with only the best in the game means we offer superb luxury gulet charters in Croatia, staffed by experienced and professional local crews.
We believe that gulets offer experiences which combine tradition and cultural immersion with the benefit of the crew's intimate local knowledge. Aside from the sheer romanticism of sailing along the spectacular Croatian coast aboard a gulet, this unique charter option offers a much more local experience. Our Croatia luxury gulets sail nowhere else so the crews know the ins and outs of everything.
On a local Croatia luxury gulet will your chef know the local fishmonger, your activity coordinator will be in the know with local hidden spots to explore, and the captain will be able to offer an authentic local restaurant recommendation. And in case you're wondering… yes, our luxury gulets also carry an array of water toys, including kayaks, snorkeling gear, and even wave runners! For anyone who dreams of a deeper and more intense yachting experience in Croatia, a luxury gulet charter is ideal. Check out a sample itinerary.
The Best Luxury Gulet Charters in Croatia
We represent about a dozen Croatia luxury gulet charters, all hand-picked for their impressive crew, an array of toys, enticing itineraries and world-class cuisine. Because we certainly would not accept anything but the best. Here are just a few of our favorite luxury gulets, to wet your Mediterranean appetite.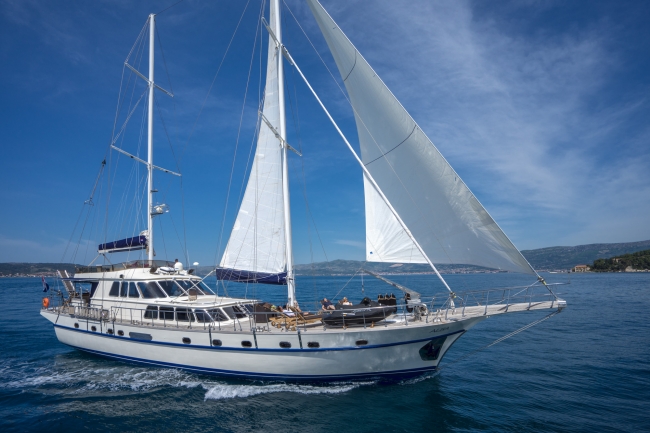 Alba – 98.4' – 10 guests – rates start at €14,000 per week
Alba is proof that great things really can come in small(er) packages. The ideal Croatia luxury gulet for a small family vacation and anyone looking for brilliant value for money will not believe their good fortune should they manage to bag a charter aboard Alba. Her excellent crew, enticing cuisine, beautiful amenities and outstanding design make for a comfortable and totally indulgent charter.
Separate outdoor chill-out spaces mean no one need get in each other's way and Alba's beautiful chest of treasures is chock-full of super fun toys for the whole family. Offering a selection of on-shore activities along with an idyllic stretch of coastline, this 10-guest luxury Croatia gulet charter is an undisputable 10/10.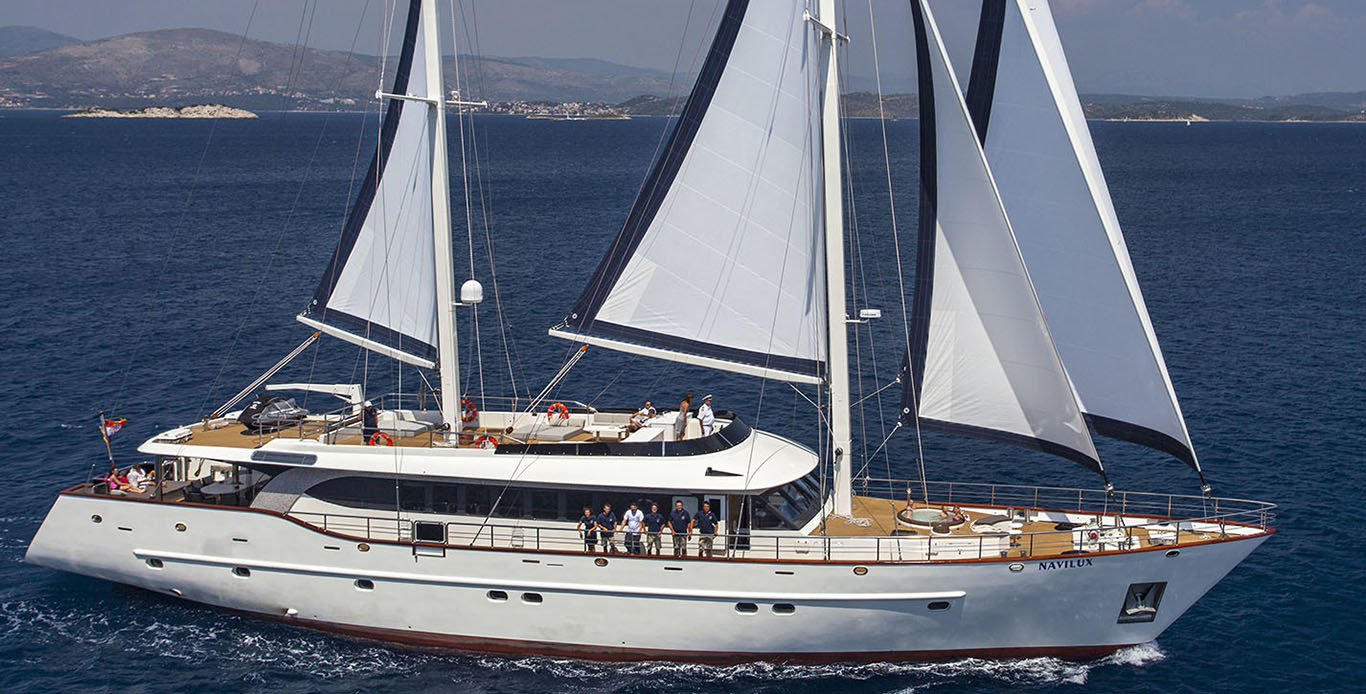 Navilux – 122' – 12 guests – rates start at €42,000 per week
Croatia's first-ever superyacht is a testament to the leaps and bounds this beautiful country is making in regards to luxury yachting. Built, owned and captained by the Ercegovic family, Navilux is a prime example of traditional design melting into modern luxury. Spacious, gorgeous and welcoming, Navilux is a true oasis at sea, one which your family will undoubtedly cherish. A luscious décor, fresh furnishings, and understated elegance are at home in this warm and relaxing corner of the Mediterranean. Attention to detail in every aspect of a charter makes a yachting experience aboard Navilux easy and rewarding.
The gastronomic delights created in the galley are out of this world, with locally sourced organic produce (including the family's own olive oil) used to create mouthwatering meals that are as good for the soul as they are delectable for the taste buds. With on-deck Jacuzzi and an impressive selection of toys – including jet and water skis, kayaks, inflatables, snorkeling gear and towable equipment (for that ultimate adrenalin-rush) Navilux offers her lucky guests abundant comfort, fun, delight, and intimacy.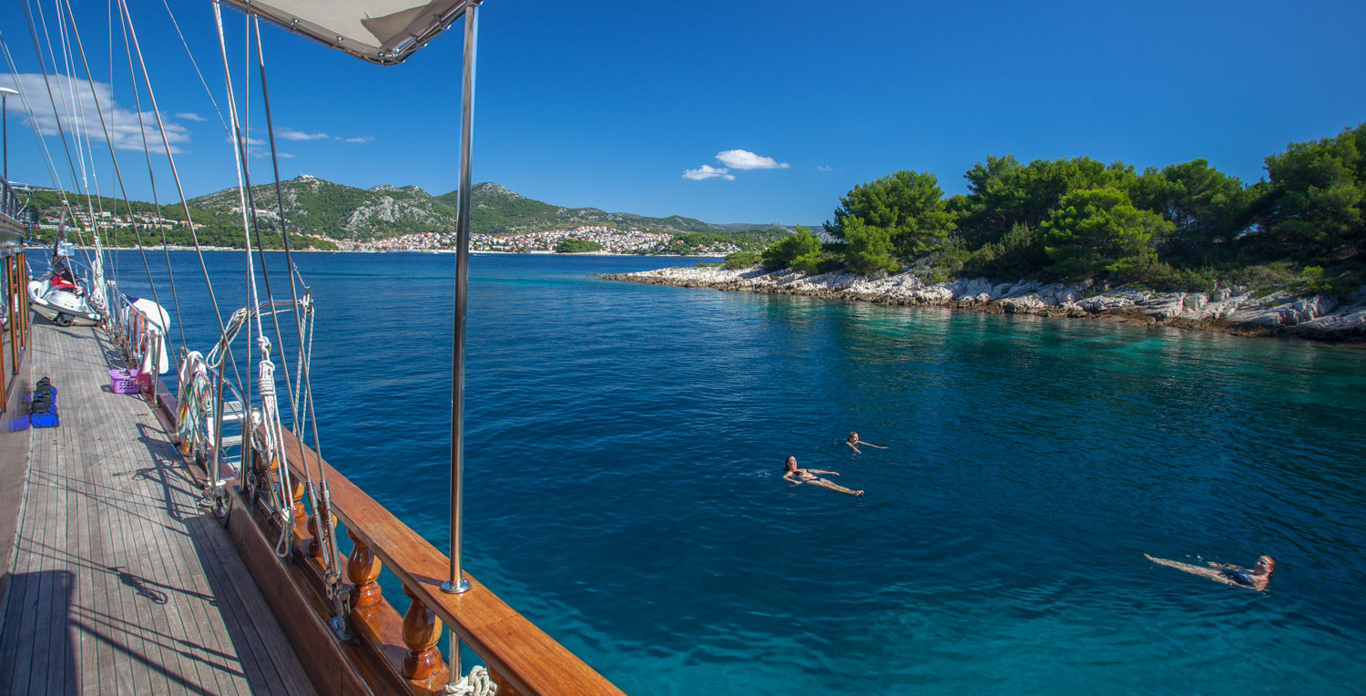 Stella Maris – 124.6' – 16 guests – rates start at €36,000 per week
The first thing that strikes guests about Stella Maris is her incredible beauty and terrific outdoor decking that just begs to be utilized at every spare moment. The sleek lines and extensive use of wood aboard this gulet appeal to the traditionalist, whilst her extensive amenities, including outdoor dining and copious sunbathing space, as well as elegant indoor formal dining, will tickle the fancy of those who do like a touch of glamor. Everyone gets utterly spoilt aboard this luxury gulet in Croatia! F
or combined family vacations or to share an unforgettable adventure with close friends, the Stella Maris offers you space, comfort, privacy and an ocean-full of yachting allure.
Loving the sound of a luxury Croatia gulet yacht charter?
Then contact us for further charter details.
Search for more Luxury Gulet Charters in Croatia
Learn More About Luxury Wine Tours in Croatia
Take a look at Croatia's Newest Superyacht - Aiaxaia