Whether you're seeking relaxation, exhilaration - or a bit of both - cast off with us on one of our luxury kitesurfing holidays…anywhere in the world! Luxury kitesurfing holidays are designed with the avid sportsman or woman in mind, or perhaps the one who wants to grasp a new and exhilarating skill. A fantastic option for group vacations, and for those with family members or friends who may not be into kitesurfing but would certainly delight in indulging in all the other pleasures which luxury private yacht cruises offer.
From sailing catamarans to stunning superyachts, cruising in some of the most idyllic destinations all over the globe: luxury kitesurfing holidays on a private yacht brings you a world of possibilities. When you're not catching the wind and waves on your sail, you can swim, kayak, wakeboard, fish, and snorkel instead. Explore new and enchanting islands, indulge in the local exotic cuisine and discover the historical, cultural and natural highlights of your chosen destination.
From the constant trade winds of the Caribbean to the sensational shores of Sardinia to the magnificent Great Barrier Reef of Australia, the world's best luxury kitesurfing holidays offer a world of unforgettable cruising experiences. Here are a few of the luxury yachts you can charter for luxury kitesurfing holidays.
Luxury Kitesurfing Holidays on Catamarans
For a more moderately priced luxury kitesurfing holiday, look no further than the Ocean View, one of the most eye-turning catamarans in our fleet. With an open-plan design that facilitates socializing and relaxing, the Ocean View lets her 6 guests enjoy both privacy and togetherness in elegance and comfort. Outfitted with the adventurous soul in mind, the Ocean View sails throughout the Caribbean in winter, a particularly convenient and rewarding destination if you're after a swift escape from the northern chill.
The Ocean View's unrivaled highlight would have to be her kitesurfing set-up: not only will you have 10 kites suitable for all wind conditions at your disposal but you can launch straight off the swim platform. Moreover, your fellow guests will have a bevy of fun gear at their disposal, so while you're out catching the wind, they could be diving, snorkeling, wakeboarding or water skiing instead. Although don't be surprised if they choose to relax on the trampoline and sip a cocktail or two whilst watching you do all the hard work. After all…that's what luxury private catamaran cruises are all about, aren't they?! All-inclusive rates in the Caribbean begin at $29,000 for six guests on Ocean View. Rates on other cats start as low as $13,800 for six guests.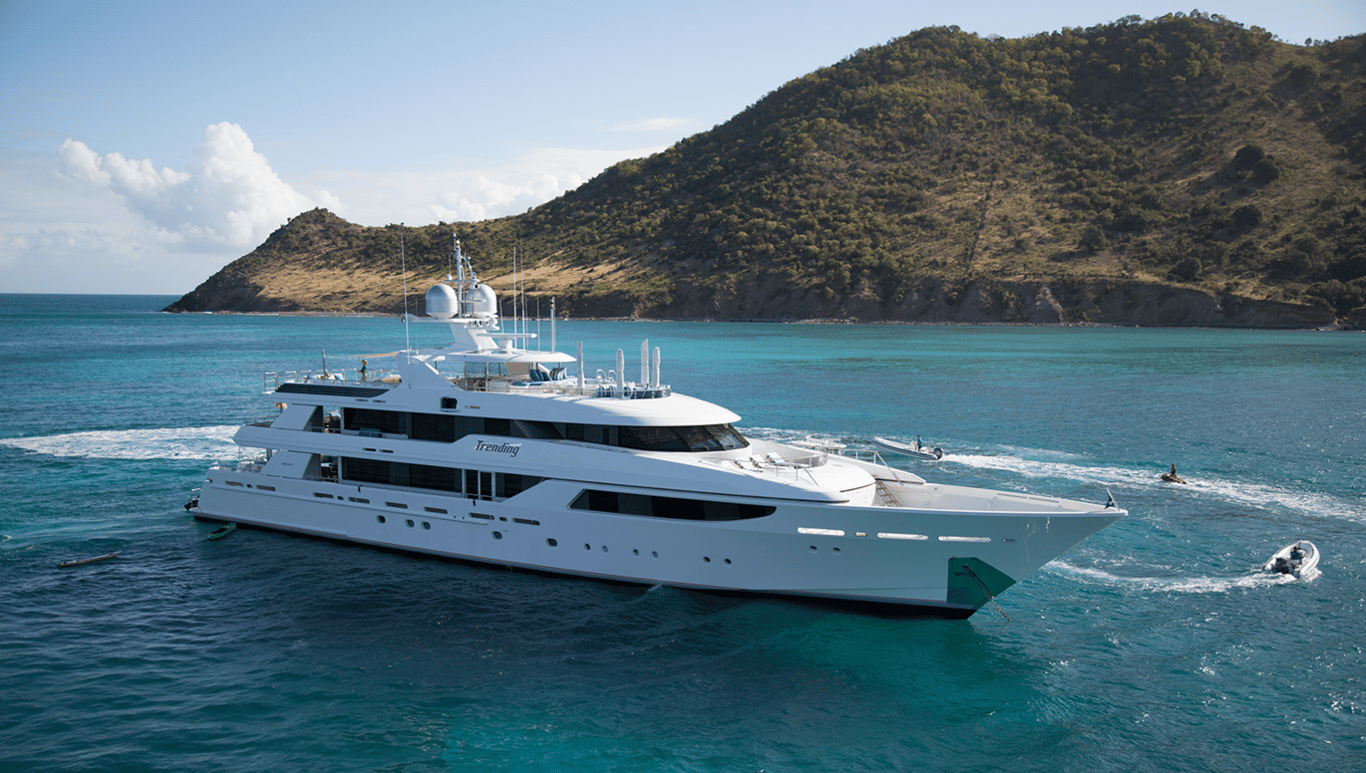 Trending – This sleek 164' luxury superyacht by Christensen accommodates 12 guests in superb comfort and offers luxuries to suit luxury kitesurfing holidays in the Caribbean during winter and the Mediterranean in summer. With a complete kitesurfing set-up and an array of sails, it's well-suited for beginner through advanced surfers. Equipped for deep sea fishing and scuba diving excursions, Trending appeals to the serious watersports adventurer. Plus the jet skis, water skis, wakeboards, sea bobs, kayaks and seadoos among many others – will satisfy the adrenaline needs of all her active guests. If that's not enough, Trending also boasts an extensive collection of beach gear as well as on-deck Jacuzzi and copious outdoor terraces that'll tickle the fancy of any discerning, sun-loving armchair explorer. Rates start at $200,000/week plus expenses.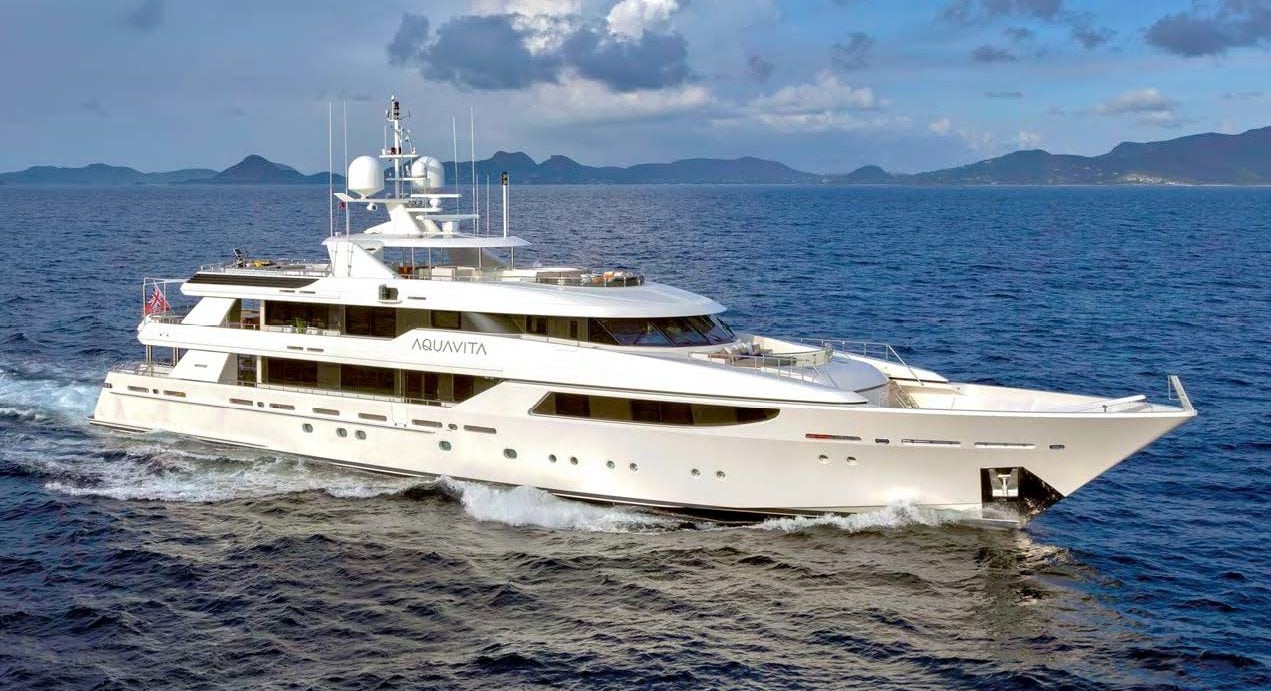 Aquavita – It's not often that a luxury yacht undergoes a comprehensive exterior and interior refit, yet that's precisely what Aquavita enjoyed in 2014. The outstanding design and décor will appeal to even the most fastidious charter guest, with a sumptuous 'penthouse' style creating a sophisticated ambiance, and the addition of 8 ft on bridge allowing for even more copious space. Built and outfitted to a superb standard, Aquavita boasts a 10-person Jacuzzi, gorgeous ensuites with bathtub, open-plan living and dining Saloon, 3 outdoor terraces for dining and entertaining up to 12 guests and a total of 6 dining areas in total. The exceptional use of space aboard Aquavita makes her ideal for an extended family vacation or to sail with a group of like-minded friends. All this luxury and comfort aside, Aquavita will undoubtedly tempt you not only with her itinerary – she cruises the turquoise waters of Cuba, the Bahamas, and the Caribbean, but offers a head-spinning collection of water sports gear. Alongside a vast choice of inflatable and towable toys, this stunning yacht has two top-notch kitesurfing kits as well as water skis for adults and children, sea bobs, wave runners, wakeboards, kayaks, snorkel equipment and fishing gear.
Luxury Kitesurfing Holidays in Australia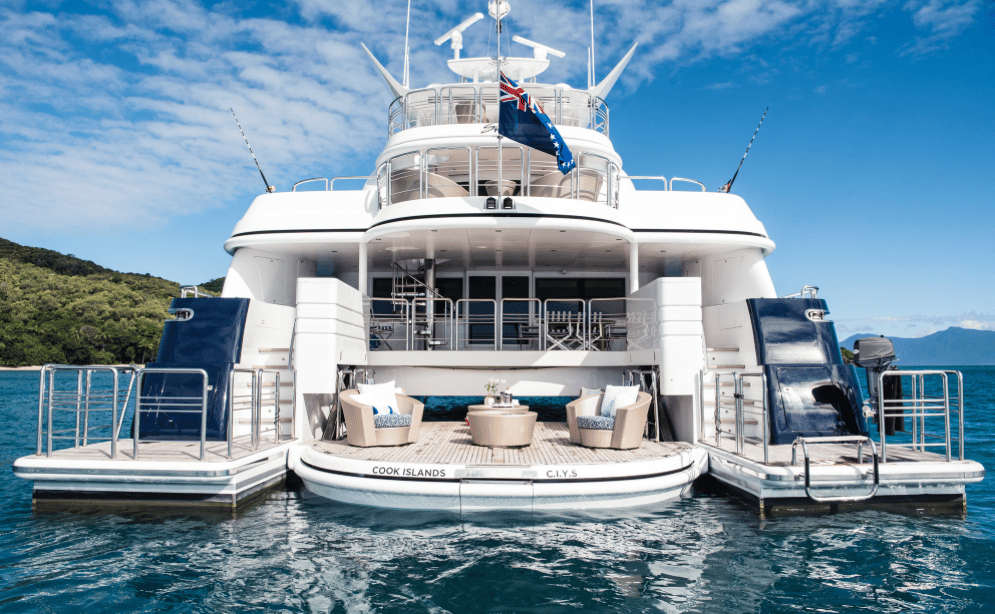 Spirit – For a truly spirited luxury kitesurfing holiday, let the Spirit show you the revered treasures of Australia's east coast. This 114' multi-hull catamaran yacht can host up to 10 guests and brings with her an impressive horde of leisure and entertainment equipment. Revered by kitesurfers who want to indulge in their passion at every given chance, the Spirit is crewed by master instructors who'll have you kitesurfing and diving ad infinitum. The hydraulic swim platform, diving, snorkeling, surfing and watersport gear will suit the avid water lover and anyone who's itching to explore the wonders of the Whitsunday Islands and the magical Great Barrier Reef.
For an exceptionally unique luxury kitesurfing holiday, you can choose to explore the north-western (and mesmerizing!) Kimberley region of Australia instead or take the Spirit on a jaunt around the tantalizing Solomon Islands off the coast of Papua New Guinea. Rates from $90,000/week plus expenses.
Luxury kitesurfing holidays on yachts are just one of a wide variety of specialized yacht charter experiences we offer. Contact us to inquire about these and other dedicated private luxury yacht charter. We're always here to help.