Be the First to Embark on New Caledonia Yacht Charters
Masteka 2 is breaking new waves as the first superyacht licensed to offer New Caledonia yacht charters.  After undergoing an extensive refit and rejoining the waves, the Masteka 2 is one of the hottest yacht charter options this year. This stunning 122' motor yacht offers both New Caledonia yacht charters as itineraries that include Sydney Harbor for New Year's Eve, the treasures along the east coast of Australia, and the idyllic islands of Fiji. With an experienced crew perfectly at home in the Pacific and knowledgeable of the extra commitment and skill needed to cruise in such remote destinations, the Masteka 2 is your luxury home. And when you explore some of the most undeveloped corners of the globe, that's a match made in yachting heaven.  
Request a brochure.
New Caledonia Yacht Charters - mystical, unspoiled and exotic
New Caledonia is a unique and emerging yachting destination and a mystical land brimming with exotic culture, history and unspoiled natural treasures. From UNESCO-listed underwater riches to indigenous tribes living as they have for a thousand years, New Caledonia is that off-the-beaten-track wonderland that's ideal for the discerning sailor who has 'cruised it all'. Aboard the splendid Masteka 2, the only foreign-owned yacht granted a license to cruise here, your journey of discovery through New Caledonia is set to be exceptional. The rich Melanesian culture will captivate you, and you'll have the chance to learn all about the centuries-old traditional fishing methods which are recognized as part of the cultural heritage of the region,. If you're an avid fly-fisher, this is undoubtedly on your bucket-list already. And if you're not, it soon will be. Spear and deep sea fishing, along with fly-fishing and crab hunting, are all part of the local culture and you can indulge and learn all about the ancient methods which have allowed these incredible people to leave in symbiosis with the sea. If you prefer to admire the underwater world, then don your snorkel mask and dive the UNESCO-listed Lagoons and coral reefs brimming with exotic species. You'll be spellbound by the turquoise colors of the Isle of Pines and, if traveling at the right time of year, will have exceptional chances of yachting alongside majestic humpback whales.  
Request a Sample Itinerary.
Accommodations on Masteka 2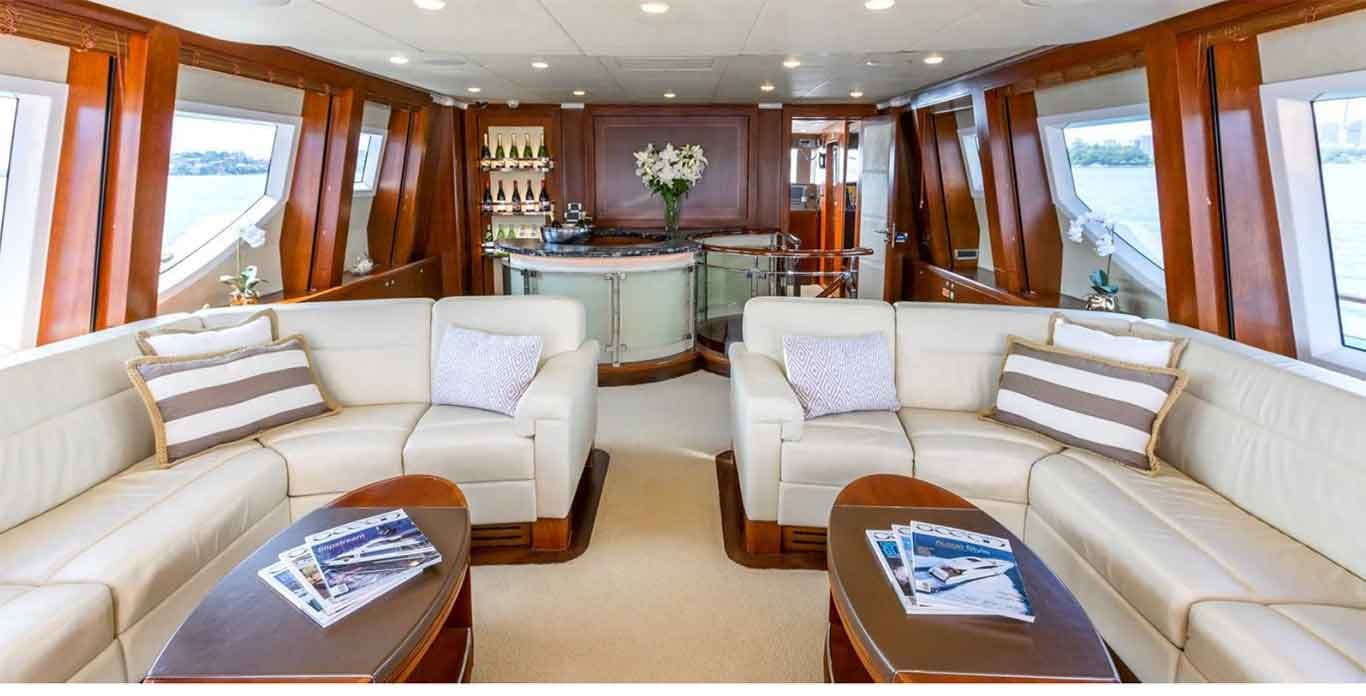 A total of 5 beautiful cabins, all designed with the exotic Pacific in mind, it accommodates up to 12 guests. The cabin configuration makes Masteka 2 suitable for families – with 3 Doubles and 2 Twins allowing for King Bed suites as well as extra Pullman-addition to accommodate extra guests. Spacious, airy and fresh in décor, the cabins offer plenty of space and much indulgent comfort. Plush linen, sleek lines, neutral colors and a gorgeous teak finish, accentuated with splashes of white finishes, oozing class, and coziness in equal measure. The Master Cabin offers a walk-in wardrobe, separate study, and stunning ensuite bath.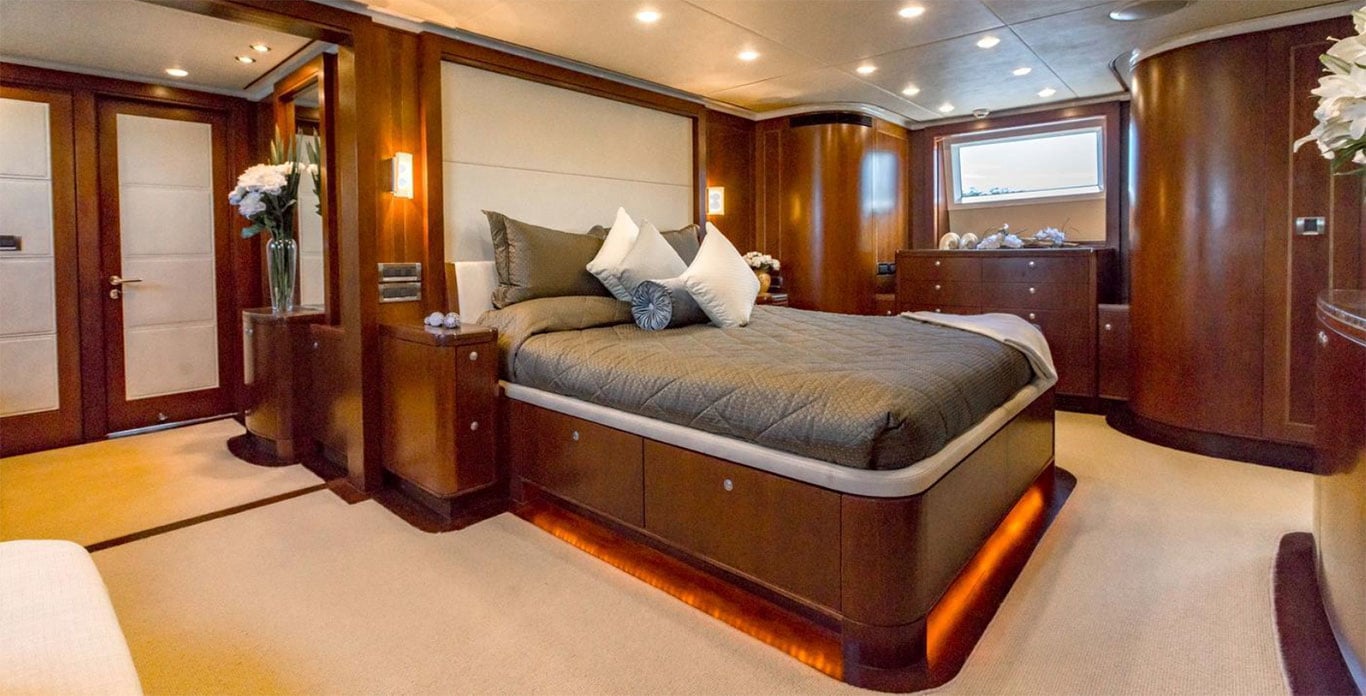 She comes with her own
Boston Whaler
, a speedy 34' tender that'll have you explore secluded nooks, take on-shore excursions and enjoy excellent fishing trips with ease. On New Caledonia yacht charters,  you'll enjoy plenty of outdoor sunbathing and landscape-admiring space, with an inviting observation deck, and Jacuzzi seating area that is ideal for relaxing, sipping cocktails, and soaking up the views of the pristine waters of the Pacific. Indoor and outdoor dining and relaxing lounges and salons offer you and your guests plenty of socializing, relaxing and dining space.
New Caledonia Yacht Charters Need Lots of Toys
For water fun adventures, Masteka 2 carries a collection of toys, including water skis and wakeboards, kneeboards, snorkel gear, paddle boards and kayaks, for both adults and children. The Masteka 2 also offers rendezvous diving options for SCUBA lovers. If you wish to stay fit and flexible during your New Caledonia yacht charter, then you'll surely enjoy the yoga and gym equipment included. The Masteka also offers the option to rent any particular toy or gear you wish to utilize during your yacht charter, from local operators.
Masteka 2…at a glance
# of guests:  10-12 # of cabins:   5 # of crew:   6 May - October 2018:  New Caledonia (will consider Fiji) November - March 2019:  Sydney Harbor Rates start at:  USD 100,000 p/w Yacht type:   Motor superyacht Length:   122' (37m) Beam:   24'3" (7.4m) Draft:   7'5" (2.25m) Year Built/Refit:   2009/2017 Cruising Speed:  10 knots Fuel consumption:  150-160lt/hr, including generators Builder:    Kha Shing