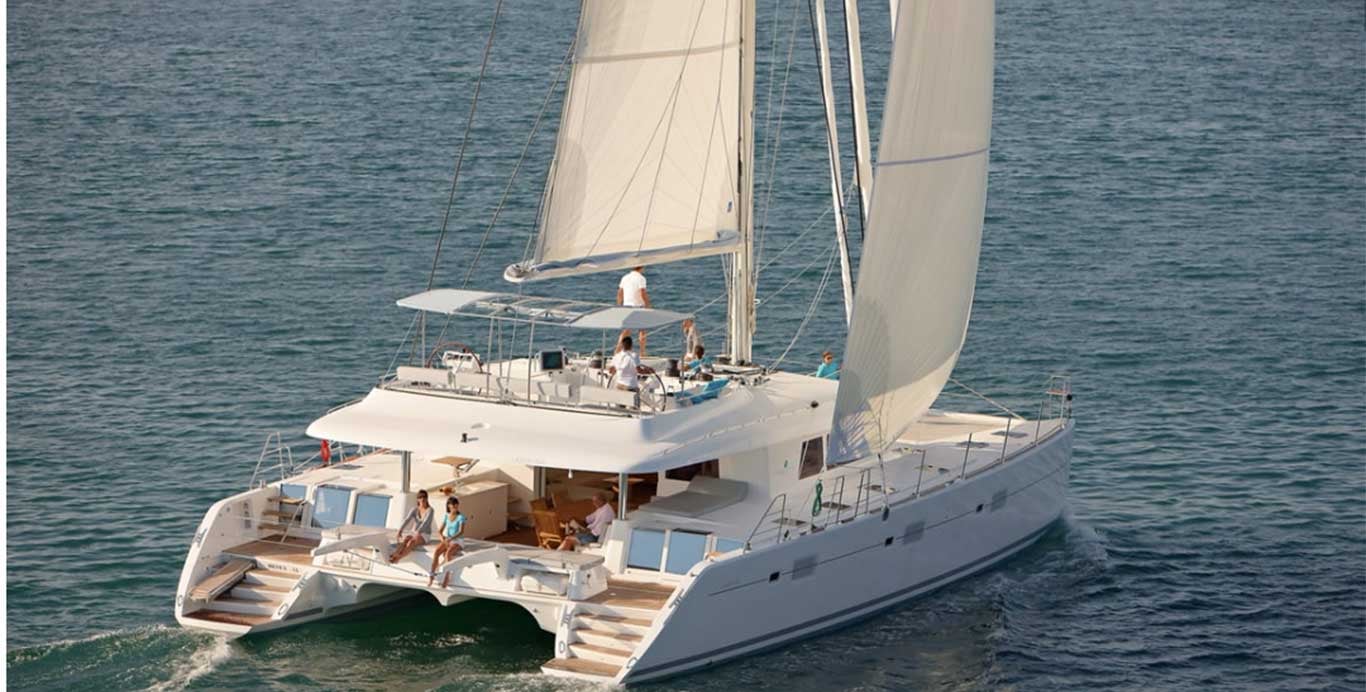 Our list of "New Virgin Island Catamaran Charters" keeps growing. We are introducing everything from the compact 45' 2018 Lagoon catamaran, "Flotation Therapy" to the 78' 2018 Lagoon power cat "Double Down" with its fold down balcony in the master stateroom. Now that is a first on a catamaran!
Of course, going with the popular trend, all of our new cats have the flybridge deck. For you landlubbers, "flybridge" is just sailor'sterm for an open second deck.
You won't miss having a flybridge until you have one. Then there is no turning back. It not only adds about 30% more volume to the cat's deckspace, but it also offers 360-degree panoramic views that take your breath away. Plus it's an additional space for charter guests to spread out.
]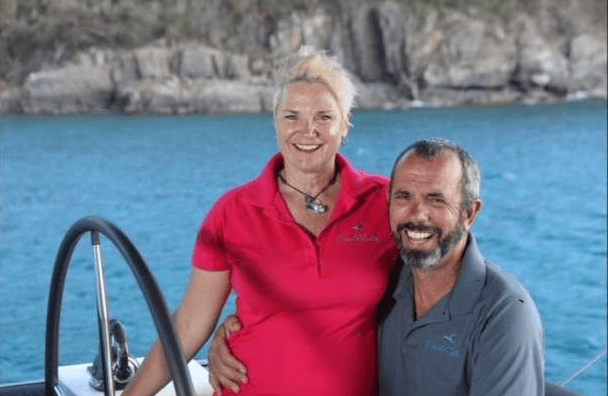 Captain Roland and Chef Vanessa Return This Season on Callista
Now our New Virgin Island Catamaran Charters list does not necessarily mean new crew. In fact, quite the opposite. Some of our tried and true veterans like Roland and Vanessa on Callista are bringing their expertise to a brand new yacht. So let's start with the smallest cats and work our way up. Drumroll, please!
FLOATATION THERAPY : Lagoon packs more into 45' feet than we ever dreamed of! Three queen cabins that are mostly walk-arounds (i.e. no crawling over your partner when you have to get up in the middle of the night). En suite heads with separate shower stalls (no more wiping water off the toilet after you shower). Blonde woodwork and lots of natural lighting lend an elegant air. In addition to the flybridge, there is a cozy seating area forward just before the trampolines. The perfect spot for sundowners.
Captain Jesse and Chef Christian got their "crew legs" on Sea Wings last year. Week after week, they got glowing comments like this from one of our guests - ""In thanking you words fall short. Your professionalism, care, most lovely personalities made our short time with you "a piece of heaven on earth" we loved every minute of it. You spoiled all other vacations for us we never wanted this to end. Alas, all good things come to an end. However, give us fantastic thought planning to do it again & again. Our biggest challenge was to pick a favorite amongst you.... we failed miserably. In choosing we love you all massively".
Of course, all new yachts also have all new equipment. Kayaks, paddle boards, snorkel gear, fishing gear, and scuba. $17,750/6 guests; $250 off for each child under 16 at the time of the charter.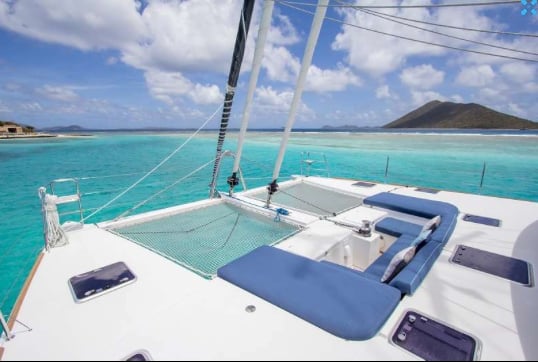 VIRAMAR: This 56' Lagoon cat made its Virgin Islands debut last December. Like her many sisterships, she will host up to eight guests in three queen cabins and one twin bunk cabin. The flybridge is gi-normous and feels as big as a 60-footer. If you need all queen cabins, then consider Azulia which charters for $27,000 per week for 8 plus adds some extras that are worth up to $100 per guest.
The crew of Viramar, Erika and Tyler, won best crew at the 2017 St. Thomas charter yacht show. That is no small feat for a crew that was new to the charter scene back then. Enthusiastic, fun, a bundle of energy, and highly accomplished, this team is designed to please. Both are dive instructors and highly trained so if you want and into. to scuba or just want to dive with the best, this is the cat for you.
They still have some prime 2020 weeks available - at $28,000 for 8 and $26,500 for 6, this gets our vote for best New Virgin Island Catamaran Charter in the mid-priced range. Open for Thanksgiving and some Spring Break weeks! Plus Viramar will be chartering in the Bahamas from May 15, 2020 through the summer.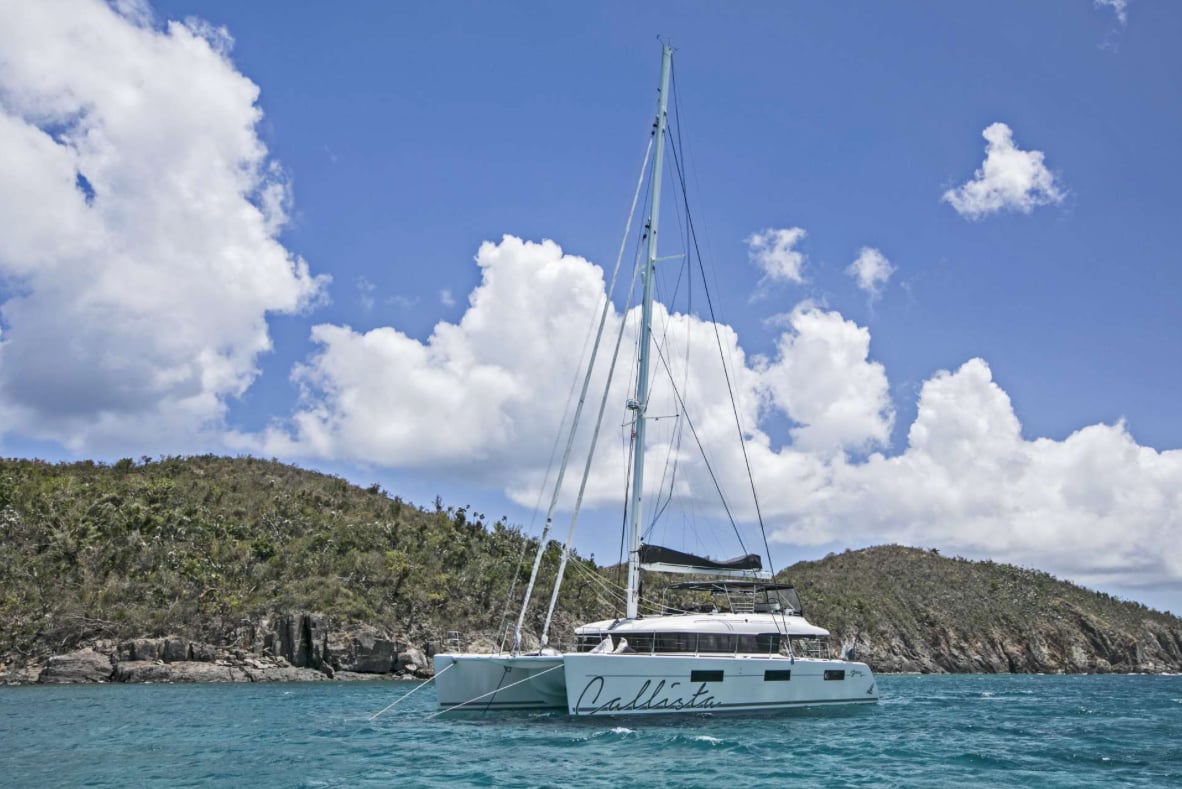 CALLISTA We had the privilege of staying on this brand new cat right after she arrived in the Caribbean. The "galley up" arrangement (meaning the galley is in the salon rather than tucked below) makes for more crew camaraderie - an area where Callista's crew shines. They have delivered numerous outstanding charters for us when they were previously on Flow and Amazing Lady.
Laughter is always the table with them along with some sumptuous fare lovingly prepared by Vanessa. You've got to try the Seared Tuna Nicoise salad served with homemade Basil and Olive Focaccia. And don't miss the traditional South African Boboutie.
4 luxe queen cabins, one of which is an oversized master with its own access to the deck. A 60 hp tender engine will have you on skis, wakeboard, kneeboard or tube in no time. Both crew are divemasters so casual diving is offered. This is one of our most favorite catamaran designs, and Callista is the new L'Essence model with many upgraded features.
$35,000/8 guests; $34,00o/6 guests; still open for Thanksgiving and Spring Break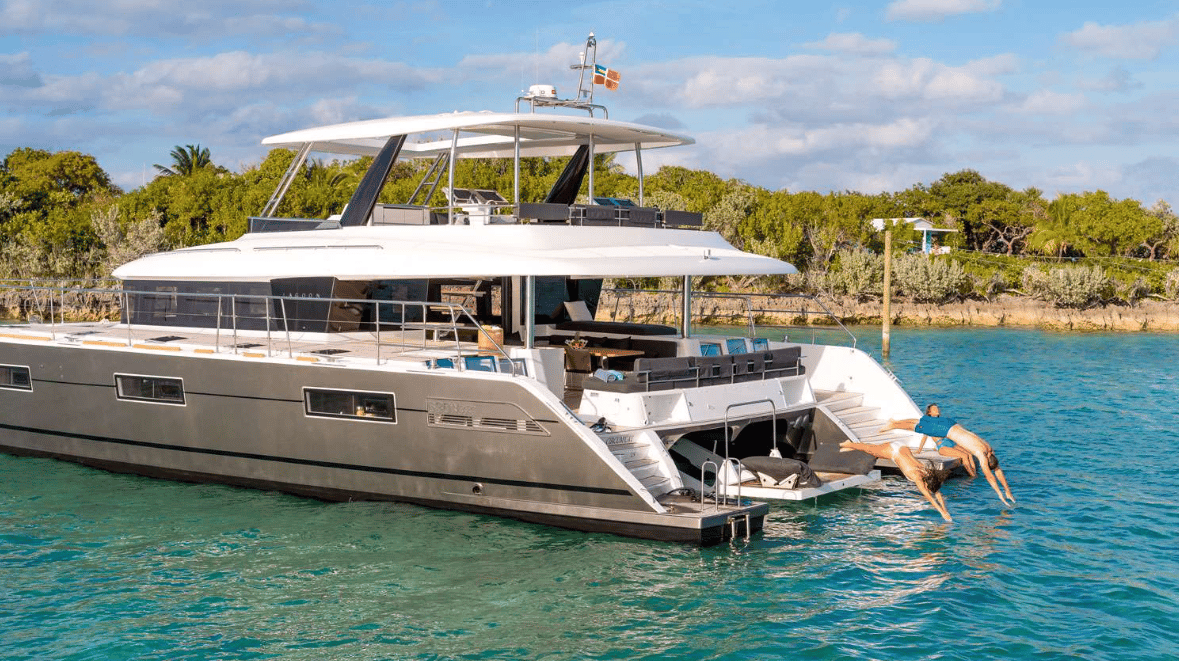 LAGOON 63' POWER CATS: We have two new entries in this category plus another one that was new last year and so good that we have to mention it here. The cockpit on these cats is supersized - you could stage a dance party for twenty! The flybridge has both a sunpad lounging area and a settee seating area. We love the hard top bimini with the retractable sun roof. Forward on the main deck are even more sunpads. This cat just shouts out, "Come and get comfortable."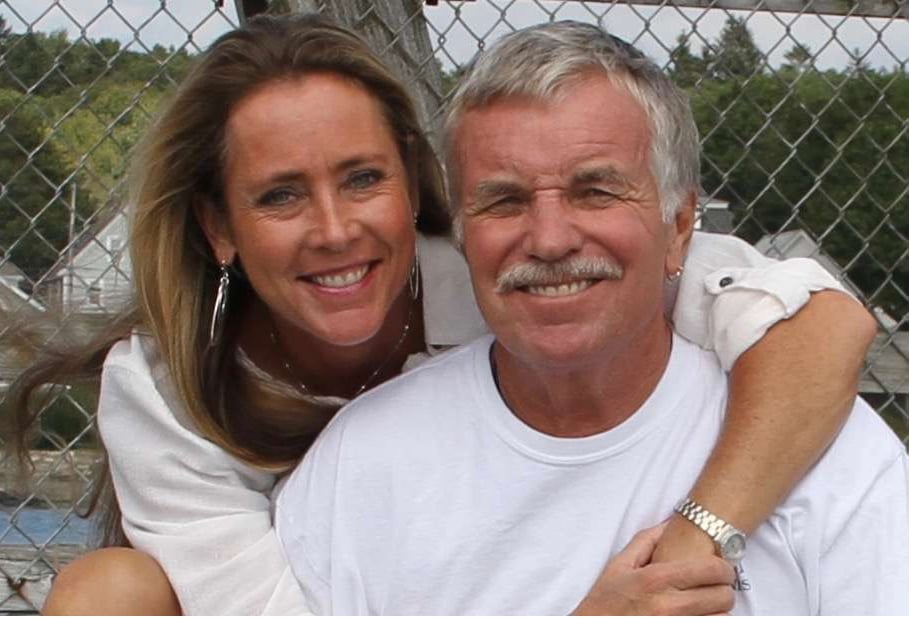 Each crew has their own unique style. Vince and Linda on Ultra have been chartering for nearly 20 years and adapt the activities to whatever the guests want. Easygoing and welcoming, their insider's knowledge of the Virgins is unparalleled. Kirk and Nia on Jan's Felion offer a combination of local knowledge and award winning cuisine. A new father himself, Kirk loves welcoming families onboard.
Ultra - 3 queens; one twin; $33,000/8 guest all-inclusive
Jan's Felion - 4 queens; $33,000/8 guest all-inclusive
Cute Little Cat - 4 queens; $33,000/8 guest all-inclusive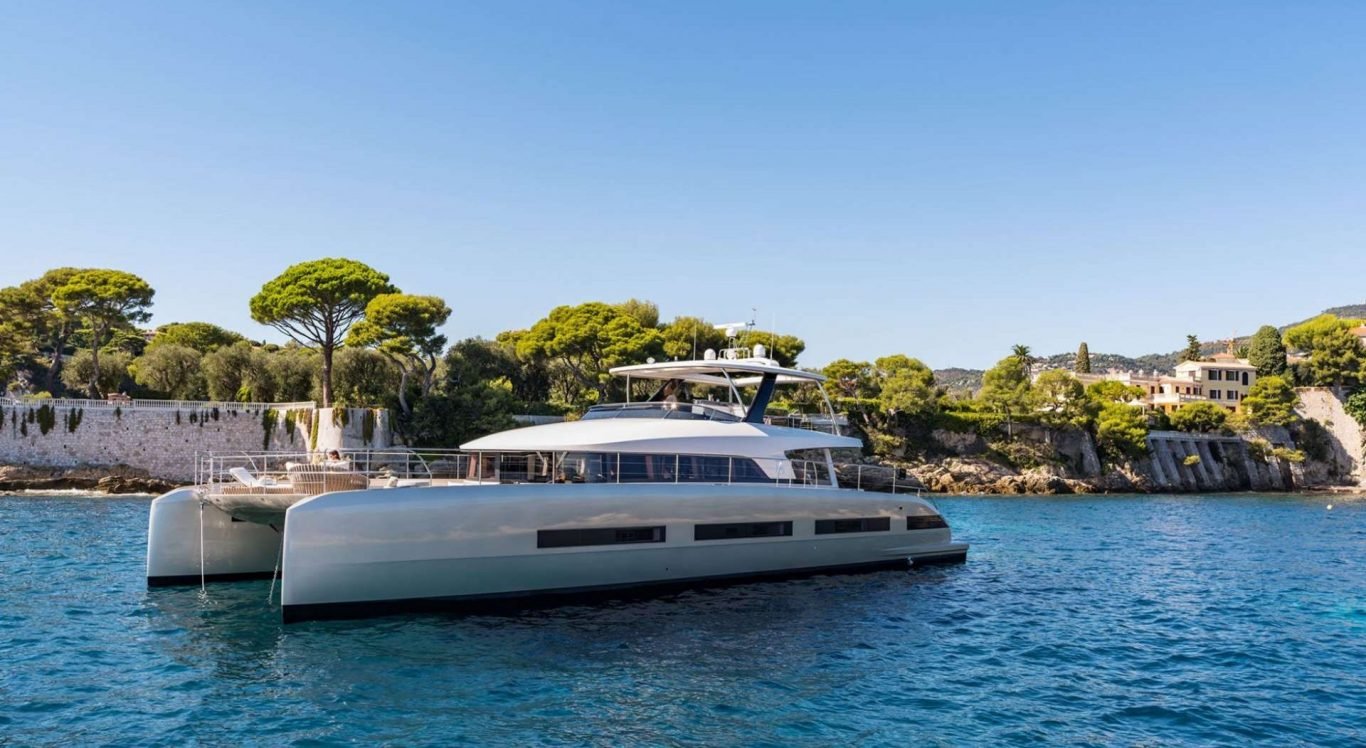 DOUBLE DOWN : 78' long and 36' wide make this sleek, new power cat is a floating condominium with a volume that makes her feel much larger than 78 feet. Three dining areas - main salon, aft deck and, our favorite, the flybridge where you also enjoy a full-service bar. We love the forward sunken lounge with its direct access door into the salon.
The star of the show is the master cabin with its fold down balcony - what a place to enjoy your morning coffee! Plus there are two additional VIP cabins.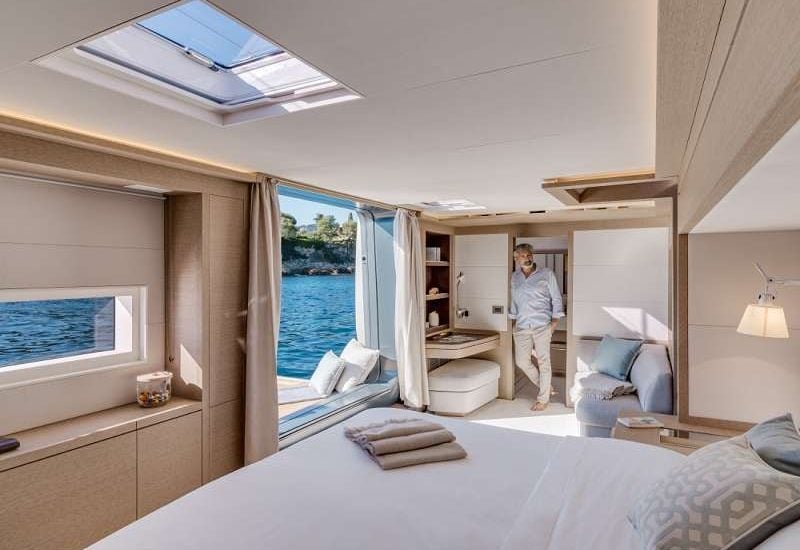 Fold Down Balcony on Double Down's Master Suite[/caption]
Its jet tender with 150 hp engine will zoom you anywhere you want to go or pull you on skis, kneeboard, wakeboard, or tube. SUPs and sea bobs add to your on-the-water fun.
An international crew of four with 5-star service. Be sure and look at the menu which includes breakfast, lunch, after noon tea, canapés, starter, main, dessert and petit fours.
Double Down is available throughout the Caribbean at $45,000 per week plus expenses.
And by the way, this blog is only about Lagoon catamarans. We will tell you about the new Sun Reef catamarans in a separate post.
The New Reigning Queens of the Virgin Islands Catamaran Sailing Fleet - Lagoon 77
Tellstar and Babac are new Lagoon 77s that have layouts that are optimized for space and comfort. The salons are bright and roomy with doors to both the aft cockpit and directly to the forward cockpit for seamless movement around the yacht. This layout is ideal for people who are nervous about walking out on the deck while under sail as well as for children. There is a massive flybridge affording an uncompromising 360* view. Tellstar has luxury accommodations for eight guests in a master stateroom with seating area. There are 3 additional queen cabins that are elegantly appointed. For additional flexibility, one cabin can be converted from a queen bed into 2 twins. Babac has a similar layout with the added bonus of the drop down balcony in the master cabin.
Tellstar charters for $57,000/8 guests and Babac is $68,000/8 guests all-inclusive.
Rate Explanation for These New Virgin Island Catamaran Charters
Rates: These rates are for 8 days/7 nights (from noon to noon) and include the hire of the yacht and crew, all meals, snacks, open standard bar (champagnes, vintage wines, extraordinary brands, and excessive consumption are additional), the use and instruction of all onboard watersports equipment, cruising taxes, and port fees.
Additional Costs: Airfare, ground transfers, shoreside activities, and crew gratuity are additional. A 15-20% gratuity is at your discretion.
Double Down's rates are "plus expenses" which means that you pay for all of the running expenses of the yacht "at cost". These expenses include the food and beverage; consumables; fuel for the yacht, tenders and watercraft; dockage; port fees; cruising taxes; communications;shoreside water and electricity, etc. Typically, these additional costs add 25-30% to the yacht charter fee.
Can I charter for less than 7 nights? Most yachts require a 3-night minimum; some require 4 or 5 nights.For six nights, use 6/7ths of the weekly rate. For five nights or less, divide the weekly rate by 6 and multiply by the number of nights. If you are looking to reduce the charter cost, six nights is a good choice as there is no surcharge.