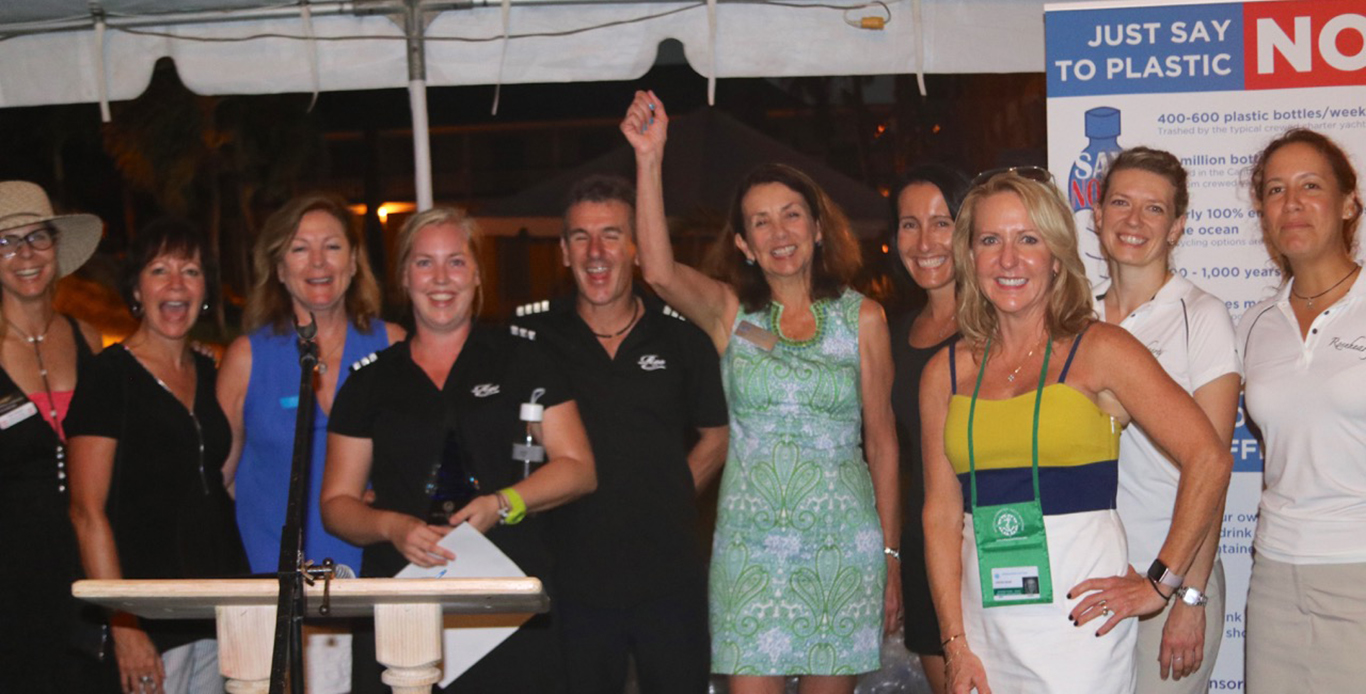 Trish Cronan cheering the Judges and winners of CYBA's 2016 Going Green to Save the Blue Award
Ocean Getaways' President, Trish Cronan, was just elected President of CYBA - Charter Yacht Brokers Association International. CYBA, founded in the Virgin Islands in 1982, is the oldest association of professional yacht charter brokers and has a current international membership of over 100 agents. The organization is committed to maintaining high ethical standards in the industry, ensuring fiduciary responsibility, and improving industry standards.
It has been at the forefront of environmental efforts in the industry with its Going Green to Save the Blue initiatives and has taken a leadership role in training new brokers. Over the past two years, 50+ individuals have completed its online new broker training program. This is Trish's second stint as President of the organization, having served as President from 2012-2014 and Vice President back in the 1980s. She is the co-founder of its Going Green committee which reflects her personal passion for protecting the health and beauty of our oceans.
As President, her objectives are to grow continuing education for members, expand the organization's environmental impact, and establish a new CYBA contract. Trish is also an active member of two other charter yacht brokers' associations - American Yacht Charters Association (AYCA) and International Yacht Brokers Association (IYBA). Here's an excerpt of an interview with Trish shortly after becoming President:
Why did you decide to take on the role of President again? I am really committed to the continued growth and professionalism of the organization. Last year, we made a concerted effort to nominate some "new blood" to the Board as a handful of our veteran members were stepping down. I'm ready to pass the torch as well but really wanted to take a leadership role in transitioning the Board of Directors.
What do you want to accomplish as President? My goal is to create a "can do" Board of Directors that actively engage with our members and gets them involved. Our online forum has proved to be a powerful networking and problem resolution tool, and I'd like to see that continue. Ongoing education is key as are our Going Green initiatives. Last year, all of the other major charter yacht brokers associations (MYBA, IYBA, and AYCA) collaborated with CYBA to sponsor a "Designer Water Contest" that highlighted how easy it is to reduce plastic water bottle waste on yachts.
How does CYBA benefit you as a member? The number one benefit is the relationship with other charter yacht brokers - being able to bounce around ideas, troubleshoot issues and share reference information on yachts crews and central agents. For more information on Trish Cronan and Ocean Getaways - go to their website